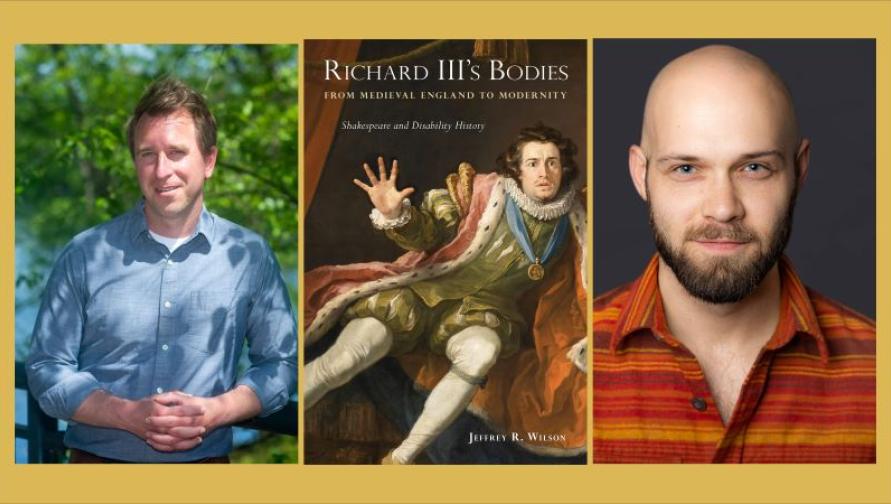 On January 30th, 2023, the New Swan Shakespeare Center hosted our annual Kirk Davis, Jr. Public Shakespeare Lecture. In this lecture-performance, 500 Years of Looking for Richard III, UCI PhD Jeffrey Wilson '12, the author of three books on Shakespeare and modern culture, walked eager listeners through Richard III's history and relevance. Actor Thomas Varga '17 performed soliloquies from Richard III, at one point even improvising King Henry VI with a chair.
Accompanied by Richard III's own manuscripts, x-rays of sixteenth-century paintings, and eighteenth-century editorial notes, Wilson explained the significance of the charismatic villain. "Shakespeare's Richard III invented the stigmatized protagonist," said Wilson. Part history, part myth, Richard III tells the story of The Tudor Myth which presents 15th century England as a dark age filled with bloodshed. A warrior and a jokester, Richard III's complex narcissism draws audiences in. 
"I am determined to prove a villain" (Richard III). This line at the beginning of Richard III, both ironic and tragic, is at the heart of changing interpretations of Richard III's character, since here Shakespeare suggests that Richard's disability wasn't a sign of his villainy but the cause. 
There's much speculation on Richard III's appearance as there are historical inconsistencies ranging from a hump to shoulder disproportions. The discovery of Richard III's skeleton over a decade ago under a car park in the city of Leicester, England confirmed Richard to have had adolescent-onset scoliosis. 
Wilson calls attention to two perspectives: one that treats Richard as a political allegory, without reference to his disability, and another that treats his body as a subject for reflection. The latter opens up ideas about theatrical intersectionality in contemporary society.
Asked about his interpretation of the part, Varga reflected, "I wanted to find places where I could relate to the speeches and identify with the universal emotions and negativity Richard faces. I didn't want to try to display disability as an able-bodied person. Instead, Jeff and I decided to focus on the language." 
--Aisling Alvarez
Event recording
Interview with Jeff Wilson, Shakespeare and Game of Thrones
Interview with Jeff Wilson, Shakespeare and Trump