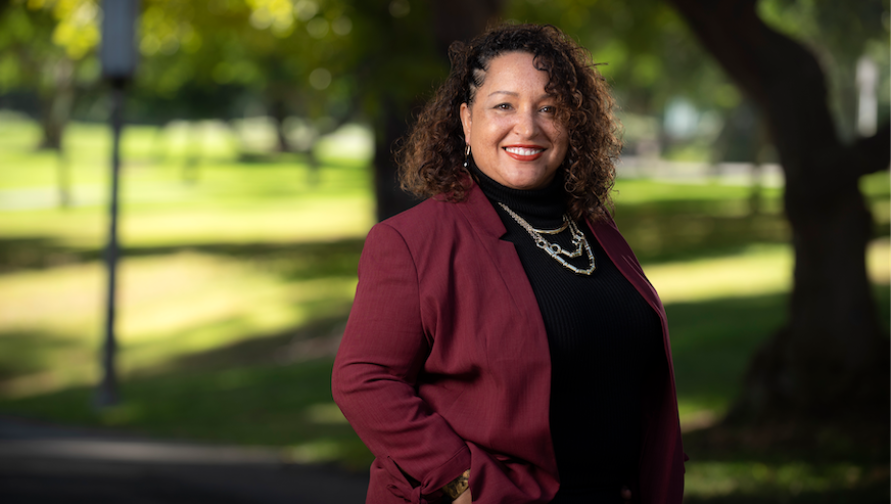 Jessica Millward, associate professor of history and core faculty in African American Studies, has been appointed to the inaugural cohort of Inclusive Excellence Term Chairs through UCI's Office of Inclusive Excellence.

Comprised of five professors who were nominated by deans across campus, the Inclusive Excellence Term Chair cohort will leverage the research and creative capacity of the campus to deepen understanding about and responses to designated national imperatives. Aligning with the UCI Black Thriving Initiative (BTI), the theme for the inaugural cohort is Black Thriving.

"I am profoundly humbled and honored to be included in such a dynamic group of African American leaders," said Millward. "We are in a moment nationally where the freedom to teach and write about Critical Race Theory and marginalized groups is being threatened. For me, it is encouraging to know that UCI has a vision for the future of Inclusive Excellence programs on campus. It is ever more meaningful to be the School of Humanities representative and to be recognized for my sustained contributions to Black Thriving on campus and beyond."

"It's a sign of UCI's serious commitment to Black Thriving that these new chairs have been instituted," said School of Humanities Dean Tyrus Miller. "I am very excited for the contribution that Professor Millward's research and programming will make to the humanities and the campus during her chairship."

The term of each chair appointment is three years. Each chair comes with an annual $30,000 allocation to support programmatic activities initiated by incumbents of the cohort and implemented in coordination with the Office of Inclusive Excellence.

Titled "Leveraging the Mission, Documenting the Invisible: Archives of Slavery, Black Digital Humanities, and Black Feminist Theory as a Prescription for Black Thriving at UCI," Millward's project will continue her decades-long commitment to making Black women visible—their lives; their unique challenges; their contributions to and at UCI; their knowledge production; their leadership roles in history; and their ability to hide in plain sight.

During her term, Millward's plans include:
Promoting research on slavery and its afterlife related to Black women and intimate violence after the U.S. Civil War;
Reviving the UCI Ghana project in conjunction with her work on African women in the slave dungeons of West Africa;
Continuing to train future faculty in digital humanities via the UC-HBCU Project, Activist Studio West and her work as a co-host of the Historians on Housewives podcast; and
Increasing attention to Black Feminist intellectual knowledge by hosting reading groups and colloquia on campus.
Millward adds, "If the past year has taught the world anything, it is that Black lives not only matter but understanding the context of those lives is equally important. Moreover, being a scholar of Black women's history matters. I use my platform as a scholar and teacher of the Black women's experience to promote a reality and academic space where Black women are not forgotten. Rather they are seen as viable, critical participants in (African) American's ability to thrive." 

To learn more about UCI's Inclusive Excellence Term Chairs, visit the website here.

Photo credit: Steve Zylius/UCI
Diversity, Equity and Inclusion
History