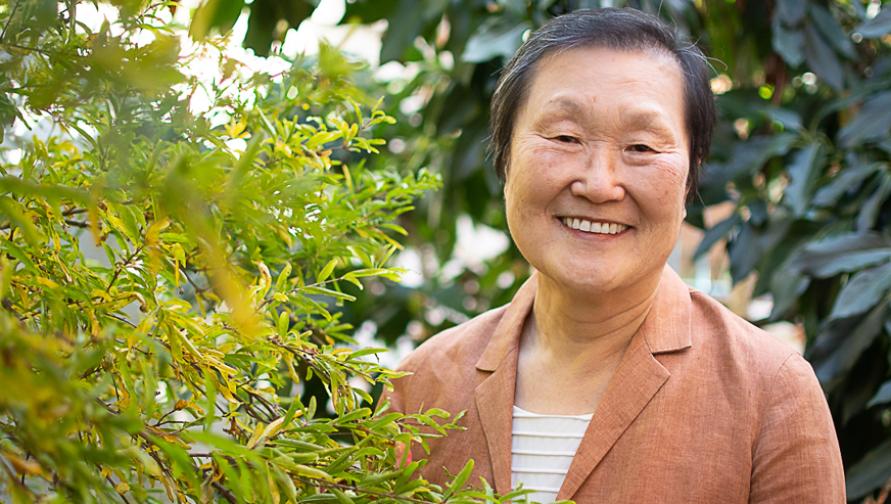 By Taylor Weik

War, political protest, violence, and trauma are delicate and difficult topics for many people. But for Chungmoo Choi, associate professor in the Department of East Asian Studies at UCI, these topics have been a constant presence in her life.

"I grew up in postwar Korea, which was a devastating time," Choi says. "And then in my college years the Vietnam War was going on. War and trauma are, in a way, motifs in my life."

Though Choi is now an esteemed professor and author who has played a key role in developing UCI's Korean studies program since the 1990s, she admits that her earliest ambition was to become a war correspondent. While in college in Korea, she worked on her English language skills and even majored in German studying philosophy and post-war literature to prepare to be sent to Vietnam. It soon became clear to her, however, that women weren't being sent to the war.

"I was a bit ahead of my time, I think," Choi says with a laugh. "I didn't see a woman covering a war until Christiane Amanpour received recognition for covering the Gulf War."

She decided to go the academic route instead and earned her graduate and Ph.D. degrees in the United States, where she studied East Asian culture and folklore, comparative literature, and ethnic studies. After graduating from Indiana University and accepting teaching positions at UCLA and UCSB, she found her home at UCI in 1992, where she was tasked with building the Korean studies program from the ground up.

The opportunity was a challenging and exciting one for Choi, who wanted to break away from tradition. At the time, most ethnic cultures were being studied from what Choi describes as a "very western, 'Third World' perspective." Choi intended to establish a program that involved far more critical analysis – and she did just that.

"I was teaching classes on subjects like post-colonial feminism, and it was an exciting time because a lot of intellectual development was happening at UCI," Choi recalls. She arranged to hire a film specialist to offer the very first Korean film classes in the United States and had a hand in starting the university's Asian American studies and women's studies programs before the latter evolved into the Department of Gender and Sexuality Studies. "In a way, UCI carved out its own brand of Korean studies. No one else was doing what we were doing."

Along with teaching cultural studies, critical theory, and other Korean-related subjects at UCI, Choi has edited and contributed her research on historical trauma to several journals and conferences. Her forthcoming book, Healing Historical Trauma in South Korean Film and Literature (Routledge 2020), takes a closer look at Korean films and literature that grapple with themes like transitional justice and forgiveness. In her analysis, Choi critiques the shortcomings of the practice of transitional justice and suggests Korean communities begin to shift to a narrative of reconciliation, healing and redemption.

"A lot of these stories I see are focused on justice, which often leads to resentment and even violence," Choi explains. "This further divides Korean people and hardens the system of nationalism. I'm a small voice offering an alternative."

Film scholars and other movie fans will recognize many of the works discussed in the book, including Park Chan-wook's 2003 thriller "Oldboy," as well as "Mother," which was directed by Bong Joon-ho, the Oscar-winning director of "Parasite."

As part of her ongoing exploration of historical trauma and ethical responsibilities, Choi is committed to educating others on the stories of comfort women. The term "comfort women" refers to the thousands of Korean women and girls who were forced into sexual slavery by the Imperial Japanese Army before and during World War II. Though many people in Korean society and other Asian societies knew about the practice, no one spoke about it publicly for about 50 years until 1991, when Kim Hak-soon became the first person to publicly talk about her experiences.

Choi grew up being aware of the existence of comfort women but was unsure how to approach the topic. Once women began speaking up, however, she felt it was time to start writing about them. Choi initiated research into the experiences of comfort women, organizing U.S. conferences and dedicating an entire issue of the journal positions to the topic. She has recently completed translations of comfort women testimonies in collaboration with graduate students in the Department of East Asian Studies, which will be published by Routledge next year.

"It's been over 20 years since I was first asked to put this into English, and it was something I felt I had to do," she shares. "This was my way of paying a debt to those women who suffered, most of whom are gone now."

In December, Choi will host a virtual conference in partnership with the UCI Center for Critical Korean Studies about comfort women and women who have been impacted by a variety of wars and violence. Entitled "War, Women's Human Rights, and Comfort Women," the conference will feature professors and experts from around the world who will discuss not only the legacy of comfort women but also issues of reparation, reconciliation, and rebuilding life. Choi has been planning the conference for months and hopes scholars, students and the general public will attend to learn more about what can be done today to help restore and rebuild the lives of affected women.

Choi has studied, taught and written about wars, trauma and comfort women for decades, and with more planned books along the way, she's not quite finished.

"I think as a scholar I feel responsible to present these stories," she says. "It's not easy to do this and keep my sense of balance. It definitely has not been easy for me personally. But ethically, politically and emotionally, I feel that sharing these stories is what is right for me to do as a human."

Officially out December 21st, Healing Historical Trauma in South Korean Film and Literature is available on Amazon, Barnes & Noble, and Routledge.