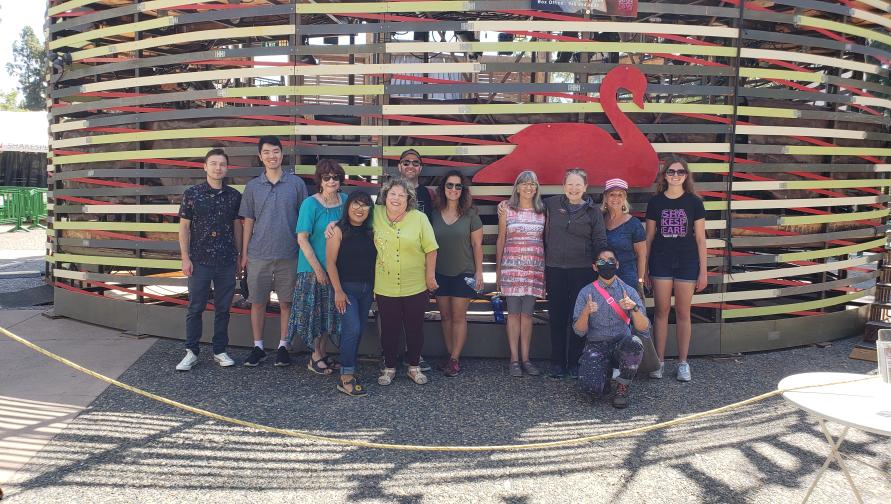 In a rehearsal, the actors, director, and stage managers slowly work through each moment of the play, taking the space, context and characters' emotions into consideration. Few audience members get to see this intimate artistic process. 
On July 2nd, the New Swan Shakespeare Center held "Behind the Scenes: Julius Caesar," co-hosted by the Jewish Collaborative of Orange County. Participants got to see Cassius, played by Hope Andrejack, and Brutus, played by Sean Spann, rehearse their first conversation in the play. 
Director Andrew Borba and the actors were puzzled on when to have the trumpets play. They had to ensure the trumpets came in just as Cassius finished his lines, for maximum effect. Participants got to see the whole team, including the stage managers, share their thoughts on how to clearly execute the play.  
Afterwards, Neah Lekan, the show's dramaturg and assistant director, led a discussion. Brutus is the idealist who wants to maintain his honorable reputation. Cassius is the realist who believes that the ends justify the means. As a performer at the court of Elizabeth I, Shakespeare saw similarities between the assassination of Caesar and the uncertainty towards Elizabeth I's reign. 
Lekan's passion for Shakespeare inspired the actors and the participants. "I like how this behind the scenes experience enriched my understanding of Julius Caesar," said Aidan Tran. 
It's undeniable that Shakespeare is still relevant in popular culture. Cassius's line "The fault, dear Brutus, is not in our stars / But in ourselves" inspired the title for John Greene's novel The Fault in Our Stars. Green's variation on Shakespeare suggests that in fact there are some things in life one cannot control. 
Jesús Enrique López Vargas, New Swan's Education and Outreach Director, taught participants some actor techniques that help them cope with brutal moments in the show. Death is prominent in every Shakespeare tragedy, so actors must remember that they are separate from their character and the happenings of the play. 
Participants got to visit the New Swan Theater and view the First Folio Exhibit on display at the Langson Library. Participants did a scavenger hunt where they searched for certain things in the Folio, such as a picture based on The Tempest and a medical book featuring skeletons.
While no First Folio or production is exactly the same, they each keep Shakespeare alive for new generations.
--Jessica Rosenow, New Swan intern
New Swan Shakespeare Center