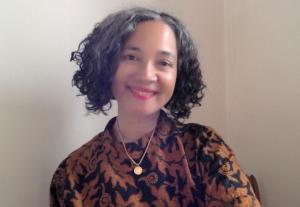 Fatimah Tobing Rony is Professor of Film and Media Studies at the University of California, Irvine.  In the Department of Film and Media Studies, she served as Director of Undergraduate Studies from 2001-2012, and as Chair of Film and Media Studies in 2005-2006, Fall of 2008, and 2019-2022.
She received her BA in Art from Williams College, her Ph.D. in the History of Art from Yale University, and her MFA in Direction/Production in Film from UCLA.
Her first book The Third Eye:  Race, Cinema, and Ethnographic Representation (Duke University Press, 1996), winner of the 1998 Katherine Kovacs Book Award from the Society of Cinema and Media Studies, is a study of representations of the "ethnographic" in scientific and popular cinema. Her second book How Do We Look:  Resisting Visual Biopolitics (Duke University Press, 2022) traces the legacy of visual biopolitics--the representation of the Indonesian woman--into the twenty-first century of globalization.
As a filmmaker, Rony directed and produced thirteen films which have screened in film festivals and museums all over the world, two of which are distributed by Women Make Movies. Rony co-directed the feature film Chants of Lotus [Perempuan Punya Cerita] (2008), which was distributed and exhibited in major theaters in Indonesia.  Her short animation film Annah la Javanaise was an Official Selection of the 2020 Annecy International Festival for Animated Film, in Annecy, France, and has won fifteen international film festival awards.  In 2022-2023, she was an Affiliated Researcher at the University of Paris I, Panthéon/Sorbonne, in Paris, France.
About the Equity Advisor role
The Vice Chancellor for Equity, Diversity and Inclusion, Douglas Haynes, through the Office of Inclusive Excellence appoints an equity advisor for each school, who, in collaboration with the Dean, participates in the recruitment process, organizes faculty career advising, and promotes equity and diversity within the School of Humanities. 
The equity advisor also serves as advisor to the Dean on equity, diversity, and inclusive excellence. This role is a leadership position within the Dean's Cabinet and focuses broadly on all aspects of equity, diversity, and inclusive excellence within the School of Humanities.