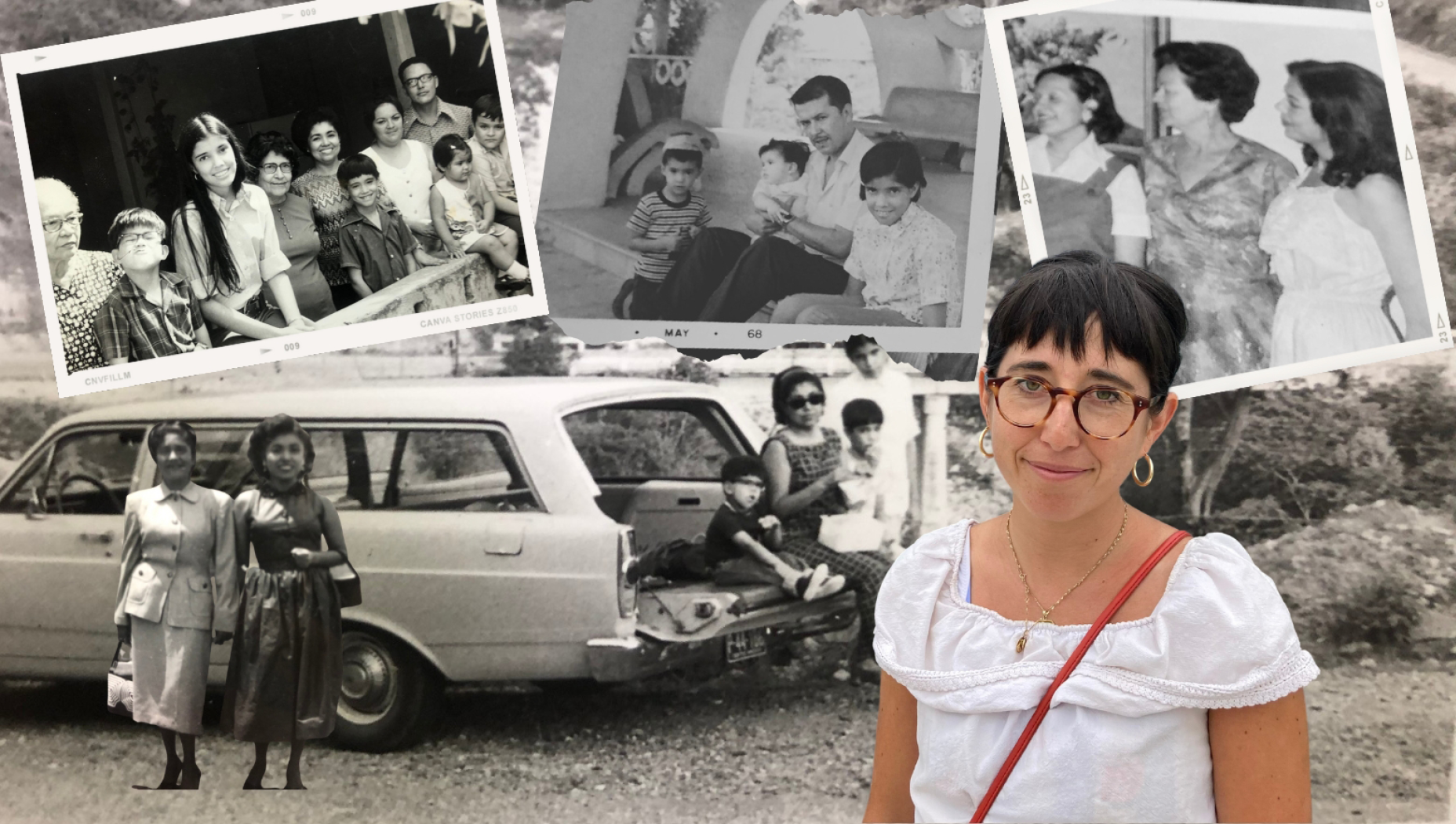 By Nikki Babri
Some questions are so big, you need to change the trajectory of your career to answer them. As families emigrate, cultures integrate and next generations assimilate, how does "being authentic" also change meaning? Who has the power to say that someone or something is "authentic?" Between countries, generations and cultures, where does one belong? 
Kathryn Campo Bowen, a second-year M.F.A. student in fiction at UC Irvine and the recipient of a 2023 Latino Excellence and Achievement Award (LEAD) in Graduate Student Excellence and a Schaeffer Graduate Fellowship, explores complex questions of identity in her current writing project, Earthquake Weather.
"I am honored and extremely grateful to receive a Latino Excellence and Achievement Award for the School of Humanities," Campo Bowen says on her LEAD Award, the only celebration and awards event in the UC system that is focused on Hispanic/Latinx graduate student success. "In part because this award is a recognition of the incredibly accomplished Salvadoran women in my family – including my mother, my grandmother and my great aunt – without which this novel-in-progress could not have happened." 
Campo Bowen is a Salvadoran American writer from Miami, Florida, whose work stems from her own collection of mixed identities. As the daughter of a Salvadoran immigrant mother and an Anglo-Californian father, a California transplant and a career-changer, she has a particular interest in varied, fractured identities in any form – professional, geographic, ethnoracial or otherwise. Campo Bowen shines a light on experiences that many descendants of immigrants can relate to. In her writing, she analyzes the generational impacts of assimilation on cultural erasure and the effects of features like skin color, language and gender on perceptions of Latinidad, or a shared Latinx identity.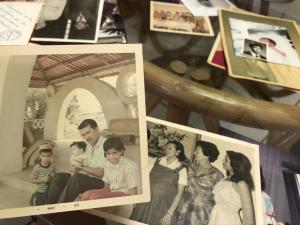 Michelle Latiolais, director of the M.F.A. Programs in Writing, has nothing but praise for Campo Bowen's storytelling. "Kathryn Campo Bowen has music in her ears, her prose is sonorous, audibly so, and it's all in the office of telling a many layered, multi-generational and geographically scattered story," Latiolais says. "Her prose envelops you as you read and you are instantly within a fraught world in which alliances are never easy or uncomplicated."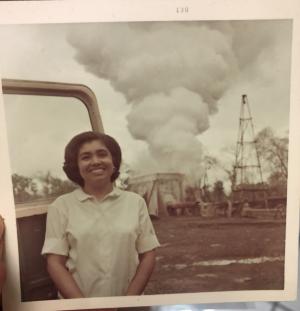 Campo Bowen's latest project, Earthquake Weather, is a multi-generational, multiple-timeline Salvadoran family story that explores concepts of "Latinidad, diaspora, emotional inheritance, generational trauma, exile and cultural belonging." Much of Campo Bowen's research comes from her Salvadoran relatives, and she turns to older photographs of her mother, uncles and grandparents for inspiration. A photo of her grandmother standing in front of a geothermal power plant in El Salvador is particularly meaningful for Campo Bowen, who made it her computer background. "Looking at her gives me strength, and I think this photo in particular captures the energy I am trying to channel in my writing." 
Diverting from the path
After graduating with her J.D. from UC Berkeley in 2016, Campo Bowen never imagined she'd find herself back in the classroom just a few years later pursuing a career in writing. Following graduation, she spent two years clerking for federal judges and a year working at a specialized San Francisco trial firm. When she first turned to writing, nonfiction felt like a more natural fit to capitalize on the analytical and expository skills she had perfected as an attorney, so she worked as a freelance journalist for two years before starting her M.F.A. program at UCI.  
Why the switch from law to creative writing? "I felt I had stories I needed to tell. Writing was a way to make myself whole, to understand who I was, to process grief and other difficult emotional experiences that I had suppressed for many years, but that bubbled up newly after my father passed away in 2018," shares Campo Bowen. "Eventually the pull toward telling – toward writing – outweighed the fear of diverting from the professional path I had worked extremely hard to get on."
Creative writing success at UCI
She is not the first M.F.A. student to pursue a second chance career. Jen Beagin, who received a prestigious Whiting Award in fiction and recently sold her third novel's film rights to HBO in a fourteen-way bidding war, was a self-professed cleaning lady before she joined UCI's M.F.A. program at almost forty. Héctor Tobar, a Pulitzer-Prize winning journalist and 2023 Guggenheim Fellow, pursued his M.F.A. at UCI after working for years in the newspaper industry. 
UCI's M.F.A. program in creative writing was the first of its kind in the UC system. Started by founding UCI faculty member Hazard Adams in 1965, the M.F.A. Programs in Writing aim to offer a supportive space for talented writers to further develop their skills and produce work that lasts.
What is it about UCI's M.F.A. programs that invite such high levels of achievement? "Our writers create their success," says Latiolais, a graduate of the program herself. "What the Programs In Writing offers is a space within which to do the work of reading and writing, and within a community of others just as passionate and hardworking."
Campo Bowen is also the recipient of a Schaeffer Graduate Fellowship from UCI's International Center for Writing and Translation (ICWT), a funding award to support students working on the topic of "translation." With this funding, she plans to spend the summer conducting research for her novel in El Salvador, Miami and Northern California.
Latiolais is confident of Campo Bowen's future success, predicting, "We will all be holding Earthquake Weather in our hands in a few years – it will speak for itself."
English
Graduate Students
International Center for Writing and Translation