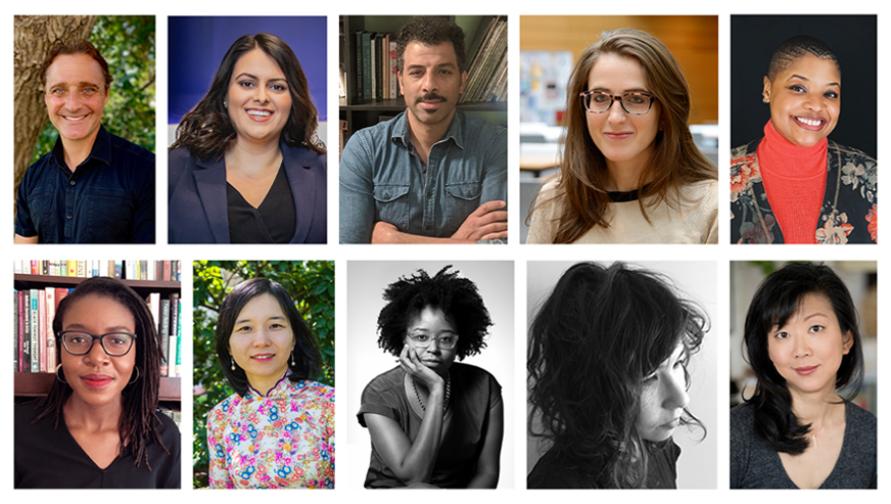 Ten senate faculty have joined the UCI School of Humanities this fall with appointments in the Departments of Art History, Comparative Literature, English, Film and Media Studies, Gender and Sexuality Studies, and History. Their research topics include Latinx media, African diaspora studies, Latina/o/x and African diasporic contemporary art, Viet Nam histories, Black feminisms and sexuality, Indigenous literature, and poetry.

Please join us in welcoming:

John Blair Gamber, associate professor, Department of Comparative Literature

John Gamber (they/them) joins us after having served as faculty at the College of William and Mary, Columbia University, and, most recently, Utah State University, in departments including English and comparative literature, ethnic studies and American studies. Gamber is the author of Positive Pollutions and Cultural Toxins: Waste and Contamination in US Ethnic Literatures (University of Nebraska Press, 2012), which was a finalist for the Association for the Study of Literature and Environment's award for ecocriticism. Gamber's articles have appeared in journals including PMLA, MELUS, and WLA as well as a host of edited collections, focusing primarily on Native American literature as well as the ways that Indigeneity and race intersect with our understandings of our relationship to the other-than-human, gender and sexuality, and legal structures as they attempt to regulate racialized communities. They are currently working on their next book, Deeply Unsettling: Native American Speculative Fiction, which examines the rapidly expanding canon of Native-authored texts of science fiction, fantasy, and horror. 

Gamber earned their Ph.D. in English from UC Santa Barbara, M.A. in comparative literature from Cal State University, Fullerton and B.A. in comparative literature from UC Davis. 

Fun fact: While this is John's first academic position at UCI, it is not their first job here. John served as an assistant track and field coach for the Anteaters just prior to reentering the academic scene between college (where they competed in the sport as well) and graduate school.
 
Arcelia Gutiérrez, assistant professor, Department of Film and Media Studies

Arcelia Gutiérrez joins us from the University of Kentucky's Department of Hispanic Studies where she was an assistant professor of Latinx studies. Gutiérrez's current book manuscript traces how Latinx media activists have navigated processes of deregulation and neo-liberalization and the strategies they've used to push for the inclusion of Latinxs in television, film and radio from the 1980s to the present. Her articles have appeared in Critical Studies in Media Communication, Television and New Media and Feminist Media Histories. Her research interests include media activism, Latinx studies, media industries, broadcasting history and digital media. Gutiérrez currently serves as the co-chair of the Society for Cinema and Media Studies' Latino/a Caucus. 

Gutiérrez earned her Ph.D. in Romance languages & literatures and a graduate certificate in Latino/a studies from the University of Michigan and her B.A. in Spanish and Latin American studies from UC San Diego.

Fun fact: Arcelia used to work for a (now defunct) Los Angeles-based MLS soccer team during her youth. She had the opportunity to encounter stars such as Ronaldinho and David Beckham.

Felix Jean-Louis III, assistant professor, Department of History

Felix Jean-Louis III is a recent Ph.D. (2020) from the Department of History at Florida International University in Miami. He was an American Council of Learned Societies' Emerging Scholars Fellow in the Department of European Languages and Studies here at UCI for the 2020-2021 academic year. His research exists at the intersection of Caribbean, African American, and African diaspora studies. His book manuscript, Exporting the Revolution: Haitian Internationalism in the Age of Global Blackness, 1885-1945, explores the contributions of Haitian elites in the various programs designed to forge a united community of people of African descent allied in efforts to affect the liberation of the colonized people of African descent globally. He teaches courses on African American, Caribbean and Afro-European histories.

Fun Fact: Felix worked for many years in various record stores and considers himself a lay musicologist. He can connect any major U.S. American musical artist of the past 50 years to bassist Bootsy Collins in 6 degrees or less.

Abigail Lapin Dardashti, assistant professor, Department of Art History

Abigail Lapin Dardashti joins us from San Francisco State University, where she was assistant professor of art history. Her research examines modern and contemporary Latin American, Latina/o/x, and African diasporic art with a focus on international exchange, migration, racial formation and activism. Her current book project, Itinerant Modernism: Politics and the Rise of Afro-Brazilian Art, examines Afro-Brazilian art and international exchange during a period of military dictatorship from the 1960s to the 1980s, focusing on state-sponsored exhibitions as well as activist art in the United States, Nigeria, Senegal and Brazil. A second book project will explore the plans and designs of Brazilian architects for projects in West and Central Africa during the 1970s and 1980s. Her work has received funding from the Social Science Research Council, the Fulbright Program, the Center for Advanced Study in the Visual Arts at the National Gallery of Art, the Mellon Foundation and the Smithsonian Institution. Her curatorial work has focused on Caribbean and Caribbean American art, as well as Brazilian photography and African American painting. She has curated exhibitions at BRIC, Brooklyn, and Taller Puertorriqueño, Philadelphia and has served as curatorial fellow at The Museum of Modern Art, New York, the Studio Museum in Harlem, and the Museo de Arte Moderno, Santo Domingo. Her work has been published in peer-reviewed journals, exhibition catalogues, and edited volumes in Brazil, the Dominican Republic, France and the United States. 

Lapin Dardashti earned her Ph.D. in art history from the Graduate Center, CUNY, in 2020, her M.A. in art and architectural history from the Institute of Fine Arts, NYU and her B.A. in Spanish from New York University.

Fun fact: Abigail was born in the small town of Aix-Les-Bains in Savoie, France, to French and Dominican American parents. She grew up between the Caribbean and Paris and moved to New York City at 16. She loves cooking; her specialty is roast chicken.
 
Mahaliah A. Little, assistant professor, Department of Gender and Sexuality Studies

Mahaliah A. Little joins us from Ohio State University, where she earned her doctorate in women's, gender, and sexuality studies. Her forthcoming project theorizes representations of Black women's sexuality in the aftermath of sexual violence in fiction, film and memoirs. Little's research on Black women's sexuality and representation has been featured in Black Female Sexualities (Rutgers University Press, 2015) and in American Quarterly. Her research interests include Black feminist theory and aesthetics, Black sexuality studies, trauma narratives, popular culture and the social utility of representation. She is generally interested in how contemporary Black women's fiction disrupts linear conceptualizations of recovery from trauma.

Little earned her M.A. in women's and gender studies from Rutgers University and her B.A. in English from Spelman College.

Fun fact: Mahaliah loves competition reality TV shows, especially those about baking. She is an avid baker herself. Her love of confection-related content is only rivaled by her love of dinosaurs, which developed at an early age. The "Jurassic Park" movie franchise holds a special place in her heart.

Rudo Mudiwa, assistant professor, Department Gender and Sexuality Studies 

Rudo Mudiwa joins us from Princeton University, where she was a Presidential Postdoctoral Research Fellow. Mudiwa's research interests include anti-colonial thought, Black women's cultural production, transnational feminisms and urban studies. At present, she is working on a manuscript titled, A Nation of Prostitutes: Gender, Urban Space, and the Invention of Zimbabwe. This book will examine how the prostitute – a symbol of the mobile and transgressive Black woman – mediated anxieties regarding the challenge of remaking urban space, policing and gender relations in the wake of colonial rule. This project is drawn from her dissertation, which received the American Society for the History of Rhetoric's Dissertation Award in 2019. This research was supported by the Social Science Research Council's International Dissertation Research Fellowship. In addition to her academic work, Mudiwa has published essays in Transition, Chimurenga, New Frame, Ebony and Africa is a Country. 

Mudiwa earned her Ph.D. in communication and culture from Indiana University, Bloomington and her B.A. in political science and communication from Wesleyan College.

Fun fact: The first CD that Rudo ever bought with her own money was Destiny's Child's The Writing's on the Wall. It was purchased at the Edgar's on First Street in Harare, Zimbabwe. She still has the jewel case.

Diu-Huong Nguyen, assistant professor, Department of History

Prior to UCI, Diu-Huong Nguyen served as a Chancellor's Postdoctoral Fellow at UC Riverside and visiting assistant professor of history, Mellon Fellow at the John B. Hurford '60 Center for the Arts and Humanities at Haverford College. Her work focuses primarily on the social history of Viet Nam and the human dimension, in particular the voices and experiences of ordinary people during the Viet Nam War. Nguyen is developing her book manuscript, Eve of Destruction: A Social History of Viet Nam's Royal City, 1957-1967, illuminating how war transformed social life in the imperial city of Hue in central Viet Nam. Drawing on a conference she organized in 2019, Nguyen is also working on the edited volume Voices from the Everyday South: Civilian Lives During the Viet Nam War, which offers a wide range of personal narratives by ordinary Vietnamese civilians from differing social communities and walks of life and from various regions. She is the primary author of a students' history book series published in Viet Nam and serves as a history consultant for television and film projects. Her writing has appeared in The New York Times and BBC, as well as in various larger published works.

Nguyen earned her M.A. and Ph.D. degrees in history from the University of Washington, Seattle and M.A. degree in Southeast Asian studies from Ohio University. 

Fun fact: While getting "Americanized" by joining the Bucharest Drinking Team (band), Diu-Huong once hosted Oscar-winning Hollywood filmmakers who worked on "Titanic," "Avatar" and "Terminator 2" at her home and then traveled with them on a film shoot throughout Viet Nam (they never got "Vietnamized" though).
 
Philana Payton, assistant professor, Department Film and Media Studies

Philana Payton is a former UC Chancellor's Postdoctoral Fellow in the Ralph J. Bunche Center for African American Studies at UCLA. Her research focus uses Black studies, performance theory and film theory to explore Blackness and visual culture through Black women's performances. Payton has also done extensive archival research on early 20th-century Black silent cinema and has conducted race and gender analyses on classical era films through today's cinema, television and media. She is currently working on her first manuscript, tentatively titled, Celestial Bodies: Black Women, Hollywood, and the Fallacy of Stardom.

She is a graduate of the cinema and media studies M.A. and Ph.D. program at USC and earned her B.A. degree from Claflin University.

Fun Fact: Philana played basketball from adolescence into college and still has an immaculate jump shot.

Natalie Shapero, associate professor, Department of English

Natalie Shapero joins us from Tufts University's Department of English. She is the author, most recently, of the poetry collection Popular Longing. Her previous collections are Hard Child, shortlisted for the International Griffin Poetry Prize, and No Object, winner of the Great Lakes College Association New Writers Award. Her writing has appeared in The New Yorker, The New York Times Magazine, The Nation and elsewhere. Her research interests include poetry and poetics.

Shapero holds a B.A. from Johns Hopkins University, an M.F.A. from Ohio State University and a J.D. from the University of Chicago.

Fun fact: Natalie is committed to riding a single-speed bike, even in situations where gears would really help.

Monica Youn, associate professor, Department of English

Monica Youn joins us from Princeton University's Lewis Center for the Arts, where she was a lecturer in creative writing. Youn is the author of three books of poetry, most recently Blackacre (Graywolf Press, 2016), which won the William Carlos Williams Award of the Poetry Society of America. It was also shortlisted for the National Book Critics Circle Award and the Kingsley Tufts Award, longlisted for the National Book Award and named one of the best poetry books of 2016 by The New York Times, Washington Post and BuzzFeed. Her second book Ignatz (Four Way Books, 2010) was a finalist for the National Book Award. She has been awarded a Guggenheim Fellowship, the Levinson Prize from the Poetry Foundation, a Witter Bynner Fellowship from the Library of Congress, and a Wallace Stegner Fellowship from Stanford University as well as residencies from the Rockefeller Foundation, the Lannon Foundation, Civitella Ranieri, Yaddo and MacDowell. Her poems have appeared in Poetry, The New Yorker, The Paris Review, and four editions of The Best American Poetry. A former constitutional lawyer, she is a member of the curatorial collective, the Racial Imaginary Institute. Her fourth book FROM FROM is forthcoming from Graywolf Press in March 2023.

Youn earned her M. Phil. in English literature from University College, Oxford, where she was a Rhodes Scholar, her J.D. from Yale Law School and her A.B. in public policy and creative writing from Princeton University.

Fun fact: Monica is obsessed with her long-haired calico kitty Vincentine, who is named after Wallace Stevens' "The Apostrophe to Vincentine." She found Vincentine under her deck – skin and bones and fleas and worms – but when Monica opened her door to get the stray kitten some food, Vincentine ran into the living room, curled up on the sofa and started purring.

The images of the faculty are in alphabetical order. Top left to right: John Blair Gamber, Arcelia Gutiérrez, Felix Jean-Louis III, Abigail Lapin Dardashti, Mahaliah A. Little. Bottom left to right: Rudo Mudiwa, Diu-Huong Nguyen, Philana Payton, Natalie Shapero, Monica Youn.
Art History
Comparative Literature
English
Film and Media Studies
Gender and Sexuality Studies
History