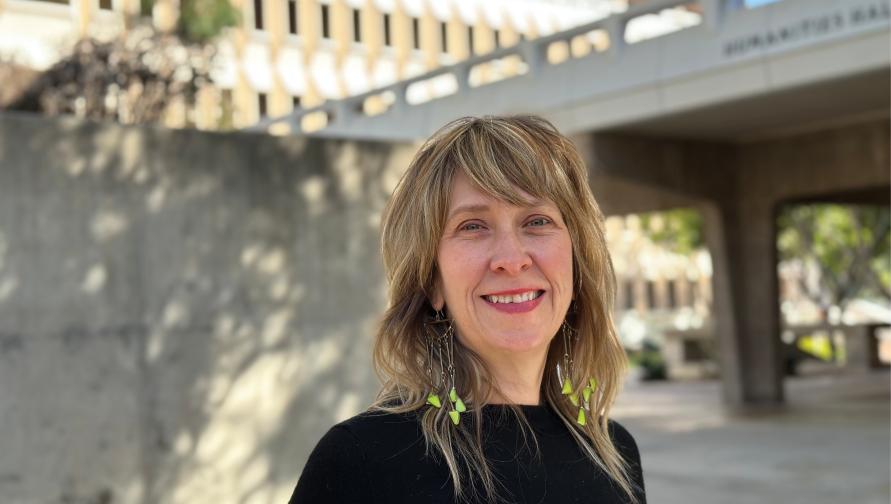 Kelly Anne Brown has been named director of media relations and communications for the School of Humanities, starting on Feb. 1, 2023.
Since earning a B.A. in English from Lewis & Clark College and a Ph.D. in literature from UC Santa Cruz, Kelly has spent over 20 years studying, teaching and administering the humanities. She has worked in the UC system for over 17 years, including 7 years in a Ph.D. program in literature at UC Santa Cruz, where, as the graduate pedagogy instructor, she revamped the graduate pedagogy curriculum, and most recently, 10 years at the UC Humanities Research Institute, which is based at UCI but works across the UC system.
At UCHRI, Kelly served as associate director, managing UC-wide research initiatives and projects as well as the institute's communications. She has developed and run several multi-year research initiatives including an initiative on religions and diasporic communities, a project on humanities research infrastructure, and Humanists@Work, a nationally-funded program supporting Ph.D.'s who pursue a range of careers post-graduation. As part of this work, Kelly has been involved in raising awareness about educational debt and its impact on post-Ph.D. professional trajectories, especially for first-gen students. 
Kelly's professional background also includes work in public policy and program development for city, county and state government agencies. Much of this was in the field of early childhood education for First Five California and First Five Alameda County. Kelly and her family live in Costa Mesa, where she serves on the Parks and Community Services Commission for the city. She's been working with her local city council person to bring arts and humanities to Costa Mesa parks and would like to do more to connect UCI with different communities in Costa Mesa.
Fun fact: Kelly loves to camp in places like Ojai and Gualala and the Lost Coast, though most prefers to be offgrid on the banks of the Klamath, swimming, hiking and stargazing miles and miles away from even the vaguest hint of an internet signal.