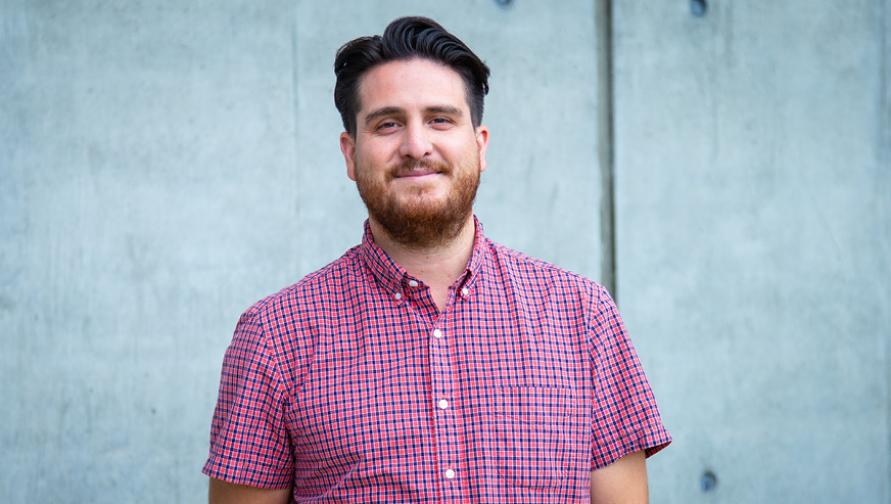 By Annabel Adams

Danilo Caputo is not a scientist. In fact, he's what some would consider on the opposite side of science—a Shakespeare scholar. But that's exactly what University of California, Irvine Ph.D. candidate Caputo aims to disprove.

Through interdisciplinary programs, internships and teaching, Caputo has forged a unique bridge between the sciences and the humanities that is ensuring complex contemporary challenges like climate change can be effectively mitigated.
Bridging the humanities and sciences for change
While a master's student at California State University, Long Beach, Caputo found his scholarly calling—a blend of Shakespeare and ecocriticism, which is a lens for reading literature that takes representations of nature and the environment as its focus. When he decided he wanted to earn a Ph.D. in this subject matter, he was referred to one of the foremost Shakespeare experts today—Julia Lupton, professor of English and co-director of the Shakespeare Center at UCI.

UCI has been an ideal home for Caputo's interests—not only one of the most sustainable universities in the world, it is also one of the best places to study sustainability. UCI recently became the fourth campus in the world to achieve a platinum rating through the Association for the Advancement of Sustainability in Higher Education's Sustainability Tracking, Assessment & Rating System and the university offers sustainability-related courses in more than 85 percent of its academic departments. With the encouragement of his faculty mentor and dissertation advisor Lupton, Caputo participated in UCI's Climate Action Training Program, lobbied on Capitol Hill for climate change, and incorporated sustainability advocacy into his classrooms.

Led by Steve Allison, UCI associate professor of ecology & evolutionary biology, UCI's Climate Action Training Program ("CAT") brings together an interdisciplinary cohort of graduate students who plan to pursue careers that address climate issues. The students enroll in a two-unit problem-based graduate seminar each quarter for one year as well as a data science short course, and develop communication and professional skills through targeted workshops. A key element of the program is a three-month, paid internship with a non-academic partner.

Caputo and Sharon Kunde, now a Ph.D. alumna from UCI English, were the first School of Humanities students to participate in the program. 

"I was thrilled and a little uncertain when two English Ph.D. students signed up for my 2016 Climate Action Training Program," says Allison. "Like many scientists, I'd had almost no interactions with humanists, and I wasn't sure how it would go. Danilo and Sharon totally opened my eyes to the power of cross-disciplinary perspectives, and I learned so much from them. So did the other science and engineering trainees in the CAT program."

"Through the CAT program, I took a course at UCI Law taught by Professor Joseph DiMento on climate law; with my cohort—an incredibly intelligent and inspiring group of Ph.D. students from a range of disciplines, including engineering, biology, sociology, and anthropology—I read the latest Intergovernmental Panel on Climate Change report; and I was able to apply what I learned through a summer internship," says Caputo. 

After completing the CAT program coursework, Caputo interned with UCI Sustainability's Regional Resilience Project, a community-organizing project focused on climate change impacts, vulnerabilities, action, and activism from the deserts of Riverside County to the coast of Orange County. Caputo's role was to help the project mitigate some of the miscommunication that can arise when bringing together a diverse group of stakeholders—from scientists to the public—to solve a complex problem.
Taking UCI advocacy to Capitol Hill
On Earth Day, April 22, 2017, more than a million participants across the globe participated in the inaugural March for Science, a non-partisan movement celebrating evidence-based science in the public's interest through a series of marches and rallies. With sponsorship from Allison, Caputo and three of the students from his cohort traveled to Washington D.C. for the occasion. To apply what they learned in the classroom to the non-academic world, they scheduled meetings with various organizations and representatives to advocate for environmental policies that are pro-environment, pro-economy, and backed by sound science.

"Regardless of the current political climate, climate change is happening and we were determined to address this issue by promoting bipartisan and even conservative-led efforts. To make the most out of each meeting, we spent weeks researching each Representative and tailoring our message to most effectively reach them," says Caputo.

The students spent a day meeting with various organizations that promote climate action and sustainability, including members of the American Academy for the Advancement of Science, the American Meteorological Society, and the Center for Environmental Policy at American University. The following day, they met with 10 Southern California Representatives and their aides from both sides of the aisle, including Mimi Walters, Dana Rohrabacher, Ed Royce, Linda Sanchez, and Alan Lowenthal.
Creating an interdisciplinary future
Spurred by his experiences in the CAT program and the Regional Resilience Project, Caputo wanted to find a way to empower younger generations of future scientists, doctors and engineers with the communications and writing skills that result from a humanities education. This partnership, he believed, would create a bridge between the disciplines at the undergraduate level that he was benefitting from at the graduate level.

As an instructor of the undergraduate composition course, WR39C "Argument and Research," Caputo chose the theme of sustainability. Using the book Bird on Fire: Lessons from the World's Least Sustainable City by Andrew Ross as a model, Caputo walked students through the process of building an argument with sound research and then using that argument to advocate for change. The course culminated with the students writing a research paper on a sustainability topic of their choosing.

To provide the students with a space to share their research, Caputo and James Goebel, UCI Ph.D. candidate in comparative literature, organized an undergraduate writing conference called "Sustainable Compositions / Composing Sustainability." Several units from across campus came together to sponsor the event, including Humanities Commons, Composition Program, UCI Community Resilience Projects, UCI Climate Action Training Program, and Climatepedia at UCI.

Nearly 20 students, all majoring outside of the School of Humanities, presented their research on topics ranging from solar roadways to sustainable diets, with graduate-student moderators from the Humanities. Caputo and Goebel invited Shelley Streeby, professor of literature and ethnic studies at UC San Diego, to deliver a keynote address that spoke directly to the students' power to imagine and write a more sustainable future. Her keynote was based on her book, Imagining the Future of Climate Change: World-Making Through Science Fiction and Activism (UC Press, 2018).

While Caputo has gained a working knowledge of climate science and has lent his humanities skillset to bridging scientific research to the public—including an internship in science writing with the UCI School of Medicine—his experiences in these various interdisciplinary roles have also affected his own scholarly research. It was through his internship with the Regional Resilience Project that Caputo first became familiar with the term "environmental resilience"—the ability for natural systems to recover from, tolerate and/or adapt to a changing climate. This lens of ecological resilience now forms the foundation of his dissertation project, "Shakespearean Resilience: Disaster and Recovery in the Late Romances."

"I believe that the way I study and teach Shakespeare and composition encourages students to think beyond just the human characters. They think about how these people are situated within a particular environment and how their actions affect the world around them," says Caputo. "If we're thinking environmentally while we're reading literature, that gives us the mindfulness we can apply in the real world."

Caputo and Kunde's experiences in the CAT program not only changed their own paths (Kunde recently wrote an op-ed on food waste that was published in The Los Angeles Times), it also inspired the creation of a future cross-disciplinary initiative at UCI: the UCI Climate Alliance. Currently, the UCI Climate Alliance is an informal set of programs spearheaded by Allison connecting like-minded colleagues in Anthropology, Humanities, and UCI's Strategic Communications and Public Affairs. This fall, Allison will offer graduate students a course on communication skills through "ECO EVO 203A" (Graduate Tutorial in Ecology and Evolutionary Biology) and plans to further expand on the program.

"We want to build new partnerships between STEM and non-STEM fields because I strongly believe that facts and figures about climate change, while very important, do not on their own solve the problem. We need communicators and connections to the public for that," says Allison. "This collaboration would not have happened without the spark that Danilo and Sharon provided."

"Despite overwhelming evidence, many industry leaders, elected officials and ordinary citizens are indifferent or hostile to climate change," says Lupton. "We propose a radically different approach: stop lecturing and embed academics, students and storytellers in communities to listen to their concerns, understand their cultures and together develop successful action plans that can be widely replicated."

Already a path-breaker as the first in his family to graduate college, Caputo is now envisioning where he will take his innovative humanities approach after graduation. While his heart has been set for some time on being an English professor at a university, he now tacks on a new goal of leading a center for science writing, or finding new ways to incorporate environmental advocacy into humanities curriculum.  

"Through these collaborative experiences, I've come to recognize the vital role that those working in the humanities can play in climate action and sustainability efforts; while discussing the gap between science and policy, I've learned that the two leading causes of this rift are the inability to clearly communicate and effectively humanize the problem. We in the humanities are perfect candidates for closing this gap, and that is how we can contribute."

This summer, Caputo will intern with the Humanities Center and Office of Humanities' Graduate Study where he will further utilize his unique science-communications skillset. This fall, he will begin a yearlong position with the Medical Humanities Initiative.

"O brave new world, / That hath such people in it," says Miranda in Shakespeare's "The Tempest." Caputo and his colleagues want to build that world, through new forms of reading and communication.
Environmental Humanities
New Swan Shakespeare Center