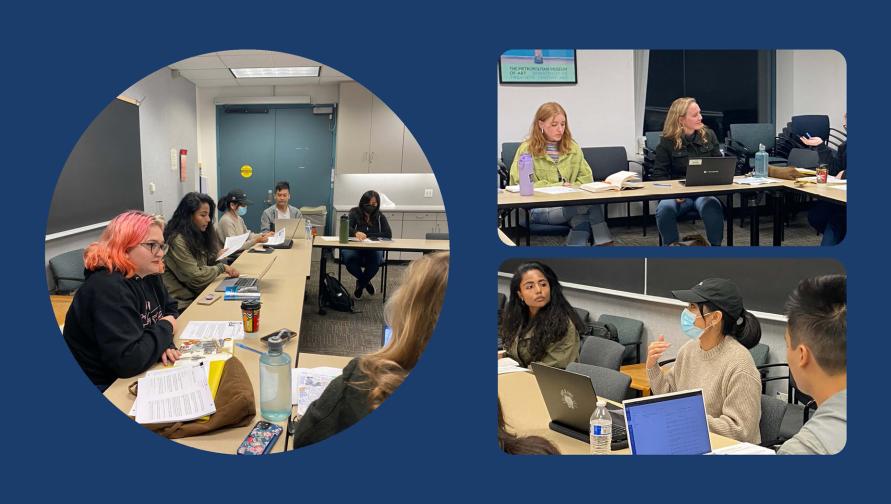 By Megan Cole
After spending a few years teaching English at a small, arts-focused high school, Beka Castro found herself longing to engage in "the same nerdy, synergistic, literature-rich conversations I was asking of my students." Immediately after finding UCI's English M.A. program and meeting the faculty, she discovered just what she was looking for.
"I knew it would be the perfect format for learning about literary criticism and research while also having fun adopting new ways of looking at literary genres I already loved," she recalls.
Castro, now a second-year English M.A. student, is one of about two dozen students in the program, which was designed primarily for K-12 teachers eager to develop their skills in communication, critical thinking and literary analysis. According to English Department Chair Elizabeth Allen, the English M.A. degree is not only pragmatic – it prepares graduates to teach at the community college level and can increase K-12 teachers' salaries – but "intellectually nourishing, enriching and exploratory." 
UCI's English M.A. program has been around for about 30 years, but it was recently reimagined as a two-year, part-time program to better accommodate the schedules of high school teachers like Castro. It is currently the only humanities program across the UC system designed specifically for mature and returning students. 
Allen, the daughter of two public school teachers, was particularly thrilled to relaunch the English M.A. program, as her parents both attended similar enrichment programs and "grew tremendously" as a result. She is proud that UCI's English M.A. program has had a similar impact on its alumni.
"Programs like these give teachers authority in their institutions, a sense of imaginative purchase on the work they're doing with their students, new ideas – really, it gives them a sense that there is a huge, established world of literature in which they are participants," she says. "As a teacher, the feeling that you're part of something bigger than yourself is so powerful." 
Castro has already transported ideas from the M.A. classroom to her own high school courses, where she covers everything from ancient literature to literary bioethics (using Mary Shelley's Frankenstein as a primary text) to an interdisciplinary course called "Forensics with Agatha Christie." 
"Professionally, I have connected more thoughtfully to the content I deliver in my classroom thanks to the English M.A. program, energizing the material and methods I use to help students love literature," says Castro. 
One of Castro's English M.A. classmates, Scarlet Guzman, is another local high school teacher who entered the program to enrich her knowledge of English literature, as well as to prepare herself to teach at a community college someday. In classes ranging from Arthurian literature to Gothic novels and beyond, she has "learned so much about literary analysis, read so many new authors and improved my writing skills," she says.
U.S. News and World Report recently gave UCI's English a top ranking on its list of Literary Criticism and Theory university departments, but in addition to the program's prestige, Guzman and Castro appreciate "the profound feelings of camaraderie" it fosters.
"Aside from the new texts that I've been exposed to, I've loved building a community of like-minded people who are all working toward the same goal and have similar interests and experiences," says Guzman. 
Castro adds that while "the academics are stellar and diverse," the highlight of the program for her has been "the delightful closeness of our cohort and our direct and encouraging relationships with the faculty." 
"So many of us are teachers, so perhaps we are hungry for more satisfying conversations around literature," Castro says. "Our cohort may share a desire to use what we learn in the wider world. But whatever the reason, the result is fascinating and engaging discussions combined with genuine care for the people in the room."
Above all, Allen is gratified that the program has not only impacted its graduates but has reverberated widely through their students and communities.
"The English M.A. degree reconfigures the relationship between teachers and the literary texts they are teaching their students, and that trickles down," Allen says. "When you open up individual horizons for teachers, you're also opening them for students."