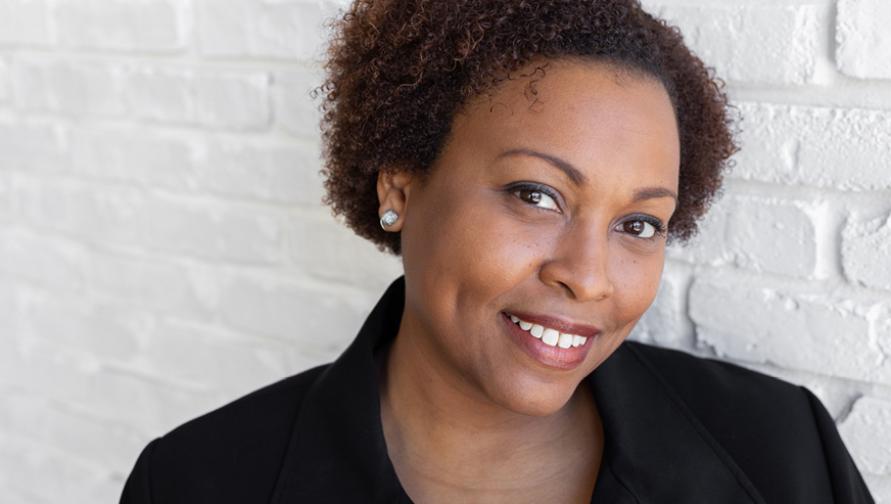 Ella Turenne, a Ph.D. candidate in visual studies, passed away on Dec. 25, 2021. She was an artist, activist, educator, entrepreneur and scholar.
A powerhouse of creativity, drive and compassion, Turenne's influence can be found on the big screen; on theater stages; in newspapers, books, poetry anthologies and academic journals; in art galleries and museums; in the classes she taught; and in the organizations and communities she impacted.
A legacy at UCI
Turenne joined UCI's Ph.D. Program in Visual Studies in 2019 to research Black feminist theory and visual culture under the guidance of her adviser, Bambi Haggins, associate professor of film and media studies and visual studies.
Turenne was active on and off campus as an organizer, mentor and entrepreneur. For the Ph.D. Program in Visual Studies, she organized film screenings as well as the Visual Studies Graduate Conference of 2021. As the humanities and entrepreneurship dialogue intern for the Wayfinder program at UCI Beall Applied Innovation in the summer of 2020, she hosted a virtual series that demonstrated how entrepreneurs can use storytelling to more effectively pitch and market their companies, consider the impact of pop culture on science and technology when developing a product or service and integrate their values and ethics into their businesses.
She always made time to share her story. In a video interview with literary journalism alumni Sydney Charles and Tatum Larsen for "The Welcome Table with Sydney and Tatum," she spoke about her upbringing as the daughter of Haitian immigrants and the inspiration behind her work.
"I just try to live my life as authentically as possible and try to live by my values and be passionate about what I believe in," she said in the video. "Hopefully that will be a model for other women, other Black women to do the same. Because to me, that's the only way that I can see myself living, is to be true to who I am."
"Ella was a leader in our community," said Fatimah Tobing Rony, professor and chair of the Department of Film & Media Studies. "At UCI, she brought tremendous joy and knowledge. She inspired us to conceive of the arts as a form of social justice and resistance."
Turenne quickly found her footing as an instructor. In 2021, she won the "Outstanding TA Award" for her work in the Film and Media Studies 85 course series. As the teaching assistant for the Humanities Out There Program ("HOT"), she developed social justice internship opportunities for undergraduates, including one with the Prison Arts Collective, a program dedicated to expanding art access to people experiencing incarceration.
"Ella had a remarkable capacity to stir up creative energy and joy. All of us at HOT will miss her dearly," said Larisa Castillo, associate professor of teaching and director of pedagogical development in the UCI Humanities Center.
A voice of and for Haiti
Turenne's Haitian background was an integral part of her identity and work.
She wrote columns on arts and culture for the Haitian Times.
Her first book, revolution|revolisyon|révolution 1804 – 2004: An Artistic Commemoration of the Haitian Revolution (Liv Lakay Publications, 2004), honored the Haitian revolution through a collection of poetry and visual art.
In the aftermath of the 2010 earthquake, she co-edited For the Crowns of Your Heads, a collection of poems about Haiti. Funds raised by the volume were used to aid a Port-au-Prince library destroyed in the quake.
Her podcast, "Fanm on Films," a collaboration with filmmaker Martine Jean, showcased the work of Haitian people in film and television.
In 2019, The Haitian Roundtable inducted her into its "1804 List of Haitian-American Changemakers and Ones To Watch" list.
A performer, artist and writer
A performer since the age of five, Turenne produced, directed and starred in her own television show, "The Ellen Show," at the age of 19. Later, she produced and hosted a live talk show called "Not for Nothin'" at Cambridge Community Television. She produced and acted in films that have been showcased in numerous national and international venues. Her film "Woodshed" was an official selection at various festivals, including the Hollywood Black Film Festival and the Montreal International Haitian Film Festival, where it was nominated for Best Short Film.
Her paintings have been displayed at the Boston Center for the Arts, the Long Island African-American Museum, the Jose Vera Gallery in Los Angeles and the Salmagundi Art House in New York.
Her poetry has been showcased in numerous publications, which she performed at venues across the U.S.
She also wrote about art and social justice from a scholarly lens. Turenne's academic research has been published in Searching for America: Essays on Art and Architecture (Cambridge Scholars Press, 2021) and Turning Teaching Inside Out (Palgrave Macmillan, 2013).
An advocate for social justice
Turenne grounded everything she did in social justice. She was a member of the BLACKOUT Arts Collective, a grassroots organization with the mission to empower communities of color through arts, education and activism.
She created Lyrics on Lockdown at NYU, a course that brought college students together with high school students experiencing incarceration to explore the prison-industrial-complex through the arts. She went on to teach Lyrics on Lockdown at Occidental College in Los Angeles in partnership with Inside Out Writers, an organization with the mission to reduce the juvenile recidivism rate by providing a range of services that evolves to meet the needs of currently and formerly incarcerated youth and young adults.
"I'm convinced that people with degrees in humanities are essential to the fabric of society in terms of what we contribute, how culture is made and how policies are made," she once said. "I really feel like we need humanities scholars to help make sense of the world. I just want to give a shout out to all the people who are getting a degree in humanities to continue to feel empowered, to feel that we have something to contribute."
The Program in Visual Studies is hosting a celebration of Turenne on March 4, 2022 at 1 p.m. in Humanities Gateway 1030.
UCI's Langson Library has created a book display in honor of Turenne, available through March 7th. The display comprises just a few of the many books that highlight Turenne's research interests, intellect, and passions, as well as written tributes by Professor Bridget R. Cooks and visual studies doctoral candidate Kathie Foley-Meyer.