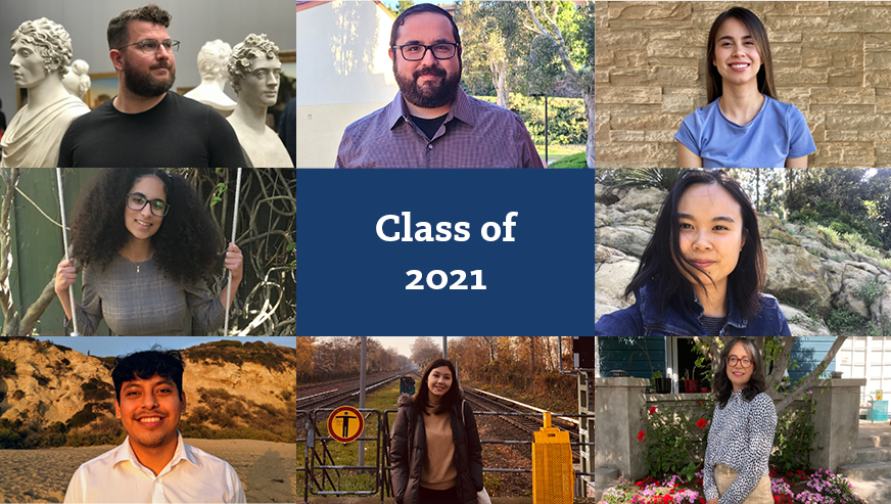 By Kayla Ettinger
This spring, 645 undergraduate and 44 graduate students from UCI's School of Humanities will participate in commencement. UCI will confer the degrees through a virtual commencement on Saturday, June 12.
Below, meet eight graduating students who reflect on their time at UCI.
James Bliss
Ph.D. culture and theory
James Bliss first decided he wanted to pursue a Ph.D. when he was an undergraduate student at UCI, triple majoring in African American studies, political science and women's studies. Flash forward to almost a decade later and Bliss is graduating with a Ph.D. in culture and theory with a focus on the intellectual history of Black feminism and how it relates to different movements of cultural studies between 1960 and the 2010s.
"At the beginning of my third year as an undergraduate, I made a commitment to myself to start talking to my professors after class," he recounts. Instead of talking about the class material, Bliss found himself discussing his own research and interests in Black feminism.
One professor in particular noticed Bliss's passion for research and helped Bliss enroll in the UCI Undergraduate Research Opportunities Program. From there, his interest in Black feminism only grew. After completing his undergraduate education, he attended the University of Chicago for his M.A. before returning to Irvine for his Ph.D.
While at UCI, Bliss shared his expertise and knowledge with undergraduate students by teaching both African American studies and writing courses. A few classes he has taught include "Argument and Research," "African American I," and "African American II." While teaching these courses, he discovered his passion for teaching and sharing knowledge.
Going forward, Bliss plans to apply for research and teaching opportunities within academia.
Ricardo "Rick" Ceballos is a first-generation transfer student, a parent, and an English major minoring in film and media studies.
As a transfer student, Ceballos only had two quarters on the UCI campus before the pandemic interrupted life and made remote-learning the standard for the rest of his tenure as a student. He thanks the
UCI Humanities Honors Program
, a two-year, upper-division program designed to challenge exceptional humanities students, as crucial to him finding community during this time. As part of his involvement in the program, Ceballos is writing a thesis where he examines pop culture and identity formation through a gender-studies lens.
Through the
Humanities Out There Program
, Ceballos worked with the Special Collections and Archives Department - an experience he treasures as one of his favorite moments at UCI. During his internship, he supported
UCI Medical Humanities
by transcribing interviews with people of color about their experiences with the medical industry in Orange County, making them accessible for future research.
While remote learning was not ideal, Ceballos was thankful for both his experiences in the honors program and as an intern. Even more so, he was grateful to have had his wife and her support along for every step of this journey.
"I have been very fortunate that for me and my wife, we've been able to do this together. She's been a huge support system, and the school was as well. We were able to live in family housing here on campus, so we were in an environment that helped us stay safe and stay together," he says.
In the fall, Ceballos will begin a master's program in library and information sciences at UCLA.
Andrea Medrano
B.A.s Spanish and education sciences
This spring, Andrea Medrano will be the first in her family to earn a college degree. Getting to this point was not always easy for Medrano, who immigrated to the U.S. in 2004 from Michoacán, Mexico.
One of those challenges was her struggle to balance being a student and a new mom, which nearly caused her to drop out of school.
"I was dealing with a lot of not feeling good enough and felt that I no longer wanted anything," Medrano says. "I walked into the Humanities Office of Undergraduate Studies one day during winter quarter 2019 and decided to take the withdrawal application. I intended to leave UCI for a while to focus on my mental and physical health, however that did not happen."
Determined to earn her degree, Medrano made the decision to stay enrolled and finish her classes. To improve her health, she made the difficult decision to cut back on some of her previous commitments.
Reflecting on that time, Medrano says it was especially difficult because her son was born prematurely and was moved to a different hospital for nine days in a neonatal intensive care unit. Throughout this, she still had to balance classes. Despite these hardships, she received a scholarship, the Hannah Caldwell and Humanities Endowment, and earned an impressive 3.8 GPA.
"I don't know where I got all the strength to do all of that, but I know I did it," she says.
Since then, Medrano, her husband, and her son have moved to Texas, where she plans to spend some time adjusting and enjoying her family.
Inbar Michael
B.A. history, minor in law and humanities
In her three years at UCI, Inbar Michael has made an indelible impact on both the Jewish and pre-law communities on campus.
Her leadership roles in campus student groups include serving as president of Chabad, an organization for Jewish students, and as the secretary of the Pre-Law Society. While Michael initially joined the Pre-Law Society due to her interest in pursuing law, the club also helped her realize her individual career goals.
"It's great that we have these career clubs that people can join, because even if you realize that's not what you want to do, you are exposed to it and you get to meet other people, and network," she says.
One pivotal moment in Michael's undergraduate career was presenting a research paper at the Johns Hopkins University Macksey Symposium. In her paper, Michael posits that the Soviet Jewry Movement in the U.S. was able to garner support from American Jews by appealing to core values of Judaism and from political activists/politicians by creating urgency around human rights. Her paper was later published in the
Johns Hopkins Symposium Magazine
.
Upon graduation, Michael will teach through the City Year Americorps program, where she will work with underrepresented and low-income communities, combining two of her current interests-education and social work.
"There's a large minority community [in the U.S.]. How do they feel learning a history that obscures the history of their own families?" she asks.
Michael hopes to interrogate this question as she continues to pursue education, this time as a teacher rather than as a student.
Vian Nguyen
B.A. comparative literature, minor in Asian American studies
Guided by a desire to learn more about the literatures and cultures that have shaped her communities, Vian Nguyen decided to pursue two fields at UCI - Asian American studies and comparative literature.
"I took my first Asian American studies class with Professor Linda Vo and I felt so inspired. I felt seen and heard, because the class was focused on Asian American history and identity, which had never been taught before in my earlier education," Nguyen says.
From there, Nguyen went on to become more involved with the Asian American studies community on campus. She both interned for Vo's Vietnamese stories exhibition,
Viet Stories: Vietnamese American Oral History Project
, and worked at UCI Libraries' Orange County & Southeast Asian Archives Center. Nguyen's journey at UCI Libraries began in a Humanities Core archival analysis workshop led by Outreach and Public Services Librarian, Derek Quezada.
"I remember holding the archival materials between my fingers—visually antique ephemera gently placed beneath two layers of plastic laminate," Nguyen says. "These simple, physical pieces of history created a new, boundless realm of interests for me that day, which continue to strengthen with each new library experience. Working at the OC & SEAA Center, it became a kind of second, intellectual home for me."
Nguyen's passion for diverse storytelling isn't limited to just world literature and the Asian American community; she is also interested in narratives about the environment and making information about sustainability accessible to the public. As a sustainability project commission intern for ASUCI, she advocated for the environment and taught students about environmental issues. Through the UCI Humanities Center's
Stories from the Sea
internship program, Nguyen further immersed herself in issues of the environment, writing a children's book starring two coxswains on UCI's Crew team.
In the future, Nguyen is interested in taking her passion for community-building and applying it to work in educational administration.
Orbelin Portillo Blancas
B.A.s literary journalism and philosophy
During his time at UCI, Orbelin Portillo Blancas has been involved in a multitude of different projects, clubs and organizations, including KUCI, Insight Magazine and Falsafa, an undergraduate philosophy journal at UCI. While he initially came to UCI as a philosophy major, Portillo Blancas' interest in literary journalism took flight after working as a news reporter for KUCI, where he realized his passion for telling meaningful stories.
"Before I knew it, I took up a second major and I started studying literary journalism and it's changed my life forever," Portillo Blancas says.
Portillo Blancas is particularly proud of his work with KUCI Radio because he has been able to train other interns and empower them to find their voices as radio hosts. He cites Héctor Tobar, associate professor of English in the Literary Journalism Program, as someone who inspired him to bring his authentic self, specifically his Latino identity, to his journalistic voice.
Starting this fall, Portillo Blancas will teach sixth grade at Grant Elementary School in Richmond, California. He plans to bring his wide range of interests in education, philosophy, ethics and journalism to his classroom. Such a broad perspective, he believes, will help him empower his students.
"I think it's important that you take in consideration the epistemological foundations--how confident are the students in knowing, learning and giving knowledge to other students. When you empower students in that framework, it's more likely that they'll be overachievers in school and be confident learning and pursuing higher education," he says.
Zoe Portnoff
B.A. art history
A lifelong lover of art and art history, Zoe Portnoff has centered her academic journey at UCI around pursuing these interests. During her undergraduate years, she found her niche as a scholar in studying art history's intersections with race and gender.
"Art history really is learning how to understand the images around us and how they construct ideas and prejudices around race and gender. By unpacking these really loaded imageries, it helps me to better understand how these forces in society operate and understand," she says.
In addition to developing as a scholar, Portnoff has participated in many extracurricular and community-service projects, including the Art History Undergraduate Association and Open Jam at UCI, a music performance group. Through the
Art History Internship Program
, she had the opportunity to gain hands-on experience in the art industry, interning for multiple art galleries, including Fine Arts Museums of San Francisco.
Her participation and research at UCI gained the attention of the campus and she was recently awarded a Chancellor's Award of Distinction, which recognizes an exceptional group of graduating students who exhibit a commitment to cutting-edge research, leadership or service to UCI.
Portnoff is excited to return to campus in the fall, this time as a graduate student in the
Art History 4+1 B.A./M.A. program
.
"I'm really looking forward to having a chance to be on campus again and just being able to have a better connection with my professors and my research," she says.
Lucena Valle
Ph.D. visual studies
For as long as Lucena Valle can remember, she has been fascinated with museums. Now, she is dedicated to reshaping the ways we look at museum history and understand space. Her doctoral research centers on the connections between three downtown Los Angeles Latinx and Asian museums, and explores how ethnic museums preserve history and claim space differently than more mainstream institutions.
Juggling life and a Ph.D. program was not always easy for Valle who gave birth to her daughter and re-entered the workplace while maintaining her scholarly commitments. Currently, Valle works at the nonprofit California Humanities, where she manages a grant program that provides funding to California organizations that conduct research in the humanities.
Despite the challenges of working full-time, caring for her daughter, handling the pandemic, and continuing her studies, Valle remains grateful for her research, which provided an outlet during the stressful times.
"Thinking about the challenges that I know people like myself and other parents were probably facing was difficult. I felt so appreciative to have my dissertation at a time when the news cycle was just awful. It felt liberating to be able to think about something that was just for me," she says.
Upon graduating, Valle hopes to continue her work supporting the local, ethnic museums that have been a fixture in her own life.
With editing and additional reporting by Annabel Adams and Audrey Fong
Art History
Asian American Studies
Comparative Literature
Culture and Theory
English
Film and Media Studies
Graduate Students
History
Literary Journalism
Philosophy
Spanish
Undergraduate Students
Visual Studies