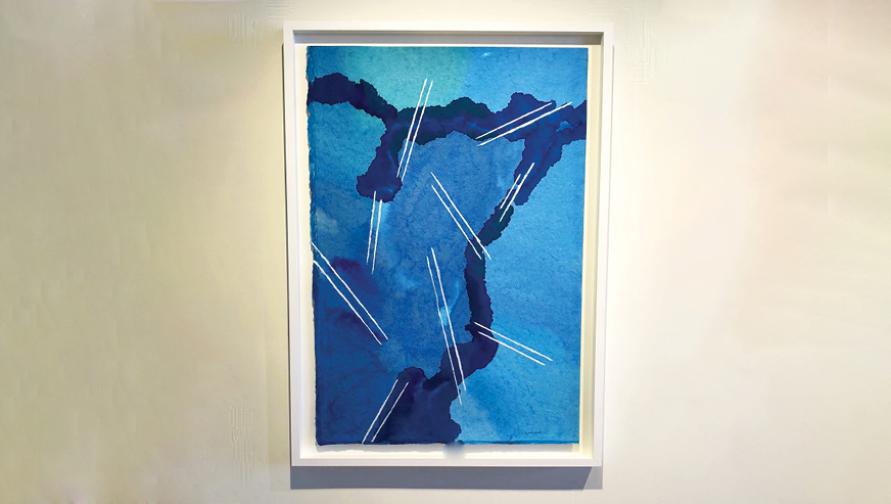 By Brittany King

It's estimated that at least 1.8 million Africans lost their lives during the Trans-Atlantic Slave Trade. The remains of these people rest at the bottom of the Atlantic Ocean where they linger on nameless and unknown, often left out of American slavery narratives. Kathie Foley-Meyer, a student in UCI's Ph.D. Program in Visual Studies, would like to change that.

After spending time in West and East Africa, Foley-Meyer became interested in the journey of slaves who were taken from their homes, shipped on boats and sold as property. Specifically, she began to think about the people whose stories are rarely told, like those who did not survive the journey. Using the online database Slave Voyages, she studied ship paths and maps that overviewed the slave trade.

"I remember looking at the statistics of human cargo - the number of people that survived the voyage to the 'New World' and the number of people who did not," she recalls. "I began to wonder, other than numbers, how do you account for those lives lost? These people were taken from their homeland and deposited in the ocean for one reason or another that rendered them disposable and not recognized as human beings."




These findings prompted her to begin working on an abstract piece that depicted 12 voyages of ships and combined them on a black background; that's when something clicked. "I just became obsessed with the lives of these human beings that are accounted for, but not really. They exist as bodies that disintegrated when they were put into the ocean and became part of the oceanic life cycle."

When it came to deciding on a medium for her project, not only was art the most natural choice for Foley-Meyer, who's been making art since 2004, but it felt like the art chose her, she explains. For her, the art piece, which she finished in 2017 and titled Twelve Voyages, was not just a representation of lives lost during the slave trade, but also a commentary on how Black people exist in America today. "There's always that tension with Blackness existing and not existing, between visibility and invisibility," she says. "We are either hyper-visible, or just visible in a way that is perceived as problematic, or we are invisible; oftentimes we are all three things at the same time and I find that to be a fertile ground for exploration."

All of this led her to wanting to learn more about what happens to humans once they enter the ocean and how that changes over time. After Googling "ocean memory" she connected with the Ocean Memory Project, a transdisciplinary network of researchers, scientists and artists dedicated to studying the intersection between ocean and memory that evolved from the National Academies Keck Futures Initiatives (NAKFI) Conference on the Deep Blue Sea held in 2016.  She attended the 2020 Ocean Memory Seed Seminar on Cognition & Genomics in June, and it was during this conference that she learned of the Ocean Memory $50,000 grants to support research and collaborative projects designed to deepen the understanding of ocean memory.

She applied and received a $10,000 grant for a multichannel video and virtual reality installation that will explore Blackness and its relationship to the ocean. In her presentation at the Ocean Memory conference, Foley-Meyer noted that "To engage with notions of Blackness is to wrestle with the notion of fugitivity, for Blackness is elusive out of necessity. Fugitivity is a necessary mode for Blackness and Black people; it is a cycle of escape and survival that reverberates across time." A team of eight will complete the project, including an English and anthropology professor, as well as a video producer.

Such a cross-genre project makes sense for a scholar like Foley-Meyer, who was originally attracted to UCI's Ph.D. Program in Visual Studies due to its interdisciplinary approach, which brings together faculty expertise from art history and film and media studies. As a student, she has taken classes in these two disciplines as well as political science, social ecology and sociology.

Scheduled to be completed next fall, her project will be displayed in both artistic and scientific venues. She hopes this interdisciplinary approach will open minds to the possibilities of ocean memory and inspire further research in the area.

"So much of our narrative focuses on the people that survived because they are the direct bloodline ancestors, but I also feel like we can't forget our ancestors who did not make the journey in the same way," Foley-Meyer shares. "They are still there, they were still in the Middle Passage and they have a presence there, in the ocean."

Beyond her work with Ocean Memory Project, Foley-Meyer is preparing for a fellowship year in 2021 where she will finish her research on artistic representation of Blackness in the ocean.

Upon her upcoming graduation in 2022, Foley-Meyer would like to work at an arts related nonprofit focused on incarcerated populations. She finds that galleries, museums and the art world as a whole can be exclusive and make certain communities feel like they do not belong – a feeling she wants to actively combat.

"In the same way that there are lives that we need to honor at the bottom of the ocean, I don't think there are any wasted lives in our country," she asserts. "We've gotten into the habit of warehousing people in prison and acting as if their lives are without meaning; more often than not they are Black and brown people, and we need to have that not be the case."

More of Foley-Meyer's art can be found on kf-m.com.

Images: Top, Kathie Foley-Meyer's artwork, "In The Wake: With the Bones of Our Ancestors." Middle, Kathie Foley-Meyer standing with her artwork, "Twelve Voyages."
Environmental Humanities
Graduate Students
Visual Studies