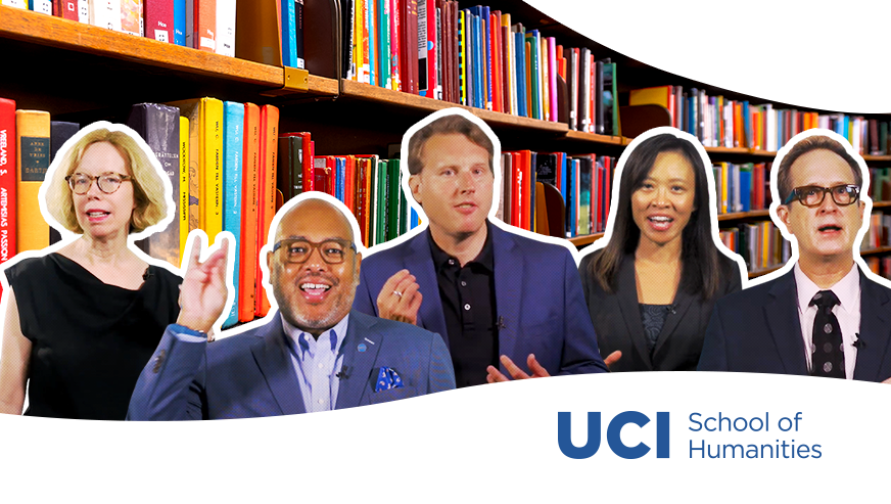 By Christine Byrd
Incoming educational science major Grace Edwards experienced a new twist at the University of California, Irvine orientation this summer -- and not just because she attended virtually. Along with the usual information about navigating life at UCI, she also learned about the four "Anteater Virtues" of curiosity, integrity, intellectual humility, and intellectual tenacity.
These four intellectual virtues have guided famous scientists, thinkers and leaders for centuries, and a new initiative aims to foster these character traits in all UCI students, regardless of what they study.
The brainchild of Duncan Pritchard, Distinguished Professor of philosophy, the Anteater Virtues Project is a new campus-wide initiative designed to help students achieve success both at UCI and in the wider world.
"Providing students with the opportunity to grow and refine key character attributes through the Anteater Virtues curriculum will serve them for a lifetime," says Chancellor Howard Gillman.  "Led by Distinguished Professor of Philosophy Duncan Pritchard and in collaboration with many UCI faculty, this campus-wide initiative also reminds us that the fundamental purpose of a university education is the development of those intellectual character traits that are central to the respect for truth and the lifelong pursuit of knowledge."
While the idea that education should include character development goes back millennia to the ancient Greeks, the practice of teaching intellectual virtues through an online, campus-wide course is genuinely new.
Edwards and other incoming students got an early taste of the Anteater Virtues through the Student and Parent Orientation Program this summer. But this fall, all UCI students, regardless of major or year of study, can access the Anteater Virtues modules through Canvas, their online learning platform, and some of the videos and activities will be incorporated into many popular first-year classes.
"It's exciting to see Professor Pritchard's vision for an accessible virtue curriculum come to life," says Tyrus Miller, dean of the UCI School of Humanities, where Duncan Pritchard is a professor of philosophy. "His expertise as an epistemologist and his experience creating impactful MOOCs came together to create something truly meaningful for all UCI students. The Anteater Virtues curriculum is a testament to how philosophy as a discipline can serve as a powerful connector to all other disciplines on campus."
Value of virtues
Distinct from moral virtues, intellectual virtues promote ways of thinking, reasoning and seeking the truth. Pritchard points out that these skills are essential not only for academic pursuits, but also for navigating a daily life that's increasingly online and often laced with misinformation and manipulation.
"We're trying to give our students the tools to succeed in the real world," he says. "For example, they are regularly confronted with social media algorithms that promote extreme views, and to deal with that they need the broader intellectual perspective that the humanities offer."
Each module in the
Anteater Virtues Project
includes short videos featuring faculty from across UCI discussing how a specific intellectual virtue inspires their daily work, spanning a spectrum of disciplines. To ground the virtue in a real-life example, each virtue is discussed in the context of a famous historical figure, including Isaac Newton, who exemplifies curiosity; Desmond Tutu, who represents intellectual humility; Marie Curie, who is known for her intellectual tenacity; and William Shakespeare, from whose works we can learn about integrity.
After an introduction from a professor about the virtue and the historical figure's connection to it, two to three faculty members then go more in depth and give a disciplinary perspective on the virtue. Students who participate in the curriculum will benefit from hearing from more than a dozen UCI professors whose areas of expertise span the School of Biological Sciences, School of Education, School of Humanities, and School of Physical Sciences. For example, Tyrus Miller, dean of the School of Humanities and professor of art history and English, discusses intellectual curiosity in the study of literature while Vy Dong '98, a UCI alumna and now a professor of chemistry on campus, shares personal stories about how intellectual tenacity guided her career.
While UCI students likely demonstrated these virtues on their way to college, it is important for them to be more fully reinforced and realized as students grow academically. Teaching these virtues contributes to a more holistic education, which ultimately will help students develop their intellectual character and become inquisitive, open-minded and tenacious individuals, says Pritchard.
"By making the value of these intellectual virtues more explicit to our UCI community, they become more effective," explains Pritchard. "We give students an opportunity to reflect on these virtues and consider how they play into their life as UCI students."
Online opportunities
Pritchard, whose expertise is epistemology, or the theory of knowledge, is internationally recognized both for his work in philosophy and in online education. He previously led the development of several 'MOOCs', or massive open online courses, including an introduction to philosophy that more than two million students have taken, as well as a
pair of MOOCs for UCI on skepticism and relativism
, that are part of UCI's Confronting Extremism initiative.
So when Pritchard was asked to create this online course, he had keen ideas for how to make the most of the online format.
"I used to give lectures in a big amphitheater of hundreds of people, but it would be far easier and significantly more scalable to have that recorded with digital elements and quizzes on-demand," he says. 
He points out that it would be nearly impossible to pull all of these faculty together for a live class, but using pre-recorded modules allows thousands of students to hear their personal stories and disciplinary perspectives. In addition to being offered through Canvas, faculty who teach popular freshman courses are being encouraged to incorporate Anteater Virtue modules into their curriculum, or even offer them for extra credit.
"This is really a first of its kind approach for our campus in which we offer campus-wide modules that are easy for students to enroll in but adaptable to any course on campus," says Michael Dennin, dean of the Division of Undergraduate Education and vice provost for teaching and learning. "In fact, it is exactly the fact that a student may experience these same modules in many different courses that will emphasize both the commonality of the virtues and the great diversity of ways in which they manifest. Every time they use the modules in a different course, they will come to a deeper and more nuanced understanding of the virtues and how that course fits into their overall intellectual pursuits."
The Anteater Virtues Project was created with funding and support from the Division of Teaching Excellence and Innovation, which this year has been supporting faculty and graduate students in making the most out of the switch to online courses.
Promising results
Already, the Anteater Virtues Project is showing promising results. Of the roughly 1,000 students who participated in a beta version last year, an analysis -- currently under peer review at a journal -- found that students not only significantly increased their understanding of the intellectual virtues after taking the course, but that they also developed the cognitive traits that are thought to be vital to being good inquirers.
Pritchard and colleagues in the School of Education hope to expand upon this research going forward, using both qualitative and quantitative methods.
After Edwards completed her summer orientation, she landed a spot as an undergraduate research assistant where, she says, the Anteater Virtues influenced her behavior. She says the talks on curiosity inspired her to volunteer more eagerly for projects in the lab, even when she didn't know what to expect.
"I felt first-hand how having passion and curiosity really makes you a better researcher and I put that into action," Edwards says. "The Anteater Virtues did a wonderful job of emphasizing key values needed in college, but ultimately the videos reaffirmed what I already believed: UCI is a safe and inclusive environment."
To watch a selection of UCI professors discuss how the intellectual virtues relate to their disciplines, visit this YouTube playlist.

Students can find out more about how to self-enroll for the Anteater Virtues course here.

Image: A collage featuring screen shots, from left to right, of Professor of English Julia Lupton, Vice Chancellor of Student Affairs Willie L. Banks Jr., Ph.D., Distinguished Professor of Philosophy Duncan Pritchard, Professor of Chemistry Vy Dong, and Dean Tyrus Miller, all of whom have contributed videos to the project.
Philosophy
Undergraduate Research
Undergraduate Students