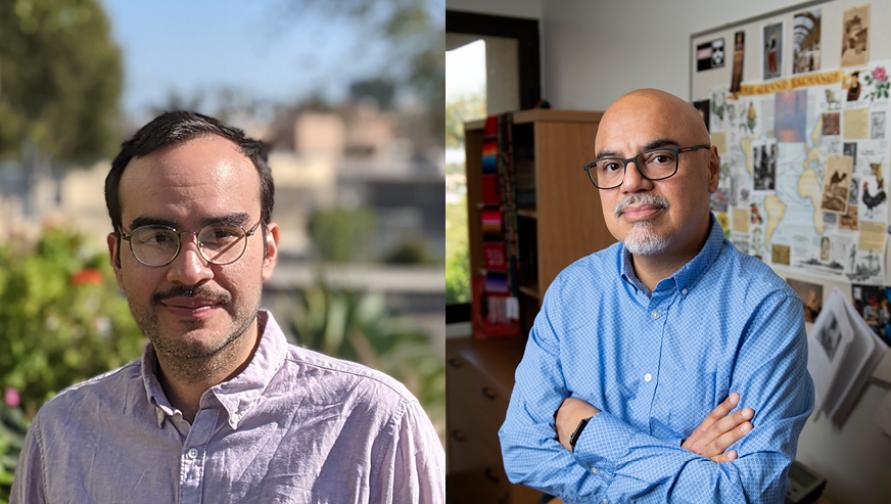 Carlos Colmenares Gil, a Ph.D. student in comparative literature, and Héctor Tobar, associate professor of English in the Literary Journalism Program, are among UCI's 2021 Latino Excellence and Achievement Award honorees. Administered by UCI's Office of Inclusive Excellence, the awards celebrate faculty, staff and alumni whose research and service provide encouragement and support for Latinx communities.

Learn more about Gil and Tobar below. Register here for the virtual awards ceremony to be held Thursday, April 1 at 5:30 p.m. PST.

Carlos Colmenares Gil, Ph.D. student in comparative literature with a specialization in Latin American studies and critical theory
Recognized for Graduate Student Excellence

Carlos Colmenares Gil is being recognized for both his research and pedagogy. He is currently writing a dissertation entitled "Running from the Nation: Synthesis and Fugitivity in Contemporary Brazil and Venezuela," under the supervision of Adriana Johnson, associate professor of comparative literature. His project interrogates a series of different artistic forms such as: poetry, novel, film and first-person diaries, all of which trace connections between the two countries and push back against the notion of the nation-state as a territorial container and primary formation of community.

Last year, Gil earned a Shaeffer Graduate Fellowship, which allowed him to translate two chapters of author and philosopher Alejandro Moreno's El Aro y La Trama (1993) and disseminate his work in English-speaking circuits. This translation is groundbreaking because Moreno's work has never been previously translated into English.

In addition to his academic work, Gil has been recognized for his skills as a teaching assistant and teacher. The Department of Comparative Literature nominated him last year for the Outstanding TA award because of his highly praised work for the Departments of African American Studies, Classics, and Comparative Literature and the Composition Program.

Héctor Tobar, associate professor of English in the Literary Journalism Program
Recognized for Outstanding Alumni Leadership

Héctor Tobar, who earned his M.F.A. from UCI's Program in Writing (Fiction), is being recognized for his lifelong dedication to amplifying the voices of Latinx communities as a journalist and teacher. 

Tobar's dedication to telling Latinx stories started early on in his journalism career. During his time as The Los Angeles Times' bureau chief in Mexico City and Buenos Aires, he covered historic elections, uprisings and a coup d'état. While he is no longer a staff writer at the LA Times, he continues to cover highly-visible stories that affect Latinx communities, including the status of DACA essential workers for National Geographic and his experience as the son of Guatemalan immigrants for the New Yorker.

Besides his illustrious journalism career, which has earned him a Pulitzer Prize, he is the author of five books, four of which center on Latinx protagonists. His most well-known book, Deep Down Dark, shares the true story of 33 Chilean miners who were trapped underground for 69 days in 2010. Deep Down Dark was a finalist for the National Book Critics Circle Award and the Los Angeles Times Book Prize; a New York Times Notable Book and Best Seller; a Publisher's Weekly Best Book of the Year; and winner of a California Book Award. It was even made into a film, "The 33" (2015), starring Antonio Banderas.

Many of Tobar's UCI courses focus on Latinx topics including: Writing Latinx Experience, Immigrant Narratives, and Chicano Studies II. His Writing Latinx Experience class specifically focuses on helping students of Latinx descent learn how to tell their stories. Some of his students have cited him as the reason they submitted their personal stories to literary journals and as being a core reason why they want to share their stories publicly.

Tobar continues to be an active and exemplary member of the UCI alumni community. Just last July, Tobar hosted a "Lunch with 'Eaters" session with the UCI Alumni Association in which he shared his career as a writer and tips for creative writing.

Learn more about the Latino Excellence and Achievement Awards here.
Comparative Literature
English
Latin American Studies
Literary Journalism