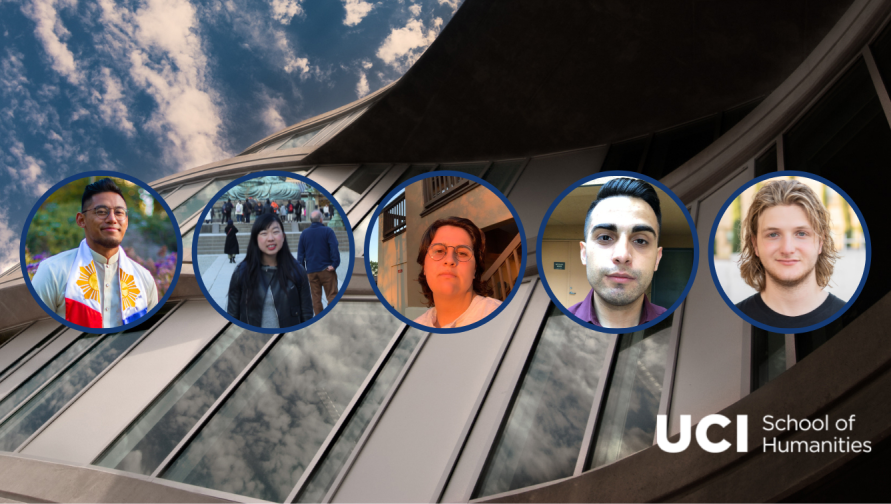 Transferring from a community college to a four-year research university can seem like a challenging undertaking. But every year, hundreds of transfer students commit to the University of California, Irvine and make themselves at home in the sprawling campus.
For transfer students interested in majoring in UCI's School of Humanities, there's good news. The school does not require additional coursework beyond basic campus admissions requirements and most majors can be completed within two academic years. And transfer students are in good company in the School of Humanities: they make up over 45% of the school's current undergraduate population.
Offering 22 majors and 38 minors, UCI's School of Humanities offers vast opportunities for students to grow both academically and professionally. As a humanities major at UCI, you can study history, literature, philosophy, ethnic and gender studies, film and media, languages such as Spanish, Korean, Persian and Italian, and more. What do all these disciplines have in common? They will challenge your point of view, broaden your understanding of the past, refine your thinking and writing, and open creative possibilities for your future. And, with a School of Humanities internship program and several department-based internship programs, you can launch your future career.
What will you gain as a UCI Humanities transfer? Meet five current students and alumni who share their top reasons for transferring to UCI with a major in the School of Humanities.
1. Create your own community
Manny DeLeon (M.A. Asian American studies '20, B.A. Asian American studies '19)
"The process of transferring to UCI was daunting enough as it is, but complicating the transition was the effort of starting anew. I moved in from out of the area and came in anxious but excited at the possibilities UCI Humanities had for me. While growth and change were certain, my time at UCI Humanities was the most formative of my young adult life. The network I built within the Humanities was a supportive community of like-minded thinkers, student-activists and lifelong learners, many of whom helped shape who I am today. I grew a lot during my time at UCI both academically and personally, and I'm grateful to all of the friends and mentors I've made along the way. Although my experience is uniquely my own, UCI Humanities has and continues to be my home."
DeLeon is currently working for the Garden Grove-based non-profit Orange County Asian and Pacific Islander Community Alliance (OCAPICA) as the policy field coordinator. Interested in volunteering with OCAPICA as a canvasser in Anaheim? Sign up here.
2. Grow into a professional
Audrey Fong (B.A. English '19)
"The number one reason to study at UCI Humanities is because it presents endless opportunities for your academic and professional growth that will continue to shape your life even after you've graduated. At UCI, I conducted research with Judy Wu, professor of Asian American studies, as my faculty advisor and interned with the School of Humanities' communications team under the guidance of Annabel Adams. Even after graduation, Wu and Adams have continued to support my academic and professional goals. For example, Adams hired me on the communications team upon graduation and Wu has invited me back to UCI to speak on UCI Humanities Center panels. If it weren't for the research and internship opportunities from the school, I would've never met these two individuals, who have shaped me greatly as a person, as a marketer and as a scholar."
Fong is an M.F.A. candidate in creative writing at Chapman University. She is the co-founder and co-editor of Soapberry Review, a journal that reviews Asian American literature.
3. Double your opportunities
Alexi Amador (B.A. English & literary journalism '22)
"Transferring to UCI has been the best decision I have made in my academic career. I transferred here majoring in English, not knowing the School of Humanities would offer such a wide variety of topics to learn about. The professors are incredible and always go above and beyond to ensure you succeed. UCI has exceeded every expectation I had about the quality of my education and has provided me with endless opportunities and lifelong friendships. My experience also led me to double major in literary journalism, something I would have never thought I'd do, but the professors made me fall in love with the subject. UCI is a great place to learn more about yourself and grow into someone better all around. If there is anything I regret, it is not starting at UCI sooner. Zot Zot Zot!"
Amador is attending a teaching credential program with a focus on English in the fall.
4. Communicate confidently
Lambert Higuera (B.A. philosophy '21)
"As a transfer student, I benefited greatly from the student-centered interactions with my department's professors and the School of Humanities faculty in general. The academic environment provided a special opportunity for students like me to actively participate in discussions and go into dialogue with other students, as well as instructors. Having had a second major in psychology, where the learning approach is significantly different, I understand how important and impactful it is to have the chance to engage with what you're learning in your classes. Overall, being a student in the School of Humanities deeply improved my interpersonal communication skills, my abilities as a critical thinker and my confidence as a young professional."
Higuera plans on attending graduate school with a focus on philosophy. His goal is to become a professor, specializing in topics such as philosophy of emotion, philosophy of psychology, and moral psychology.
5. Learn in an inclusive environment
Hunter Trost (B.A. gender and sexuality studies '23)
"I have autism, and as a neurodiverse student, I would highly recommend the UCI School of Humanities. My professors and TAs are supportive and encouraging. My advisor and disability services coordinator work closely with my instructors to ensure my academic success. In addition, I have the opportunity in the UCI Humanities to take classes to explore my creativity and pursue my passion for counseling and advocating on behalf of the LGBTQ and neurodiverse communities."
Are you an admitted transfer student? Join the UCI School of Humanities for a live information session on April 29th. Visit Admissions for more information.