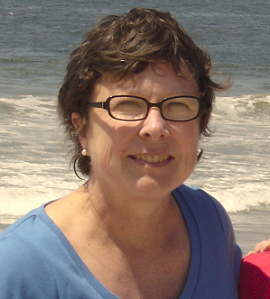 Barbara Whitney
"I have fond memories of the faculty in the history of art at UCI from the 1970s --- and the great direction they gave me as a floundering undergraduate."
Barbara worked in the museum field for many years, often with people who had been colleagues and classmates at various points in their careers. Barbara feels she owes much to the support and encouragement from faculty, including FOAH supporters Linda and George Bauer.
Barbara came to art history as a studio art major fulfilling a requirement. UCI's studio program was on the cutting edge – Chris Burden had been there, Tony Delap was a faculty member, along with Craig Kauffman, Peter Alexander, Ed Bereal, Alexis Smith and others. The Newport Harbor Art Museum was in full flower. Barbara believes she was not conceptual enough in her art practice, so when she began taking art history to fulfill that requirement, a new world opened to her and she was lured away.
UCI was new in 1973 and most of the staff and faculty were just starting their careers. Many teachers were assistant professors, recently out of graduate school. They brought to life the ancient world, the renaissance, 19th century painting and photography, and they gave students great advice.
A senior seminar on museums taught by Victoria Kogan Kaufman changed Barbara's life. Professor Kaufman gave her students an assignment to learn everything possible about a local museum, which included reading its annual report, examining its board of trustees, visiting its galleries, and making contact with staff members. Barbara chose the LA County Museum of Art and headed to mid-Wilshire. Barbara, noting that art museum operations during the 70s were considerably more casual than today, talked her way into the back of house, took an elevator to museum's basement level, and walked through the hallways until she came to an office area. She asked if she could speak with a curator and was introduced to Stephanie Barron, now with LACMA for almost 40 years but then newly arrived from New York. Barbara had 'no idea what she asked her, or why she was kind enough to talk with her about museum work, but it made an impression'. After a 25-year career in art museums, this experience still amazes her.
Victoria suggested Barbara investigate the arts management program through UCLA's business school, then a relatively new program, which provided a strong internship program and conferred an MBA. It felt like the right choice for her, although it meant she would have to take the GMAT and study finance and accounting, as well arts organization.
Barbara earned her MBA from UCLA, interned at the Fine Arts Museums of San Francisco and worked there for four years, followed by a twenty-year career at the Getty. Barbara was part of the team that acquired its photographs collection, which contained many of the images that Victoria Kogan-Kaufman spoke of so enthusiastically years earlier. Barbara attributes much of her career success to the great start given her in the Department of Art History at UCI.
Barbara is now Director of Finance and Operations, Crossroads School a private elementary, middle and upper college preparatory school for the arts and sciences in Santa Monica.