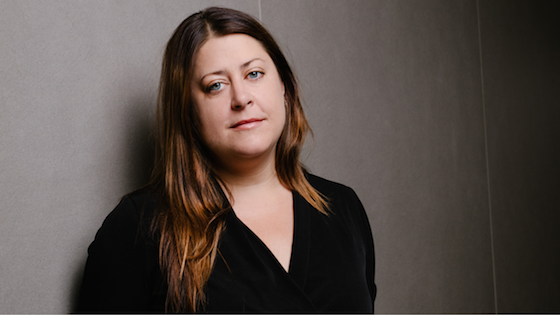 A human(e)ities approach to immigration detention centers
UCI history lecturer and alumna Kristina Shull works to give voice to detained immigrants and bring transparency to the system
By Annabel Adams
In 2007, Kristina Shull's husband was deported from the United States and sent back to Albania after being held in an immigration detention center for three months. Witnessing firsthand the conditions immigrants were subjected to and the helplessness their families felt, Shull was forever changed. After attempting a long-distance marriage, Shull and her husband divorced. Since then, she's worked tirelessly to draw attention to the flaws in the immigration detention system and to humanize the people trapped within it.
Shull, who received her Ph.D. and M.A. from the University of California, Irvine Department of History and currently serves as a lecturer, has dedicated her scholarship to immigration detention, prison privatization, and anti-immigrant movements. While Immigration detention is considered a civil, rather than criminal, procedure under United States law, Shull believes detention centers look and operate exactly like jails. "People held in immigration detention centers are usually awaiting, or fighting, deportation, or seeking political asylum. People in detention are given no determinate sentence: the average detention stay is 31 days, but because there is no limit to how long someone may be held in detention before being deported, thousands of people spend months and even years in this limbo state," says Shull.
Shull is the co-editor of an anthology of poetry and art by people held in immigration detention centers called
Call Me Libertad: Poems Between Borders
and has been a researcher for the Detention Watch Network and a graduate fellow at the University of Miami's Cuban Heritage Collection. She has received research support from the Organization of American Historians, the Immigration and Ethnic History Society, and the Society for Historians of American Foreign Relations. Most recently, Shull received a Soros Justice Fellowship from The Open Society Foundations to "dismantle the immigration detention system from the 'inside' by challenging censorship practices, exposing abuses, and lifting up migrant voices in popular media and public discourse." The Open Society Foundations funds the work of emerging and established leaders who seek to challenge long-standing assumptions underlying the U.S. criminal justice system—and push for change.
"Although we detain upwards of 400,000 people a year in a network of 250 local, federal, and for-profit facilities across the country, and although there is a long documented record of human rights abuses, lack of due process, and horrific conditions inside these facilities, many Americans still remain largely unaware of how vast and punitive the system is. Immigration and Customs Enforcement (ICE) have national detention standards, but there is no enforcement mechanism codified into law, so these standards often are not met," says Shull. "A key feature of our immigration detention system is a lack of transparency. One reason for this is a culture of secrecy that pervades the detention system and various practices of censorship--for example, over half of detention centers do not allow visitors to bring in pen and paper with them, and cameras are never allowed."
To combat this secrecy and add first-hand accounts to the dialogue on immigration and detainment, Shull is working with the nonprofit Community Initiatives for Visiting Immigrants in Confinement (CIVIC), a nationwide network of visitor volunteers serving 43 facilities in 19 states, to collect stories, art and poetry from persons held in detention. These stories will be written or taken as oral histories and then shared on a variety of public platforms from op-ed pieces to social media. Shull is also working with UC Libraries to create a permanent archive of immigration detention stories and ephemera that will be accessible to the public.
"Scholars—most notably in law, sociology and criminology, and human rights and legal aid organizations—have been collecting and compiling invaluable data on the conditions and impacts of immigration detention. A humanities-based approach can both complement and amplify these efforts, and do even more to generate empathy for people in detention" says Shull. "In the field of history, little attention has been paid to the rise of our contemporary immigration detention system, which is the subject of my dissertation and current book project. I believe the work of 'doing' history, simply collecting evidence of human experience in various forms, is a form of activism because it can reshape and even correct narratives that gave rise to oppressive systems."
One such history captured by CIVIC is that of Marcela Castro. At the time of their meeting, Castro had been held for six months in the James Musick immigration facility in Orange County, Calif. In an oral history, Castro recalls the time she and fellow detained women decided to paint their faces with Kool-Aid mix on Halloween: "If the officer catch you with the items, they will put you in the 'hole.' Every time that you have something else, something different that you could do to distract your mind, the officers always come and take your options to be free. They don't let you to do anything different. They don't let you to be a human being or to think. They don't let you to be yourself." Castro has since been released and is supporting CIVIC by providing her artwork. One of her pieces, which depicts the Statue of Liberty dressed in flags from multiple countries, is the cover of Shull's first anthology.
Between 1910 and 1940, due to the Chinese Exclusion Act, as many as 175,000 Chinese immigrants were detained and processed at Angel Island, located in the San Francisco Bay. Poetry discovered there in the 1970s has drawn attention to the voices of those who had been detained and has helped the public contextualize the problems with immigration detention, through understanding the underlying premises and historical conditions. "At various points in history, measures to expand detention were hastily adopted during times of economic recession and heightened international tensions in an attempt to address public fears and misperceptions conflating immigration with increases in crime and job loss," she said. "Humanistic storytelling helps combat these fears."
Shull believes poetry and art created by people in detention today can help the public see history repeating itself. "Artwork drawn by a child in detention has a different emotional and intellectual impact than data, statistics or even words," said Shull. "When coupled with them, the message is amplified and can become an even more powerful agent of change, by raising public awareness of conditions within the detention system and increasing public discussion about more humane and cost-effective alternatives."
For those interested in following her work, Shull will publish detention stories on Medium.com under the name CIVIC. She can be followed on Twitter at @kristinashull.

Photo credit: Axel Dupeux for the Open Society Foundations