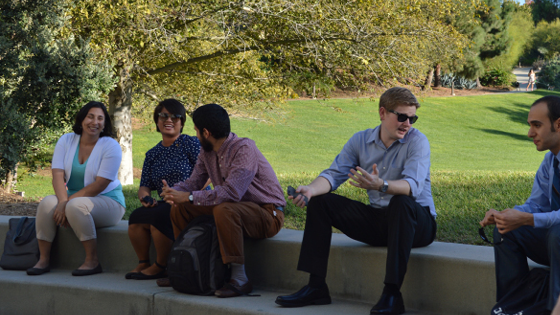 UCI History Department to participate in American Historical Association's 2017-18 Career Diversity for Historians Faculty Institute
Institute is year-long collaboration geared to improving career preparation and outcomes for Ph.D. students in history
The History Department at the University of California, Irvine is one of 35 history departments across the nation to participate in the American Historical Association's ("AHA") 2017–18 Career Diversity for Historians Faculty Institute, a year-long collaboration geared to improving career preparation and outcomes for Ph.D. students in history.

The overarching goal of AHA's Career Diversity for Historians Faculty Institute is to foster a discussion with historians on emerging models for integrating preparation for a diversity of careers into doctoral education and to provide an overview of available resources that can help departments lay the groundwork for changes in graduate curriculum and programming. Faculty participants will emerge with the tools to begin conversations with their colleagues about better defining the purpose of their department's history Ph.D. program, the relationship between that purpose and the actual career paths of degree recipients, and the implications of each of these for cultural change and program structure. UCI History Department faculty participants include, David Igler, chair and professor, Kavita Philip, associate professor, and Laura J. Mitchell, associate professor.

"It is a great honor for the American Historical Association to choose our department for participation in the program," said David Igler, chair and professor in the UCI History Department. "Two years ago we received a small grant from the AHA to plan career diversity activities for doctoral students and we were able to run some very effective and popular workshops. With this grant we hope to expand those activities for not only our graduate students, but also for graduate students throughout the School of Humanities. This successful grant also demonstrates our excellent partnership with the UCI Humanities Commons because we all have to work together for the future careers of our graduate students."

The faculty institute funds three in-person meetings of faculty, online support and collaborative assignments between the participating departments, and support with alumni outreach to develop programing for doctoral students that explores a diversity of careers both inside and outside of the academy.

The UCI School of Humanities has taken several steps to broaden career preparation for Ph.D. students. With a Next Generation Ph.D. Planning Grant from the National Endowment for the Humanities, the School is creating a plan to broaden career preparation for UCI's humanities doctoral students beyond careers solely in the academy. The School's 5+2 pilot program, funded by a $2.7 million grant from the Andrew W. Mellon Foundation, aims to transform graduate education by streamlining the time to degree, providing full funding throughout the degree program, and establishing a teaching and research position of up to two years for all candidates who complete their dissertation in five years. The UCI History Department's participation in AHA's 2017–18 Career Diversity for Historians Faculty Institute marks an additional commitment to ensuring successful, and varied, career paths for the School's doctoral students.