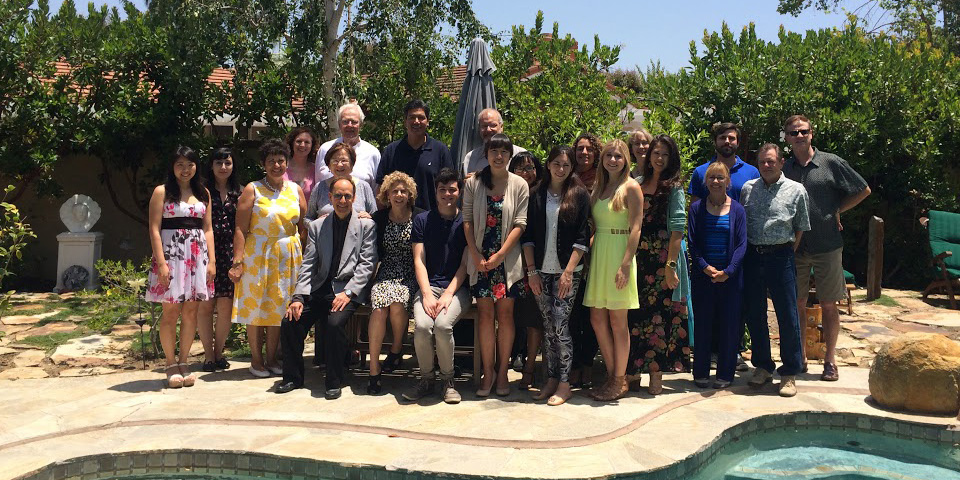 About Friends of Art History
Friends of Art History provide students with opportunities to develop skills and gain experience, expand their horizons, gain confidence in themselves and the ability to live a life with meaning and value.

Friends of Art History have provided 61 paid internships and/or awards to Art History majors since inception in 2011 including:
12 grants for students who have successfully completed unpaid internships at museums
8 paid internships with world-renowned museums
2 paid internships with the registrar of UCI's future art museum
27 paid internships on campus with faculty and staff
8 awards for travel and research
4 fellowships for our new 4+1 program.
FOAH Award recipients work at museums including the Broad and Laguna Beach art museums, attend graduate schools throughout the United States, teach and work in other meaningful professions and launch entrepreneurial endeavors.

FOAH award recipients aren't the only students to benefit from FOAH support. FOAH interns inspired current students to produce the third of a series of successful annual art exhibits and a request from the Chancellor's office to create an art exhibit celebrating the 50th anniversary of UCI here this past summer. They developed and managed outreach initiatives engaging and including all UCI students, promoting connections among disciplines and the creative sharing of ideas.

FOAH Intern and Award Recipients' leadership and engagement led to a significant increase in the number of Art History majors and AHUA membership, which is now at an all-time high of 38 members). The Art History Undergraduate Association ("AHUA"), led by FOAH intern Jasmin Pannier, designed and manage a new website, connect with majors and non-majors via weekly meetings, a series of activities and events and social media, including Instagram. AHUA members played an active role in the production of a video for the Department of Art History, interviewing and being interviewed, researching and providing recommendations for music and background art, and providing ideas and recommendations during the editing process. They wrote successful grant proposals for UCI Illuminations: The Chancellor's Arts and Culture Initiative, the University Research Opportunity Program and University Advancement.

FOAH has partnered with the following museums to provide internships for UCI Art History Majors:
San Diego Museum of Art (started summer 2015, next one summer 2016)
LACMA (coming summer 2016)
Getty (coming summer 2016)

Art History majors have also interned at these museums:
The Norton Simon
Huntington Library and Gardens
Fine Arts Museums of San Francisco
Orange County Museum of Art
Bowers Museum
Laguna Art Museum
Sacramento Children's Museum
Norton Museum of Art in West Palm Beach, Florida

Recent UCI Art History graduates are now working at:
The Broad Museum
Laguna Art Museum

Our Friends of Art History don't just do good work. They also have fun. Among recent FOAH events and activities:

Professor Whiting led a private tour in October at OCMA of "American Mosiac: Picturing Modern Art through the eye of Duncan Phillips" featuring 19th and 20th American art from the Phillips Collection in Washington D.C.

FOAH joined our students as alums Careese Qoun and Christine Hoffmake shared their post-grad experience at NIght at the Gateway in November.

Jean Stern, Executive Director, of the Irvine Museum hosted a champagne reception and tour of "Masterpieces of California Art" at the Irvine Museum in December.
Other events included "Japanese-American Internment in Visual Culture" at which Art historians from UC Riverside, UC Merced, and Occidental College examined photographs, sculpture, and paintings from World War II and "War Diaries" with Journalist Peter Maass, photojournalist Gary Knight, and lieutenant Tim McLaughlin who produced a multimedia exhibit about their experience during the invasion of Iraq and a a "War Diaries Panel" in which Peter Maass, Gary Knight, and Tim McLaughlin discussed their experiences in Iraq.These events were all sponsored by the Mellon-funded, Sawyer seminar "Documenting War" and organized by Profs. Whiting and Carol Burke.

Visit the FOAH events page on our website for upcoming events in 2017!