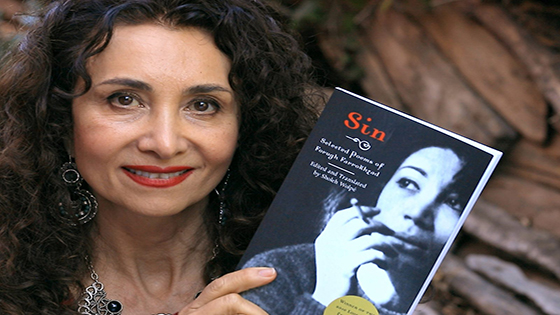 Spotlight Detail
UCI Jordan Center for Persian Studies new Writer-in-Residence, Sholeh Wolpe
We are happy to announce that Sholeh Wolpe has joined UCI Jordan Center for Persian Studies and Culture as the Writer-in-Residence, and lecturer in the Department of Comparative Literature at UC Irvine, teaching Translation Studies.
Sholeh Wolpe
is an Iranian-born poet, playwright and literary translator. Her performances, solo or in collaboration with musicians and artists, have been hailed by audiences as mesmerizing. Named a "2020-2021 Cultural Trailblazer" and is the recipient of a 2014 PEN Heim, 2013 Midwest Book Award and 2010 Lois Roth Persian Translation prize. Her plays have been finalists and semifinalists at Bay Area Playwrights Festival, Eugene O'Neill National Playwrights Conference, Centenary Stage Women Playwrights, Ojai Playwrights Festival, and Ashland New Plays Festival. Her play LET ME IN is among Theaterfolks' top ten plays requested by schools.
Sholeh's literary work includes five collections of poetry, several plays, three books of translations, and three anthologies. Her most recent publications include The Conference of the Birds (W.W. Norton & Co), Cómo escribir una canción de amor (Olifante Ediciones de Poesia, Spain), and Keeping Time with Blue Hyacinths (University of Arkansas Press.) Her new collection of poems, Abacus of Loss, is forthcoming from the University of Arkansas Press in March 2022. Her new oratorio with composer Fahad Siadat and choreographer Andre Megerdichian, The Conference of the Birds, will premiere in Los Angeles in 2022. We then hope to have this performance at UC Irvine.
Sholeh Wolpe's presence on campus will significantly add to the field of Contemporary Iranian Studies, as well as in the field of Comparative Literature, Translation Studies and theater at UC Irvine.
Dr. Touraj Daryaee
Director of the Dr. Samuel M. Jordan Center for Persian Studies & Culture