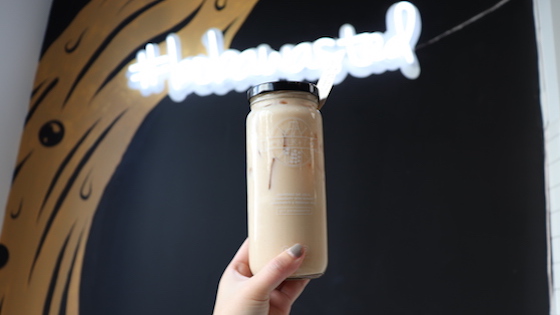 What's Cooking? Finding community in times of social distancing
Read the reflections of Audrey Fong, a boba blogger, freelance social media adviser/food photographer, a UCI alumna (B.A. English '19), and the current Social Media and Digital Content Coordinator for the School of Humanities.
To limit the spread of the coronavirus, we're supposed to limit our interaction with others by practicing social distancing and self-quarantine. For most of us with non-essential jobs, that means staying at home for the duration of the day with limited ventures out for exercise. When I was first confronted with the news that I'd be working from home, I was initially excited to spend more time with my dog and to not have to commute anymore. However, when the weekend came, it hit me that I couldn't participate in my two main forms of entertainment – dining out with friends and visiting new boba spots. Both of these made me wonder, what's going to happen to all of my favorite restaurants and boba shops as more and more of us are confined at home?
One of the biggest news on the boba scene to come out of this pandemic is that boba giant Boba Guys had to lay off 90% of their employees and may not be able to re-open some of their locations once the pandemic is over. But they're not the only ones struggling during this time. Boba shops across the nation, including local ones like HN Tea, The Alley, R&B Tea and Meet Fresh, have had to temporarily close some of their branches to both protect their customers and employees, and because there hasn't been enough business to sustain them. Many of the boba shops across Orange County, especially the non-chain ones, are family owned or run on a small scale, meaning there isn't as much savings to rely on during this time.
As a boba blogger, I find it especially important for all of us to be there for our favorite spots and to continue ordering drinks from them. Fortunately, many boba shops are adapting to the times by switching to online ordering and signing up for delivery apps, making it easier for fans to support them from their homes. What I find outstanding though is that even in times of difficulty, the boba community remains strong. Food bloggers are ordering extra drinks and some shops are proving their dedication to supporting the communities around them is more than just talk. For instance, Loose Lease Boba has started a GoFundMe in order to ensure they can keep their team members employed. Other likes Meet Fresh and Milk + T are giving out free drinks and food for those who need it. (Meet Fresh is offering free drinks to first responders, while Milk + T is giving out free meals to anyone who needs it.) Then, there are some like R&B Tea, who are sharing fun content like dance challenges incorporating hand washing techniques, to both educate their fans on proper hand washing and to give their fans something to smile at. It just goes to show that during difficult times, like a pandemic, the boba community is ready to rise to the challenge by adapting to the changes and by doing their part to support and uplift the community.