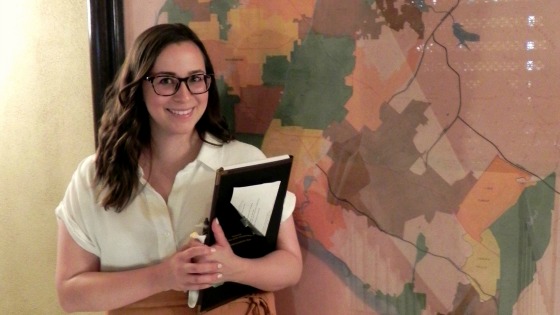 Stephanie Narrow, 2018 Public Fellow
History PhD student Stephanie Narrow worked with the OC Parks Historic Sites as part of the Humanities Out There Public Fellows Program in 2018
Public Fellow: Stephanie Narrow, History
Site: OC Parks Historic Sites
Project: Developing training materials and educational activities
Tell us about your work at OC Parks.
I developed new training materials for the site's docents, as well as educational activities and programming for student tours. The theme was the history of the Old Orange County Courthouse in Santa Ana, county government and officials, and the judicial process. I tried to focus on the longevity and flexibility of the work I produced. How could I create sustainable programming and training materials that could exist for the next several years? How can I create compartmentalized activities that are easy to adjust as time and circumstances dictate?
Why did you take on this opportunity?
I have always been interested in public history, so the opportunity to work for the OC Parks Historic Sites blended my passions for outreach, history, and research. I entered into my graduate career with the intention of seeking a career beyond the professoriate, so the opportunity to work with other humanities PhDs happily employed and thriving in a public setting was very encouraging.
What did you learn on the job?
Working at the Old Orange County Courthouse encouraged me to think about space in new ways. Though urban history and architecture are established historical fields, I was encountering them for the first time.
What was the most challenging part of this placement?
Creating historical materials aimed primarily at elementary school students was tough! Most of the visitors to the site are third and fourth grade students. Trying to put myself in the shoes of a nine or ten-year-old kid was a a rather exciting challenge (kids still like Spongebob, right?!). The PhD program encourages us to produce history for scholars in our field, So, the opportunity to figure out how to present history to a broader audience—in all its complicated, messy, and fragmented glory—will, I hope, make the discipline of history a more inclusive place.
Any advice for other graduate students?
I would love to see more graduate students become Public Fellows. In my field I think there has long existed a stigma of what counts as history—that professors are the "real" scholars producing "real" history, and those who engage in public in historical debates exist somewhere beyond that definition. I do believe that the barrier separating academic and public history is more permeable than ever, thanks in large part to the efforts of programs like the Humanities Out There Public Fellows.