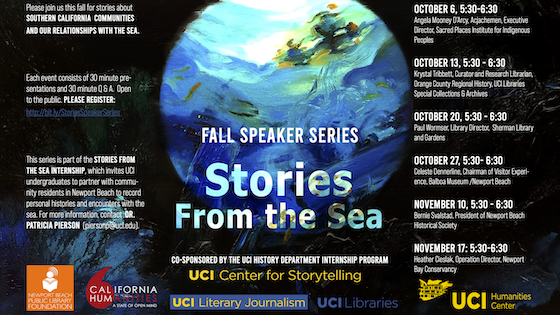 Fall Speaker Series: Stories from the Sea
Join us this fall for stories about Southern California communities and our relationships with the sea.
Please join us on Tuesdays, 5:30-6:30, to meet local leaders who preserve and share local stories of our relationship with the sea. This series is part of the
Stories from the Sea internship
, which invites UCI undergraduates to record the personal histories of community members in the Newport Beach community and their encounters with the sea.
Register
HERE
Oct. 6, 5:30-6:30
Angela Mooney D'Arcy
Acjachemen, Sacred Places Institute for Indigenous Peoples
Oct. 13, 5:30-6:30
Krystal Tribbett
Orange County Regional History, UCI Libraries
Oct. 20, 5:30-6:30
Paul Wormser
Sherman Library and Gardens
Oct 27, 5:30-6:30
Celeste Dennerline
Balboa Museum, Newport Beach
Nov. 10, 5:30-6:30
Bernie Svalstad
Newport Beach Historical Society
Nov. 17, 5:30-6:30
Heather Cieslak
Newport Bay Conservancy
Each event: 30 min. presentation + 30 min. discussion
For more information, contact
Prof. Patricia Pierson
This is a project funded by the California Humanities and features partnerships between the UCI Humanities Center, Literary Journalism/Center for Storytelling, UCI Libraries, the History Department Internship Program, and the Newport Beach Public Library Foundation.
#UCIEncounterOceans
Click here for the fall 2020 poster and see below.
Ann Phong
,
Looking Up from the Ocean
, 2016