David Kurnick (Rutgers) and Heather Love (Penn), "Genealogies of Queer Studies: A Symposium"
Department: Poetics, History, Theory at UCI
Date and Time:
February 1, 2019 | 12:00 PM-2:00 PM
Event Location: Humanities Gateway 1030
Event Details
---
In this symposium, David Kurnick and Heather Love will discuss the history of queer studies, with special attention to affect, AIDS, aesthetics, and the history of the disciplines. By surveying suppressed or forgotten origins for the field, they will shed new light on contemporary debates about reading methods in literary studies and the politics of antinormativity.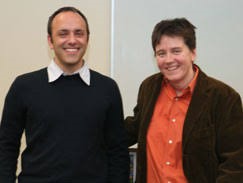 David Kurnick teaches nineteenth-century literature, the history of the novel, and sexuality studies at Rutgers, the State University of New Jersey. He is the author of Empty Houses:
Theatrical Failure and the Novel.
Heather Love teaches English and Gender Studies at the University of Pennsylvania. She is the author of
Feeling Backward: Loss and the Politics of Queer History
and a forthcoming book on the deviance studies roots of queer theory (Underdogs).