Message from the Chair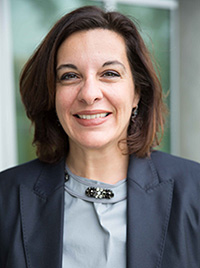 It is with great joy and excitement that I write this first message as Chair of the Department of Philosophy; a Department with a
bright past
, which is determined to have an even brighter future.
We have exciting plans for our undergraduate students: we are developing two new tracks that complement our traditional
Philosophy major
, and three 4+1 programs that allow highly-motivated undergraduates to obtain a masters degree with one additional year of study. The two new tracks are: Philosophy, Health and Well-being and Philosophy, Law and Society.
By offering a
5+2 PhD program
, with an entirely redesigned first year, we aim to enhance the quality of our
graduate students' experience
.
Thanks to a new
placement policy
, we are striving to make that experience as effective and successful as possible.
In the meanwhile, we continue to administer and develop our Philosophy major and two highly successful minors in
Medical Humanities
and in
Humanities and Law
. We also continue to participate in the
M.A. in Philosophy Political Science and Economics
.
The academic year, which has just started, will see the Department engaged in groundbreaking research.
We kicked off with a major international conference on
Hinge Epistemology
. We are going to continue by having an impressive series of distinguished speakers at our
Colloquia
. We will have recurring and new series of seminars and workshops: the
Medical Humanities Series
, the
Law, Reason and Value Talks
, the
Social and Applied Epistemology Series
, the
Scientia Workshop
, the
Joint Legal Philosophy Colloquium
, the
Melden Lectures
, the
California Phenomenology Circle
and the meetings of the
Southern California Epistemology Network
.
We are also very proud of our undergrads, who, after training for one year with two of our grad students, are going to represent UCI for the first time in its history at the
Ethics Bowl.
ZOT! ZOT!
Last but not least, thanks to donors' generosity, we are now hiring for the prestigious Shri Parshvanath Presidential Chair in Jain Studies, which will position the Department at the forefront of the rapidly growing area of comparative philosophy between East and West.
We are striving to grow and our efforts will no doubt be even more effective thanks to the help of our
Alumni
– no matter how big or small your donation is, it will make a significant difference.
Sincerely,
Annalisa Coliva