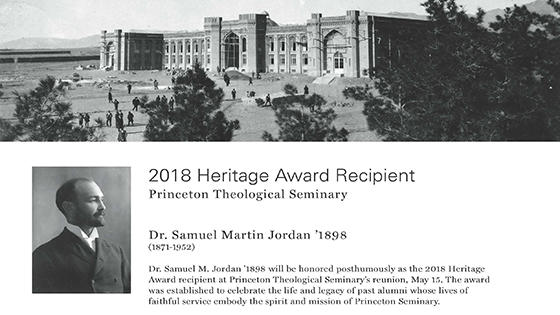 Spotlight Detail
Dr. Samuel M. Jordan was chosen as the 2018 Heritage Award recipient at Princeton Theological Seminary
We are happy to announce that Dr. Samuel M. Jordan will be honored posthumously as the 2018 Heritage Award recipient at Princeton Theological Seminary's reunion on May 15, 2018.
For more information about the Heritage Award Ceremony at Reunion 2018, please contact Terri Bell (609) 497-7982 or visit: (http://reunion2018.ptsem.edu/)
The Dr. Samuel M. Jordan Center for Persian Studies and Culture
at
UC Irvine
is named after this important figure for Iranian education and progress. The center was originally established by the School of Humanities in collaboration with the Claire Trevor School of the Arts through a generous gift by
Dr. Fariborz Maseeh
. It became a campus center in January 2009. Dedicated to drawing on the strengths of the entire UC Irvine campus, the Center focuses on interdisciplinary research projects that bridge the arts, humanities, engineering, medicine, and the sciences.