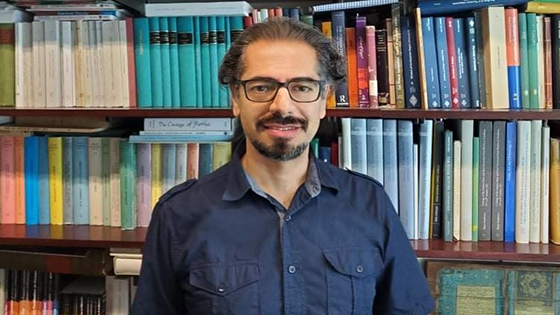 Spotlight Detail
UCI Jordan Center for Persian Studies new Artist-in-Residence, Pouya Jahanshahi
We are happy to announce that Pouya Jahanshahi has joined UCI Jordan Center for Persian Studies and Culture as the new Artist-in-Residence.
Pouya Jahanshahi
is an Iranian-born Graphic Designer, Curator, and Scholar, currently on a year-long sabbatical from his position as Associate Professor of Graphic Design and Graduate Program Coordinator at Oklahoma State University. Having migrated to the US at a young age to escape the devastation of the Iran-Iraq war, this event continues to influence his research to the present day. Spanning a period of 20 years, Jahanshahi's work revolves around the cross-cultural sphere of graphic design, with a focus on the Iranian diaspora. He has been the voice of Iranian Graphic Design in the west for the past two decades, disseminating his ongoing research about the development of this field in venues across the globe such as Association Typographique Internationale (ATypI, 2007, 2010), College Arts Association (CAA 2020, New York) amongst others. Receiving a terminal degree (MFA) from the California Institute of the Arts (CalArts, 2011) in Graphic Design and Integrated Media, his research pertained to the growing merger of diverse ethnic vernacular, and the development of what he named as Hybrid Visual Languages. This trajectory is echoed in his academic research and is tangible in his approach towards artistic creation and professional work of design. Along this trajectory Jahanshahi has been amongst the earliest advocates of Decolonizing Pedagogy in the United States, leading panel discussions at College Arts Association (2018,2019) and implementation of related approaches at Oklahoma State University Graphic Design program. As an avid believer in the importance of community engagement and social justice, he is the co-founder of the art and design collaboratives, Local/Not Local and Pasaj Collaborative, bringing together the synergy of arts, design, and community. Amongst his ongoing curatorial projects is on this path the 20x20 Posters For Peace. Initiated in 2017, for the first-time peace posters of Iranian graphic designers were placed side by side to those of their US counterparts. This project has grown to include posters from other nations and be hosted in other countries, traveling to Mexico China. This year Denmark will be the host, in the celebration of the United Nations Day For Peace. More recently he was a member of the Greenwood art Project, commemorating the centennial of Tulsa Race Massacres, where his work garnered a Graphex Award (Tulsa Arts Directors Club, 2021). Active in the professional sphere, his design work has been exhibited internationally, and have garnered regional and international accolades including Poster Biannual of Mexico, American Institute of Graphic Arts (AIGA), University and College Designers Association (UCDA), Graphex (Art Directors of Tulsa), Hiii Design Awards, CITA, amongst others. As a recent recipient of the endowed Farzaneh Professorship (Iranian and Persian Gulf Studies, Oklahoma State University) he is working on utilizing Iranian Arts and Design towards implementation of Cultural Diplomacy as an alternative approach towards Iran.
His work at UCI will include the expansion and dissemination of his research on the history and development of Iranian Graphic Design and Typography, as well as continuing his outreach for collaborative engagements with regional artists and design communities.