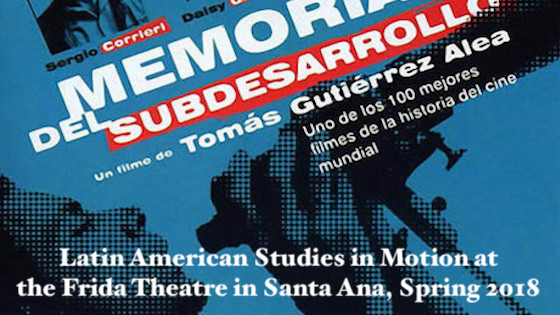 Spotlight Detail
Latin American Studies in Motion at the Frida Cinema in Santa Ana, Spring 2018
Screenings of "Laberinto Yoeme", "Memories of Underdevelopment"," Yo Soy Joaquin," and "Redes". Click the image for full program
1. Laberinto Yoeme (Sergi Pedro Ros, 2018) - Thursday April 5
"Sneak Preview" of a documentary by Sergi Pedro Ros that addresses the Yaqui tribe's resistance to the dispossession of the water of their river in Sonora, Mexico in a context of violence, drugs and aggression.
Following the screening director Sergio Pedro Ros, producer Cesar Talamantes and Tomás Rojo, a leader of the Yaqui tribe, will be present to speak on the film with the audience.
Milenaria y guerrera, la Tribu Yaqui defiende su existencia. Desde 2010, el gobierno de Sonora desvía ilegalmente 75 millones de metros cúbicos de agua al año del río Yaqui. El despojo ha desatado lucha y resistencia. Paralelamente, los yaquis ven inundado su territorio de metanfetamina; ante dicha agresión, buscan respuesta en lo más profundo de su identidad cultural.
A tribe of fighters, the Yaquis defend their millennial existence. Since 2010, Sonora´s government illegally diverts each year75 million meters of wáter from the Rio Yaqui. This situation has sparked a struggle for resistance. In parallel, the Yaquis have seen their territory flooded by methamphetamine. They now seek for answers to these external aggressions in the depths of their cultural identity.
2. Memories of Underdevelopment (Tomás Guttierez Alea, 1969) - Wednesday, April 11
A 50th Anniversary screening of the most well known movie from the Cuban Revolution. The film follows the Sergio (Sergio Corrieri, I Am Cuba), a member of Havana's elite who remains in the city after his wife and relatives flee to Miami in the wake of the Bay of Pigs invasion.
Presentation and Q&A with Raul Fernandez, Professor Emiritus of Chicano & Latino Studies, University of California – Irvine.
3. Yo Soy Joaquin (Luis Valdez 1969)/Ballad of Gregorio Cortez (Robert Young, 1982), Wednesday, April 25
I Am Joaquín is a 1969 short film by Luis Valdez, a project of his El Teatro Campesino. It is based on the poem "I Am Joaquín" by Rodolfo "Corky" Gonzáles, a key text of the Chicano movement.
Probably the most authentic Western ever made, The Ballad of Gregorio Cortez is gripping adventure film recounts the true story of the largest manhunt in Texas history. In June 1901, six hundred Texas Rangers chased Gregorio Cortez, a Mexican-American ranch hand, for eleven days across 450 miles of terrain. Was Cortez a cold-blooded killer or an innocent man fleeing injustice? You decide.
Presentation and Q&A with Richard Rodriguez, Associate Professor of Media and Cultural Studies and English at University of California-Riverside.
4. Redes (Fred Zinnemann/Emilio Gómez Muriel, 1936), (Thursday May 3)
In this vivid, documentary-like dramatization of the daily grind of men struggling to make a living by fishing on the Gulf of Mexico (mostly played by real- life fishermen), one worker's terrible loss instigates a political awakening among him and his fellow laborers. A singular coming together of talents, Redes, commissioned by a progressive Mexican government, was co-written and gorgeously shot by the legendary photographer Paul Strand. Silvestre Revueltas' score for the film remains one of his greatest works, full of captivating rhythms, vivid instrumental color, and characteristic melodic inspiration.
Presentation and Q&A on the film's score by Leonora Saavedra, Associate Professor of Musicology at University of California – Riverside.
For info on the Frida Theatre, see http://thefridacinema.org/