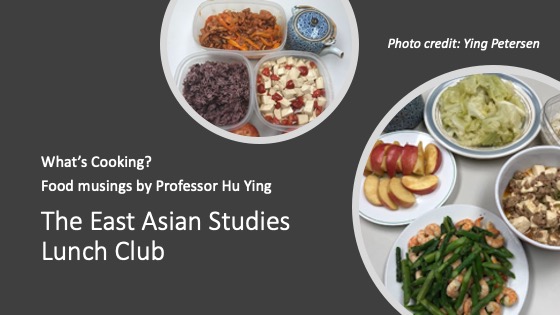 What's Cooking? Ask the East Asian Studies Lunch Club
Professor Hu Ying, chair of East Asian Studies, shares the community of home-cooked lunches in her department.

"March 12 was the last day I was on campus before everything shut down. I remember it was a Thursday because I was on duty for the Lunch Club...."
I've been a lunch club member for about 15 years, though the club's founding stretches back to the misty past of the 1990s. Over the years, it has grown to include faculty, administrators and graduate students. In any given quarter, its membership ranges from five to nine people, each of us brings lunch for everyone on a designated day of the week. At its maximum size, just hauling the food up four flights of stairs of HIB takes muscle, not to mention cooking for nine. Still, when noontime comes, the aroma draws me out of the office and the allure of sitting down with friends over good food (all the more delicious when it is not of my making) is hard to resist. As our coordinator says (yes, we have one, whose official title is "academic coordinator" but who does far more): Once a member, always a member.
These days I have an ever-growing list of things I miss before social distancing, and close to the top of the list is the lunch club. I miss the East Asian studies kitchen, a sort of village well where people gather to exchange gossip and news in addition to savory dishes, cake and cookies, loquats and peaches from our backyard. I miss Jessica's mapo tofu, Mindy's pickled radish, Kyung's Korean BBQ, Susan's tortilla soup, and Ying's ever insistence on beautiful presentation. I can't wait for the day when we can gather again around the table – what a feast we'll have! Before then, we'll finally put together the East Asian Studies Lunch Club Recipe Book, something we've talked about for years.
To get the process started, here are two recipes:
Jessica's mapo tofu (top right): I use soft tofu in this popular dish. Spicy black bean paste should be fried first. Oyster sauce, sesame oil and pepper oil are key seasonings. Chopped green onion is also the essential.
My five-minute tofu (top center): Fry a handful of peppercorns in a tablespoon of vegetable oil for a couple of minutes, take out the peppercorns and pour hot oil on cubed tofu; warm a tablespoon of soy sauce in the same hot pan for a few seconds. Pour onto tofu and throw in a few cherry tomatoes for color.
Members of the EAS Lunch Club include:
Coordinator Ruohmei Hsieh
Jessica Chen
Mindy Han
Kyung Kim
Susan B. Klein
Ying Peterson