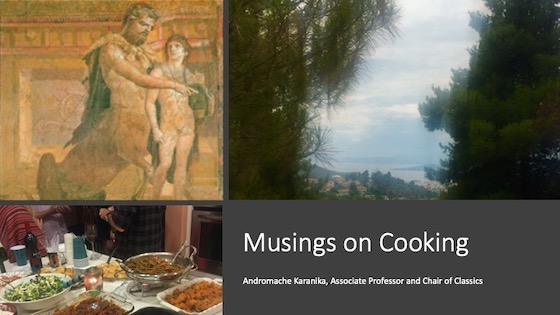 What's Cooking? Cook with the Professor for Orthodox Easter
Professor and Chair of Classics Andromache Karanika offers her "Musings on Cooking" and her Greek recipe and video on preparing lamb with potatoes.
As the coronavirus continues to hold many of its secrets tight, while we try to constantly inform ourselves with the latest news of scientific inquiry, those of us trained to think with patterns see a capacity of the virus to stealthily defy patterns. When you think you understand its ways and behavior, new evidence pushes us to re-route our thinking. In our new reality that seems to escape quick solutions, many of us are trying to find comfort in things we can actually control, and find renewed pleasure in daily acts of survival, such as cooking.
Suddenly, life at home on a more permanent basis revolves around the kitchen table. Just when you have your morning coffee, the conversations are about dinner. Before dinner ends, planning for the next days has already begun. Shopping becomes a game of strategy, who will go where and how often to get supplies that can outlast a possible quarantine. Cooking has become not only the focus of daily attention and conversation but the crucial link with family members. How can we make everybody's favorites, while also looking into healthier options that could perhaps fortify our immune system, rehearsing unconsciously (or not) the old debates between the dulce et utile, what is pleasant and what is really useful?
Cooking has become a therapeutic activity as the entire world has entered into what feels like seismic territory. My Greek calendar marked by the Easter feast in April has made some choices easy, and even soothing: a return to the simplicity of Mediterranean cuisine, one that requires some basic ingredients, endowed in my imagination with ancient healing powers: olive oil, lemon juice, garlic and oregano. The kitchen table is now also an office, next to the cookbooks, scholarly books on the Hippocratic corpus and works by Galen, in case validation is needed for thinking about health and well-being with food. For someone who grew up at the Mountain of the mythical Centaurs, the legendary Mt. Pelion, where Centaur Chiron was believed to have taught the famous heroes everything from music to medicine, stories about the different plants and their properties are part of an existential narrative. Cooking becomes a consolation for the travels that can't quite happen just yet.
Easy Recipe of the day - (featured on
Cooking with the Professor
)
Lamb with Potatoes
1
(approximately 5 lb) boneless leg of lamb
½ -1
cup fresh lemon juice
1⁄2
cup olive oil
1⁄4
cup dried oregano
4 - 5
garlic cloves, whole
2 tablespoon salt
2 teaspoons black pepper
Dijon mustard – 2 - 3 teaspoons
3 - 5 potatoes, peeled and sliced in wedges
IMPORTANT NOTE: This recipe can be used with any other type of meat, especially chicken or pork.
HOW TO COOK:
Place the lamb in a roaster pan and the potatoes around the lamb (3-5 large potatoes, peeled and chopped in wedge-style cut).
Pierce the meat in a few 4 – 6 places and put salt and pepper and an entire garlic glove in the 'holes' there.
Mix together olive oil, lemon juice, mustard, salt and pepper in one cup - marinade style - and put it around the lamb and on the potatoes. You can put some garlic either finely chopped or crushed (2 gloves, or garlic powder) on the potatoes.
You could also add a small twig of rosemary on the meat to add aroma
Add a little bit of white wine 1/4 cup and ½ of water and put in the oven to cook at 325 Fahrenheit for 2 1/2 to 3 hours covered.