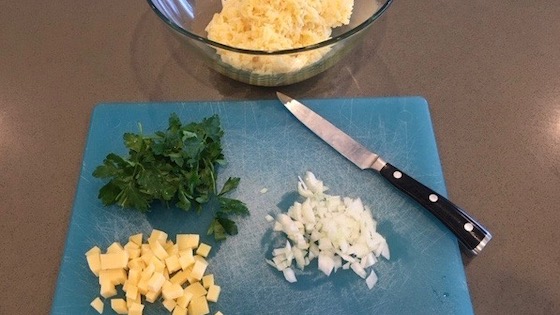 What's Cooking? Craving Rustic Simplicity
Professor Deanna Shemek shares what she's cooking and craving.

What's cooking at my house these Covid-19 shelter-in-place days? Like others, I am taking advantage of being near my kitchen all day long, able to monitor a slow-cooking braise or soup, chop ingredients on a quick break from work, or observe a rising dough.
There was a batch of country French lentil soup that lasted nearly a week, and Sichuan green beans with ground pork that didn't; coming up is a sauce for pasta from the Veneto region that is known as sugo povero (poor man's sauce), made only from onions—lots of onions—a little olive oil, and white wine, simmered for 8-10 hours. I've rejoined the bread-making legion: yesterday's
no-knead artisan bread
with olives is almost gone today.
And I have plans, big plans! A batch of Indonesian sambal, for example, which will cause the house to exhale chili breath for a couple of days. Recipes are flying fast and furious among friends and family, from cuisines around the world.
Still, there are all those Zoom lectures to cook up too, so things are not all cassoulet and boeuf bourguignon around here. Quick and simple foods still command our table: my own tomato sauce takes about five minutes to assemble and twenty or thirty to simmer into something smooth and bright, ready for anything; pasta tossed with butter, parmigiano reggiano and sage from the pot on my patio are ready in the time it takes to assemble the ingredients, offering heaven on a plate. Dragging an oil-brushed tuna steak through ground peppercorns and pan frying it with butter and lemon zest yields something surprisingly greater than its effortless parts. Toss a salad or broil some asparagus, and you're there.
For those days when the grocery delivery has not arrived and the fridge is looking a bit bare, I give you my old friend, frittata di riso (rice frittata). When I was in graduate school, I lived two non-consecutive years studying in Florence. Both times, I shared an apartment with Valeria and Agnese Spadoni, sisters from the Marche region who were studying law (Valeria) and medicine (Agnese). Our student budget didn't stop us from throwing dinner parties, and one thing I have learned from Italian cooks in general is how to make delicious and beautiful food out of next-to-nothing. We used to note with amusement Valeria's consistent preference for rice over pasta; even her favorite desserts were rice pudding and gelato di riso. The fact that, years later, she learned she has Celiac disease just goes to show that often, the body really does know best. I learned this recipe from Valeria, practicing it over countless lunches and dinners with her and on my own. I continue to crave its rustic simplicity. It's a go-to comfort food that makes something exquisite out of leftover rice, the bits of cheese in your fridge, and that student staple for cheap, nutritious meals, eggs. The concept is flexible: work with what you have. Frittata di riso is delicious hot, flanked by a salad and a glass of crisp white—the cheese alternately chewy and gooey inside, and the rice addictively crispy on the outside. It also makes fine fare at room temperature (or right out of the fridge) whether at home, at work or on a picnic. Buon appetito!
For 2 people you need:
• 1 ½-2 cups cooked rice, cold or room-temperature
• 2 eggs, well beaten (The egg/rice ratio is flexible and depends also on egg size. The important thing is to have enough egg to bind the rice, but the mixture should not be soupy unless you are going for a quiche/omelette effect.)
• 2 tablespoons or more chopped onion, any kind
• Some small cubes of cheese, ¼ cup or more, to taste. I like aromatic, semi-aged cheeses like Emmental, Gruyere or smoked Gouda, but the point is to use what you have on hand. Use more than one kind if you like.
• Chopped parsley, 1/3 cup or to taste. Want other herbs instead? Go for it. My favorite variation is dill.
• Want to add bacon or pieces of ham? Nobody's stopping you. Wishing for tomatoes or zucchini or peppers? OK, but remember that they are watery, so you may need more egg. Consider frying the zucchini first, until crisp, and adding it into the batter before cooking
• Salt and pepper
• Olive oil for coating the skillet
** Important: you also need a non-stick skillet. For this amount of rice, a small one will be perfect. If you double the recipe, you need a bigger one, but the size should not exceed that of a dinner plate.
Mix all ingredients together. Heat olive oil in the skillet over medium heat and swirl to coat the sides of the pan. When the oil begins to shimmer, turn the rice mixture into it and pat it down well to shape it into the roundness of the pan.
The mixture should sizzle when it goes into the pan. Lower heat slightly and cover. Leave it alone for 2-3 minutes! Remove the lid and check: Does it seem like the frittata can slide around on a bottom crust that has formed? Can you lift it a little from the sides with a spatula and see that it is beautiful and golden brown on the underside? Is the top free of liquid puddles? Are you ready for adventure? If yes to all of the above, then remove the lid and put a dinner plate over the frittata. With one hand on top of the plate and the other on the skillet handle, shielded by a potholder, carefully flip the frittata onto the plate. The new top side should be crispy and crusty.
The new bottom side will still be uncooked. Gently slide the frittata back into the skillet, wet-side-down. Use a spatula to re-shape it in the pan. Cover again and cook, just until the eggs are solidified. You can check it by cutting with a knife into the middle and seeing if the knife comes up clean. When it's done or nearly done, remove from heat. Slice like a pie and enjoy. Note: If you cook the frittata too long, it will be dry, but that is nothing that a little salsa won't fix. If the pie falls apart in the sliding, it will also taste great as a kind of hash. Go with the flow, and enjoy.