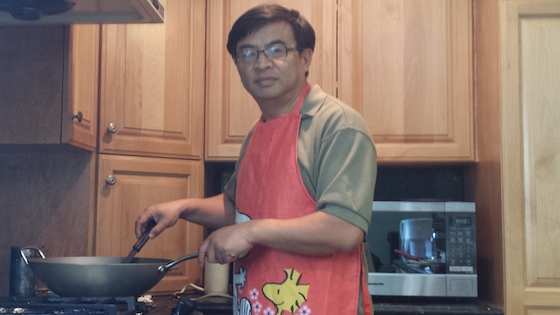 A recipe from childhood memories
The UCI Humanities Center is launching a new feature, entitled "What's Cooking?"
In light of the coronavirus pandemic and the shelter in place orders, our everyday lives have changed drastically. How has COVID-19 changed how we procure food as well as how and what we cook? How has the pandemic changed our relationship to food?

Enjoy the reflections by Assoc. Dean Yong Chen
Monumental events in history often are also important "food moments." One such event is the Irish potato famine in which about a million people starved to death and at least another million were forced to leave the country. Food shortages have also been a vital cause of revolutions, such as the 1917 Russian Revolution. Besides hunger, the importance of food during times of crises manifests itself in multiple ways. During World War II, for example, the United States used the Victory Gardens to promote patriotism and mobilize support for the war on the home front.
The COVID-19 pandemic is a global public health crisis of epic proportions. And its monumental impact is keenly felt in multiple aspects of food, including food production, distribution, consumption and security. As millions of people in different parts of the world are ordered to stay home and work away from their usual workspaces and schools, the home kitchen looms large in many people's life to unprecedented degrees. We find ourselves cooking more than before. Cooking offers a way for us to remain connected to the outside world, to our loved ones and friends stranded in different locations, and to the histories and experiences we remember. Unable to share our food with friends now, many share recipes, and doing so strengthens our sense of community.
In searching for recipes from a world that seems to be lost forever, I stumbled upon a recipe based on techniques that I learned to cook from childhood memories. It was also the first recipe I have published as part of a local newspaper called Irvine Spectrum News at the end of the last century. To borrow a line I used then, "Try it, you may like it."
------------------------------------------------------------
¾-inch thick, ½-pound black cod filet
2 tablespoons Chinese fermented black beans
3 cloves garlic
Some chopped green onion
¼-cup Chinese rice wine
Fresh ginger root
3 tablespoons vegetable oil
2 tablespoons soy sauce
Coarsely chop black beans; place in a small mixing bowl; add rice wine, ginger and garlic; allow mixture to macerate for at least 30 minutes.
Place the fish in a shallow bowl and smear the wine mixture evenly over the top; cover the bowl; and allow to rest 15-20 minutes.
Place the bowl in a steamer and steam for 8-10 minutes.
Take it out, open it and place green onions on top.
Heat the oil for a few minutes (until it is very hot).
Pour the oil into the bowl.
Add the soy sauce. Serve.