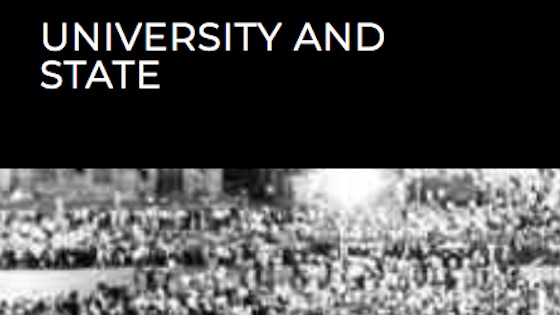 University and State
Our cluster promotes 1) philosophical and critical theoretical inquiry, 2) global and historical cultural investigation and 3) broad attention to the problems and possibilities of translation.
University and State is dedicated to advancing understanding of how state institutions operate. We do so in a somewhat unconventional way, namely by critically reflecting on the ideals and aims of scholarship. The evolving thesis of our work suggests, provisionally, that transformations in state form are visible anew from within university discourses and practices. Our principal goal is to organize events and promote modes of critical writing and publishing that traditional forms of social critique often miss for want of interrogating their own relationship to the state. We maintain a small core membership, prioritizing engagements with a dynamic cast of collaborators. Group activities aim both to extend and to complicate assumptions of what counts as university discourse. We enlist philosophers, poets, political activists, civil society actors, ethnographers, and autodidacts to help along the way.
To join, please contact
Williston Chase
and please see our
website
.