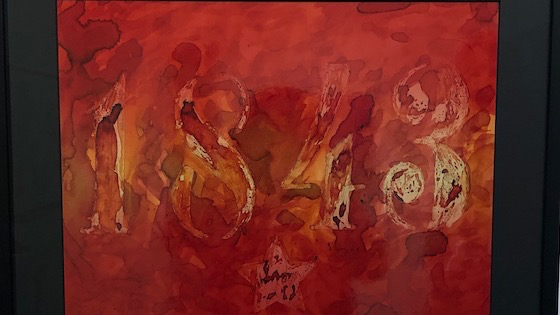 Meet Kathie Foley-Meyer
Media Artist, Doctoral Student in Visual Studies, and a member of our newly formed Humanities Center Graduate Liaison Network
Kathie Foley-Meyer's research interests dovetail with the subject matter of her artwork, which is frequently inspired by the history of African American life, and explores themes of interconnectedness, memory, visibility and transparency. Two of her recent mixed-media artworks,
Twelve Voyages
(2017) and
In The Wake: With the Bones of Our Ancestors
(2018) address the loss of generations of human life associated with the transatlantic slave trade and the African diaspora. She's also an arts nonprofit consultant who recently served as Chair of the board of LACE (Los Angeles Contemporary Exhibitions), and is currently on the advisory committee for Fulcrum Arts.
In 2017 she was part of a group of American artists who exhibited their work in a Tokyo exhibition entitled
In Pursuit of Beauty
, and her piece
CitizenSoldier
was part of the "WILD CUTS" exhibition at Woman Made Gallery. In 2016 her work was part of the exhibition "SKIN" at the Los Angeles Municipal Art Gallery (LAMAG), and the LAMAG exhibition "S/Election." In 2013 she presented
Project Bronzeville
, a multidisciplinary collaboration inspired by the WWII-era period when the LA neighborhood Little Tokyo became Bronzeville following the forced evacuation and internment of Japanese American citizens, and the subsequent influx of African Americans fleeing Jim Crow. Events included a solo exhibition at LA Artcore; a run of the play
BRONZEVILLE
; a symposium featuring scholars Dr. Hillary Jenks and Dr. Anthony Macias of UC Riverside, and Dr. Christopher West of Pasadena City College, and a concert at the blue whale jazz club in Little Tokyo featuring the Miguel Atwood-Ferguson Ensemble. She also created installations for the Pasadena Playhouse
productions
FLY, STOP KISS
and
KISS ME, KATE
.
To learn more about Kathie, check out her
website
!