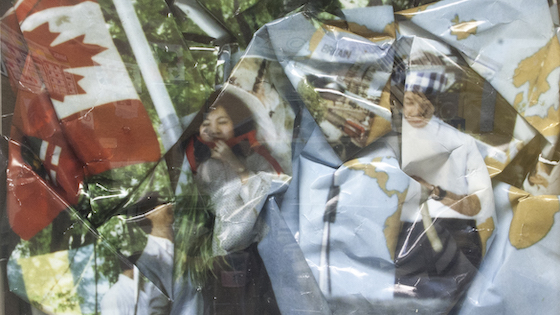 Who is the woman behind the purple yarn? Meet Vietnamese Canadian Artist Julia Huỳnh
As a second generation Vietnamese Canadian artist, my practice investigates the in-betweens of belonging through mediums of photography, video and more recently, performance. How, as a daughter of the diaspora have I been taught methods of cultural and self-preservation? In what ways are the imagined borders of South Viet Nam lingering in my everyday ways of being?
I turn to the personal archive attending to my family photographs and home videos to navigate my diasporic identity as well as to understand my parents own methods of belonging. In the Fit Series, 2015, I selected photographs that depicted my parents's attempts of balancing and honouring two cultures. I then scanned copies and purposely printed them too large for their light, unstained frames. Engaging directly with the prints by using my body I forced them to fit. Thus, distorting the images. The last photograph of the series (Fit Series 3/3) from the late 80's, illustrates my mother on stage in Vietnamese clothing with the Canadian flag, Ontario flag and a world map tapestry displayed together on stage. This photograph records a skit about Vietnamese culture performed to an audience in Peterborough, Ontario - a predominantly white town and where my parents were sponsored. The distortion of images in this series illustrate the burdens of fitting in and having to carry and navigate labels such as refugee, Vietnamese, South Vietnamese, Asian, Canadian and Vietnamese Canadian.
Artist Bio:
Julia Huỳnh (b. 1993, Peterborough, Ontario) is a second generation Vietnamese Canadian interdisciplinary artist, filmmaker and emerging archivist. She is a recent graduate of the Film + Photography Preservation and Collections Management Program at Ryerson University. As a research fellow at the Southeast Asian Archive at the University of California Irvine, she completed her thesis exploring how vernacular photographs in the South Vietnamese diaspora preserve and perform selective, collective memories.
To see more of Julia Huỳnh's art, please click
here
.