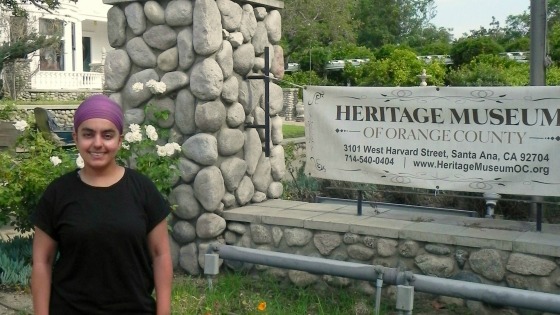 Tavleen Kaur, 2018 Public Fellow
Visual Studies PhD student Tavleen Kaur worked with the Heritage Museum of Orange County as part of the Humanities Out There Public Fellows Program in 2018.
Public Fellow: Tavleen Kaur, Visual Studies
Site: Heritage Museum of Orange County
Project: Develop a timeline of settlement history in Orange County
Tell us about what you did last summer.
I worked on taking data that the previous year's Humanities Out There intern collected on the settlement history of Orange County. I input the data into a format that can be used to turn the material into neatly organized timelines for various cities in OC. In areas where I noticed information was missing, I used my training as a Humanities PhD student to ensure there is no historical erasure, in particular of the Indigenous communities on whose land we are settled.
Did you find any connections between this work and your research?
Since my dissertation project delves into urban geographies of communities of color, especially in California, it was really helpful to go through the data on OC's settlement history. Along the way, I learned a myriad of facts about Orange County that are not typically associated with this part of the state.
What was the most rewarding aspect of your Public Fellowship?
I really appreciated getting to see the data I was working with turn into something live and active on the museum's website. I was working with a great team. Their helpful and caring nature helped ensure any challenges I had along the way were overcome.
Any challenges you want to share?
I learned that I need to give myself plenty of time to finish work. For future Public Fellows, I would like to emphasize the importance of going into this kind of opportunity with an extremely open mind. As grad students, we are usually in the habit of working by ourselves for long periods of time. This experience was a great reminder that nothing in life is achieved by our own efforts alone. Team work at any capacity is always a humbling, grounding, and memorable experience.