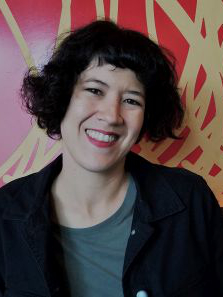 Graduate School: A Reflection
Jessica Conte, Ph.D. Candidate, East Asian Languages & Literatures
Explaining my experience of graduate school, my decision making, and how it's influenced my career path feels very much like my own PhD research: a process of translation, making sense of meaning and junctures that are anything but linear. My research focuses on representations of labor in cultural productions, and specifically how narratives around labor, race, and gender in South Korea circulate through transnational productions of film, literature, and popular media.
I came to graduate school after working in Seoul for several years. I did program development for a small education-oriented non-profit for two years before my bank account dried up and I moved to work as a media analyst and translator for a PR and communications firm. Working there made me realize how much media analysis fascinated me and how much marketing repelled me. I applied to graduate school to pursue the work I liked most, education and media, with the hopes of finding more secure employment than client-based work. I suppose I explain this because I think that, like me, many graduate students in the humanities have struggled with the precarity of graduate school. I feel that to imagine this precarity is somehow not tied to that other fields, such as non-profits or marketing, denies the institutional reality of education and the work that supports it.
Initially, I started my graduate career with the goal of teaching in higher education. But I was also focused on what could be done outside the classroom. I was an organizer for the UC Student-Workers' Union, helping develop campaigns and eventually serving on the negotiation team for our collective bargaining agreement. Learning about contract law gave me the skills and confidence to pursue community work in legal advocacy for people navigating immigration and criminal systems. I realize now that it wasn't just my union work that made me a bit more adept at navigating legal systems, but my graduate research as well, which has given me a critical eye for policy, narratives, and jargon.
I began to find ways to explore different career paths. As an intern for the California Community College Internship Program at Orange Coast College, I set up community engagement activities for students in Ethnic Studies, including a film screening at a local independent theater that facilitated discussion with local immigrant rights activists. As a Humanities Out There Public Fellow for the Vietnamese American Arts & Letters Association (VAALA), I helped put together the association's annual Viet Film Fest. I worked with the screening committee and organized and moderated a panel on documentary filmmaking and global LGBTQ issues. It was these experiences that made me realize what I liked most about teaching and organizing was the ability to collaborate and focus on critical issues with different people. I'm just as fascinated by what happens inside a classroom as what happens outside it.
For me, these experiences have opened up quite a few career possibilities that I wouldn't have considered before graduate school. Working and volunteering for a range of organizations and groups—from grassroots collectives to labor centers and incarceration support groups—has helped me recognize some of the skills I've developed through my graduate work. I'm most often told by others I work with that I can read and write really fast. But this means a bit more than simply reading or writing; it means critical engagement and production. Campaign or project building, for example, is a rigorous intellectual exercise that involves addressing history, capacity, and power dynamics. Those of us with graduate training in the humanities have the capacity to understand—or read—the social and historical context of an organization or project very quickly. Our penchant for identifying sources of conflict, tension, contradiction, or argument in texts is becomes incredibly useful in resolving structural issues or determining appropriate tactics and strategies. Trained as teachers, we have an ability to listen, understand, and facilitate discussion towards a practical end. Our analytical and rhetorical skills make us adept at synthesizing problems, communicating them to others, and developing solutions. We can write, translate, and adapt pretty fast.
As I complete my degree, I'm considering multiple ways to apply my skills. A PhD has afforded me many options, and I remain interested in fields that involve research, collaboration, and education.