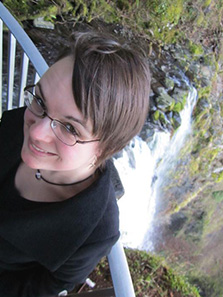 Erin McNellis
English Teacher at Tarbut V' Torah Community Day School
Erin McNellis Alumni Interview, July 2017
Dr. Erin McNellis always knew she'd be a teacher. As a youngster, she enjoyed reading, writing and composing poetry. She imagined that she would share her love of these things with students, helping them to think critically and write well. She wove this plan into her educational ambitions. She chose the College Scholar Program, an innovative, self-directed interdisciplinary major, as an undergrad at Cornell University. This program provided her the freedom to break out of the traditional major route to read more broadly across a variety of humanistic subjects she knew would be helpful in a long and rewarding teaching career.
As a graduate student, she became an Anteater right before an economic downturn that still haunts the job market with uncertainty. "It was a different world," when she came to the UCI English department in 2004. "Funding was better and people got jobs. It was an easier, more direct path," she says looking back. The uncertain career environment she discovered when she graduated with her Ph.D. in 2011 did not discourage her from landing the career she had always imagined for herself. In this interview, Erin describes her experiences post-Ph.D. and explains how she landed a fulfilling career: Teacher and Chair of the English Department at Tarbut V'Torah Community Day School in Irvine.
UCI: What has your professional trajectory been since earning your Ph.D.?
I gave myself a three-year window to land a tenure-track job after filing my dissertation in 2011. While working on this, I worked as an adjunct professor of English at Orange Coast College and Irvine Valley College for two years, after which I got hired back by UCI's composition program in a part-time lecturer position. During that year, the third and last of my self-imposed time limit, I explored the private high school job market. I distinguished myself enough as a lecturer at UCI to be offered a full-time contract for the following year, but I also ended up with an attractive job offer from a private high school at nearly twice the salary. After extensive consulting with my mentors at UCI, including those in the composition program who'd offered me the full-time job, I decided to take the high school offer, where I have been happy ever since.
UCI: How would you describe your present job?
I am currently the chair of the department of English at Tarbut V'Torah Community Day School, a private Jewish K-12 school in Irvine. I teach 9th grade World Literature and AP English Language and Composition. In previous years, I have also taught British literature and American literature classes at TVT.
UCI: What are the skills that you feel are the most important for your job?
The teaching skills that I learned on the job in my various teaching positions as a UCI graduate student have been very helpful, but I also had to learn a lot more about classroom management and adolescent psychological development in order to teach high school effectively. Another difference from higher education is that I have to deal directly with parents, so diplomatic communication skills are very important. Additionally, at my school, we have a lot of freedom designing our own curriculum and assessments, so I have been studying pedagogical theory in that area.
What do you find most gratifying about your job?
Teaching high school means that I get to teach my students for a whole academic year at a deeply formative time in their lives, and teaching at a school as small as TVT means that I get to teach many students for multiple years. I get to see real growth and change in their skills, which it was difficult to do at UCI in a 10-week quarter, and the relationships that I form with them are much deeper and more meaningful.
Also, I finally make a proper middle-class salary. I know that in teaching we're supposed to be all about the intangible rewards, but let's face it: adjunct positions are exploitative and demoralizing. One school that I adjuncted for actually encouraged me to apply for food stamps over the summer employment drought, because it knew I would qualify for them based on what they were (not) paying me. Leaving that track has enabled my husband and I to live more comfortably and be less worried about our future, and it feels good to finally be paid what I think my knowledge and experience are worth.
Thinking back on graduate school as preparation for this career, what skill or tool do you think your education best developed that you rely upon as a teacher and department chair?
The most relevant things I got out of graduate school were knowledge of my subject area and experience in the classroom. Getting to design and teach classes like English 28 and Writing 139 from scratch was particularly helpful.
How does this relate to what you understand as your disciplinary training?
I think it's more or less exactly what my disciplinary training was meant to be.
What skills do you feel were least developed that would have helped you either transition to this field or work more capably in this field?
I did not get very much formal teacher training at UCI. When I started teaching composition as a graduate student in 2005, we got two or three days of training and then were thrown into a classroom. We took a quarter-long pedagogical theory class alongside this, but at that time the choices of texts and lessons for a composition instructor were very limited, so the pedagogical theory felt very divorced from what we were actually allowed to do in the classroom. I gather that the training for new instructors has improved since then, but what I think would be really helpful to add is a teaching practicum and/or pedagogy class that would come later in an instructor's career, say after two or three years of teaching, when you're ready to do more than just try to keep your head above water in the classroom from week to week.
Were there outside (non-graduate school) experiences that you feel prepared you for this job?
Throughout graduate school, I supplemented my stipend by working with high school students in a variety of capacities: I taught enrichment classes both in person and online, I tutored, and I worked as a college application essay consultant. All of this helped me to feel comfortable working with teens and to realize that this was something I'd be interested in pursuing as a career.
Have you maintained a connection to your previous scholarly work or work practices in some way?
I still review new poetry books for Jacket 2, a prominent poetry journal, but I don't write full-fledged academic articles anymore. I do a bit of quasi-academic blogging, and I do some creative writing. I wish I were doing more of the latter, frankly. The summer theoretically gives me time to write creatively, but I find that it becomes packed with other activities!
Looking back at your time as a graduate student, what do you wish you would have known about opportunities for careers outside of the traditional tenure track?
I would have liked to have some kind of list or index of job types and job descriptions along with profiles of individuals and how they got there.
How did you find your position at Tarbut?
I found my current position through Carney Sandoe & Associates, a major placement firm for private school teaching positions in the US. I learned about it by conducting informational interviews with people I knew who were already in private school teaching jobs. A similar firm that focuses primarily on the west coast is CalWest.
In general, how did you hear about non-academic jobs?
I knew I wanted to stay in teaching, so I conducted a series of informational interviews with peers from graduate school who were already in positions similar to those I was seeking. I also used some family connections to conduct informational interviews with administrators of private schools to find out what the job environment was like and what kinds of things they were looking for in candidates.
What advice would you give to other grad job seekers?
Find people who are in fields that you are interested in and ask them how they got there and what their jobs are like. Many of us humanities Ph.D.s quite frankly see ourselves as refugees from a broken system, and we are happy to lend a hand to others looking for a way out!