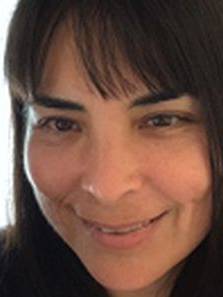 Cultivating Latinx Voices through Education and Composition
Loretta Ramirez, Ph.D. candidate in English
March 2020
Loretta Ramirez is a Ph.D. student in the UCI Department of English. Her dissertation is titled "Textual and Visual Rhetorics of the Generative Wound: A Historical Genealogy from Medieval Iberia to Chicanx Self-Representation Strategies & Pedagogies." In it, she traces contemporary Chicana rhetorical inheritances and inventions from medieval Iberian multi-faith pedagogical frameworks and Early Modern contact rhetorics. Her research engages with modern decolonial theories and critical composition pedagogy in order to empower diverse student populations.
In addition to her academic research, Ramirez teaches composition at California State University, Long Beach, participates in first-year university programs for students from underrepresented backgrounds, and volunteers at the J. Paul Getty Center. Here, she shares what motivates her to do her work and why she is involved in different spaces outside of formal academic research.
What led you to your research?
My research is very personal to me, stemming from my own experiences as a Chicana who struggled to feel represented in the academic community—both as a student and later as an instructor. I had difficulties locating cultural traditions and communication strategies in academia that felt familiar to my own traditions and strategies. So, I began to examine historical rhetorical cultures of Ibero-America and soon extended that study into the medieval to trace rhetorical genealogies that potentially impact modern Chicana self-representation techniques in both visual and textual communication.
Describe the work that you do at CSULB. How did you come to lecture there? What has your experience been like?
At California State University, Long Beach, I teach composition in the Chicano and Latino Studies Department. The writing skills and rhetoric that I teach at CSULB focuses on a particular Latinx cultural tradition of communication and self-representation. An ethnic studies framework of studying writing, rather than a more standard English framework, matches productively with my own research.
My experiences have been highly rewarding as an instructor of Chicano and Latino studies and composition because I am concurrently researching the historical rhetorics of Latinx peoples and then sharing that complicated legacy directly with Latinx students in order to cultivate their own voices. I believe that it is empowering to Latinx students to consider the rhetoric of an Iberian trajectory that interchanges with indigenous America rather than chiefly the rhetoric of a Greek legacy. After all, we can best cultivate our own voices when we feel historically and culturally included and invested in our environment.
It is clear that education is important to you. Describe the work that you have done in education programs for first-generation Latinx students.
My commitment to education focuses on assuring that underrepresented student demographics have access to skill development and campus support systems. I have participated in many first-year university programs because of that—programs that help students adjust to and navigate their first year on campus. Students are statistically most at-risk in their first year experience, which is why it is crucial to provide academic counseling, foundational skills, and mentorship in that first year. This is all the more important when we consider first-generation students, particularly of demographics that are underrepresented on campus.
When I taught at El Camino College, I was the coordinator of the campus chapter of the Puente Program, which is a statewide transfer program that guides specifically Latinx community college students through their early-college experience. We provided a yearlong sequencing in their writing classes so that they were able to study composition with a consistent cohort of students so that a Latinx writing community could be facilitated. Concurrently, the students would regularly meet with their specialized academic advisor to map two-year course plans with the intention that the students would transfer from community college to a four-year university. To provide more personal guidance, students would be matched with a mentor whose field of study or career experience fit the interests of each student.
Why has working at the J. Paul Getty Center been important to you?
The J. Paul Getty Center provides an opportunity for me to teach the art, conservation work, and collaborative research associated with the Getty Institute. In gallery and exhibit tours, I taught to a constantly rotating general population of all ages, cultures, and nationalities. My work in composition tends to be very specialized, which is absolutely beneficial to my own interests and my students, but it is also intellectually and pedagogically healthy for me to frequently step outside my academic niche and teach on a broad platform. The educational department at the Getty Center provides that widening of my teaching practices and ideas, as well as an opportunity for my expansion into the study and teaching of visual rhetorics.