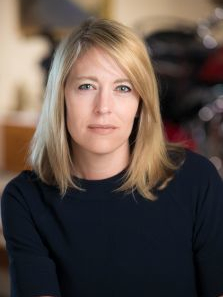 Amy Scott
Ph.D. in Visual Studies
June 2019
What would compel the Curator of Visual Arts at a renowned museum to go back to graduate school? Why would someone put herself through the rigors of coursework and writing a dissertation while already holding the "dream job" of many toiling Ph.D. students? For Amy Scott, Visual Studies alum and now the Chief Curator at the Autry—a museum in Los Angeles dedicated to exploring an inclusive history of the American West—the answer is not as simple as one might think. Amy recognized that earning a Ph.D. could vault her into the next tier of her profession, but she also understood that her graduate studies would give her the skills necessary to fully utilize the Autry's rich collection of materials, as well as empower herself with the confidence to work across disciplines and reimagine what the museum has to offer.
Amy's experience in the Ph.D. Program in Visual Studies pushed her to engage in interdisciplinary and cross-cultural lines of inquiry—integrating works of historical art, popular and media culture, and contemporary art--which has been useful at the Autry since it "is not only an interdisciplinary but also a cross-cultural and multi-media museum" with a collection "that spans thousands of years." Now, thanks to the more horizontal approach of her studies at UCI, Amy is making new connections among the materials at the Autry and broadening the types of exhibits that the museum can offer, such as displaying a monumental, figurative ceramic sculpture by a contemporary Native artist alongside a 19
th
century masterwork of landscape painting.
Amy believes that it is essential for every curator to have "a good eye, an imagination, and the willingness to apply different curatorial methodologies." She possessed these attributes prior to coming to UCI, but they were also refined and expanded in the course of her doctoral studies in the School of Humanities. In the interview below, Amy describes her path to UCI and how her graduate work positively impacted her curatorial work at the Autry Museum of the American West.
What has been your career trajectory after earning the Ph.D.?
Mine is somewhat different than most, I imagine, in that I returned to school in my mid-30s after having worked as the Autry's Visual Arts curator for six years. That meant also I had a track record of exhibits and publications, and some built-in support at the museum, which granted me the flexibility in terms of time to pursue the PhD, a benefit for which I remain extraordinarily grateful. So as I was doing the coursework and dissertation, I was also working on museum projects, which became richer and more interpretively complex as I became immersed in the Visual Studies approach.
When I finished the degree in 2013, I was promoted to Chief Curator (while continuing also as Curator of Visual Arts), which has meant that I'm more empowered to shape the museum's curatorial and interpretive agenda broadly. This has meant an increasing profile for contemporary art, twentieth and twenty-first century issues and histories, and an increased footprint for environmental and social justice issues past and present. Basically, I can move the dial a little farther, and a little faster, in redefining how our audience experiences and understands the American West
.
As the UCI experience expanded my own thinking, I've used that to expand the museum's collections, exhibitions, installations, etc. in more interesting and at times unexpected ways. I've started to increasingly use contemporary art as a way to bridge the gap between current issues and historical experience.
How would you describe your present job?
Figuring out how to showcase any major museum collection and to design exhibitions and experiences in ways that expand visitor's awareness of a place or a culture(s) is fun, creative work. It involves a lot of trying to stretch existing resources into new installations and/or exhibits, working with great contemporary artists, as well as scholars, other curators, as well as exhibit designers, museum supporters and collectors. All of these people have interesting and unique perspectives, areas of knowledge, and are invested in the museum's mission and success so it becomes about empowering, leveraging, and combining their talents and resources for maximum effect. I'm always surprised by how the designers think and some of the other ideas people bring to the table when it comes to the color, light, sound, projection, other media, and educational components of exhibitions. Designers and educators really get into finding ways to bring content alive and to make it relatable and engaging.
It may also be interesting to note the Autry just launched a collaborative partnership with LACMA, designed to underwrite the sharing of collections and curatorial knowledge. So we've also been having some really interesting conversations with their curators about joint interests and potential collaborations. This collaborative approach between museums in which institutions see one another more as partners than rivals I think is the way of the future.
What skills do you feel are the most important to your job?
A good eye, an imagination, and the willingness to apply different curatorial methodologies in the gallery or approaches to your subject, artist, or collection(s). Some shows benefit from having a linear chronology, but thematic, interdisciplinary, and/or multiple perspectives can shape an installation in unexpected and at times profound ways. Being a good listener helps, as does being outgoing and organized.
What do you find most gratifying about your job?
Often for me it is working with original artworks and/or artists first, whether those are historical masterworks of American art or a major new piece by a contemporary Native artist. For example, we just installed a monumental figurative ceramic by a young woman from the Santa Clara Pueblo alongside Thomas Moran's 1875 painting
Mountain of the Holy Cross
, one of the best-known pieces in the collection. Both objects have a massive amount of visual presence and integrity, but speak to very different perspectives on the role of land and landscape in Western art and history. It's just a privilege to work with objects of that range and significance.
It's also great to have the insight that brings the works to life for people, especially if it helps them see an image or an issue in a different light.
How has you time in graduate school here at UCI prepared you for this current position?
I was already in my current position (Curator of Visual Arts), but it did push me into the next tier; "senior," or "chief" curators are increasingly expected to have PhDs at a mid-level to large institutions. It also prepared or empowered me to collaborate with some of the art historians and academics whose research or writing I've long admired.
Most importantly probably is that the Autry has an interdisciplinary, multicultural collection that spans thousands of years, and the Visual Studies approach, which levels the playing field between works of art, popular culture, media culture, and other images has expanded my ability to see connections and relationships between a wider array of objects.
How does your position of Chief Curator at the Autry relate to your disciplinary training?
Working in the Visual Studies department at UCI really helped me think more cross-culturally and to expand my interest in interdisciplinary approaches. This has been useful at the Autry in that it is not only an interdisciplinary but also a cross-cultural and multi-media museum, where you can see objects and artifacts of a vast range of origins in relatively close proximity. The horizontal approach at UCI helped me make connections between such things in interesting ways and to broaden the types of exhibits that we offer.
Have you maintained a connection to your previous dissertation research or practice in some way? If so, how has that been incorporated into your life? If not, how do you feel about not maintaining a connection to your dissertation research or practice?
I'm proud of my dissertation but in retrospect the topic (on mass media and the arid West) was not accessible enough. I would have looked for something that was more translatable into an exhibition, perhaps with more of a focus on the 20
th
, rather than the 19
th
, century. But ultimately just having the degree has meant more than what the dissertation was about; more people care about the former, than the latter.
What advice would you give current graduate students looking to navigate the job market?
For those interested in non-profit, museum and gallery work, I'd suggest expanding your network to include artists and/or academics in other disciplines and offer to curate something somewhere. Many prestigious museums offer graduate and post-doctoral fellowships. Attend openings at galleries, museums, and of artists you are interested in (you can also offer to write reviews of these for the local press). Consider applying for programming positions in universities and at museums; these can also help put you in touch with a wide array of creative contacts. And, especially if a museum directorship is of any interest (these are the highest paying jobs in museums), I suggest some administrative and/or fundraising experience. Successful grant applications, which can be used in the meantime to help fund curatorial projects, can add a great deal to an academic CV.