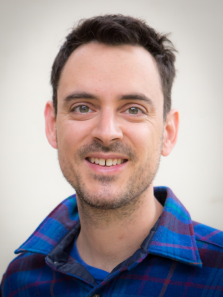 The Confidence Man
Aaron Winter, Ph.D in English
April 2019
Aaron Winter received his PhD in English from UCI in December, 2008. He currently runs an online advertising agency, The Philosophical Intelligence Office, Inc. He lives with his wife and son in Arlington, Virginia. He agreed to talk with Julia Lupton about his experiences after he graduated.
JRL: Tell me what you're up to now.
Aaron Winter: My business is a small ad agency which we run online using Slack.com as a messaging hub. Most of the clients are in the financial industry. I have about 12 regular subcontractors across 6 time zones, and most of them are copywriters. What I'm up to depends on the day. I was filling out a form last week at the bank, and they asked me what my "title" is. I wasn't sure whether to write CEO or janitor; both are true.
JRL: Wow, that sounds very different from studying for a PhD in English, yet weirdly confluent with it.
Aaron Winter: The major confluence is just working with words and providing oversight to other people who work with words. The type of advertising we do is long form; they're not Super Bowl commercials. We write about a million words per year between us, and running the agency is a lot like running a cohort of graduate students. I also have pretty much the same "schedule" I had as a PhD student. Which is to say not much of a schedule at all.
The main difference from grad school is the speed, which I like. I've always been more of an improviser than a deliberator. What matters to me is just being creative and having every day be different than the previous. Solving for constraints within genre. Working with people I like, and helping them develop.
JRL: So how did you get where you are today?
Aaron Winter: I don't have a good answer for that, short of clichés. I never had any sort of plan; they don't put this shit in a catalog. The Real World is no more real than the one you're in now. You don't need to know Baudrillard to recognize that. There are just different institutions with different histories and the residues of those histories in the form of rules and norms, and then you blunder through.
JRL: You just learned along the way?
Aaron Winter: Right. Academia forms humans by sacrifice and initiation, embodied by documents. It's hard, but it has steps. It's silly, but not absurd. That is a different agenda from what you will find in an commercial domain that's fully exposed to the absurdity of the Internet. It could be a million dollars to the client by just changing a few words. Or not. The lack of correlation between effort and outcome can be shocking.
There is no preparation for confronting that sort of thing. It is just an endless series of experiments that succeed or fail. Mostly fail. And that is just a different way of making a human.
JRL: Well that's nevertheless very academic of you to answer a simple "how" question with a structural analysis.
Aaron Winter: Ha, touche. Here's a more linear story. It took me 6 1/2 years to finish my PhD, which I was told was fast. (!?!?!) I had already gone on the job market at MLA in 2007. And I continued to look for academic jobs actively until 2010. Meanwhile, I had a series of post-doc lectureships: Humanities Core, then National Tsing Hua in Taiwan and George Mason University in DC.
So there was no dramatic moment of cutting the cord. But there was one time I secured a grant to cover half my teaching, and it just happened that grant was from a shell company that I myself was secretly funding. So that was a good moment for the farce of being caught in between.
JRL: This really happened?
Aaron Winter: Amazingly, yes. Anyhow, by 2010, teaching had become a day job. I always enjoyed my students, but I was investing less and less in it as a future career. I stopped doing new academic research. I began to take commercial jobs wherever I could. It was a lot of ghostwriting. Medical supply catalogs, "how I succeeded in business" autobiographies, video game loading screens, financial textbooks about derivatives trading, you name it.
As I went along those skills from the Ph.D. reasserted their value. Especially just the depth of research and writing, but also being able to take edits. There is a kind of stamina that any PhD graduate has that is actually very rare outside those walls.
In 2012, on a lark, I applied for a staff position at a company called The Motley Fool, which is in the financial marketing area. Eventually I was given the opportunity to lead a team of writers there. That then turned into my freelance agency, and building my own writing team. So it came full circle for me at that point, just being able to lead a "class" of sorts out into the wilderness. The externalities became making money instead of filing grades and journal submissions.
But the Socratic interaction is much the same, and I treasure that. All I wanted is to be Julia Lupton when I grew up, the form just surprised me.
JRL: Thanks, Aaron. It surprised me too. Any closing advice for our PhD students?
Aaron Winter: For some of you reading this, it's possible the things you like most within this humanistic education exist more vitally outside this institution. But the only thing you can do to get to there is just keep experimenting until you get lucky. You will feel tired, and sad, and frustrated. Well, so what? You already feel that way anyway!
The PhD is a crucible for learning to trust your own judgment. You are thrown into a locked room with an impossible task and only the most unscrupulous shirker to accomplish it, which is you. And somehow you get through it, and for some people that becomes a book or a career, and for me it became something else.
So I'm very glad for the investments that were made in me as a Ph.D. student by the UCI faculty, most of all by my chair Brook Thomas, who will surely appreciate me turning an obscure Melville quote into an actual S-corp. Hopefully that's all been paid back somehow or other.
You are certainly never going to get anywhere you want inside or outside the academy if you don't forgive yourself for being the way you are and try to make that the foundation you build from. That's what I've tried to do.