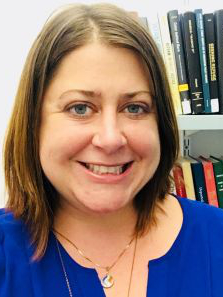 Kristina Shull
Ph.D. in History
October 2018
What can you do with a Humanities Ph.D.? Do you pursue a career in the academy, or do you seek professional opportunities in the "alt-ac" public, private, and non-profit sectors? And does being a historian require that you forego the present in favor of the past? Kristina Shull, a UCI alum and Post-Doctoral Fellow in the Charles Warren Center for Studies in American History at Harvard University, shows us that these kinds of quandaries are, in fact, false dilemmas. Moreover, Kristina's story is one of resilience and discovering the complementary effects of simultaneous engagement in academic and advocacy work. As scholars, we often take on the habit of separating our academic and personal lives, but Kristina demonstrates that when we allow them to come together and inform one another, the results can be edifying, enriching, and can illuminate new and unexpected professional pathways.
The issue of immigration detention and deportation has been hotly debated in American discourse for some time now, and it has garnered more media attention as of late due to the Trump Administration's policy of family separation at the border. Prior to coming to UCI, Kristina's family was affected by immigration and deportation, and she states that this experience "inspired my research interests, advocacy, and passion for public education around this topic." Her graduate studies in the Ph.D. Program in History coupled with her collaborative training in community service work across campus and through various internships and fellowships allowed her to make history actionable. As such, Kristina Shull views her work of "doing history" as a way to "be of service to communities facing deportation and challenge prevailing misconceptions about immigration."
Whether she is working at a non-profit, teaching seminars, running either of her two digital storytelling platforms, or writing books for academic and general audiences, Kristina maintains her dedication to public history and ensuring that the voices of the marginalized are heard. In the interview below, Kristina reflects on her experiences at UCI and her journey as a scholar and advocate in, out, and ultimately back into the academy.
What has been your career trajectory after earning the Ph.D.?
Since graduating in 2014, I have pursued a hybrid of academic and community service work. I first served as a Lecturer in History and Sociology at USC and in History and the Humanities Core program at UCI, then in 2016 as a Soros Justice Fellow at the non-profit Freedom for Immigrants (formerly CIVIC). At Freedom for Immigrants, I worked with people in, formerly in, and affected by immigration detention to help share their stories with the public, and I launched two immigration storytelling platforms: imm-print.com and climaterefugeestories.com, the latter in partnership with UCI's Community Resilience Projects in the Office of Sustainability. This fall, I have begun a two-year post-doctoral fellowship at Harvard University's Charles Warren Center for Studies in American History.
How would you describe your present job?
My current position is a more traditional academic post-doc, where I am provided research support to complete my manuscript, Invisible Bodies: Immigration Crisis and Private Prisons Since the Reagan Era, based in my dissertation research. I will also be teaching one seminar course a year in my areas of expertise, immigration and US foreign policy. The non-profit work I was doing for the past two years, however, while in the same field of immigration detention, was quite different, and involved communicating and providing direct support to people in deportation proceedings and families affected by the detention system, research and writing on current events, public speaking, and collecting stories in multi-media formats. Both these positions overlap in respect to the emphasis I place on "public history," the archiving and storytelling platforms I've created that can be used in communities and in the classroom, and in forming collaborations with academics, activists, and community members to educate the public on immigration detention, past and present.
What skills do you feel are the most important to your job?
Skills important to my academic research, teaching, and community service work are listening, documenting carefully and collaboratively, being sensitive to and versed in the language and rhetoric of the immigration debate (and its impacts), being aware of my privilege(s) and making space for voices and narratives that have been and continue to be marginalized, and being able to communicate (speak and write) about my research in ways that are both accessible and actionable.
What do you find most gratifying to your job?
That I am continually finding ways to make history actionable by drawing clear connections from the past to today, that I work to create spaces for stories and experiences that have historically been invisible and actively silenced, that I have created opportunities for students to become involved in research and public history work beyond the classroom, that this work has the potential to generate empathy and understanding in new audiences, and that I continue to meet and get to work with people and organizations that awe and inspire me.
How has your experience at UCI prepared you for the work you do now?
I entered graduate school just as the economy, and subsequently the humanities Ph.D. job market, was taking a sharp downturn. This timing was unfortunate—the direction of most of our training at the time was to prepare ourselves for the tenure-track. But as the landscape rapidly changed, it was also fortuitous in a way. Lack of funding and personal hardships caused me to take two leave of absences, during which I interned for the Detention Watch Network in Washington, D.C., and sought other freelance opportunities which helped me imagine a career path that didn't stray entirely from academia, but rather bridged my interests in new and exciting ways. Towards the end of my time as a graduate student, resources for imagining and charting out alt-ac careers had expanded across UCI and the academy.
How does your job relate to your training in History?
Both my current post-doc and my prior non-profit work relate directly to my training as a historian and as a specialist in immigration detention. Before I was awarded the Soros Justice fellowship, I sought out and had already been collaborating with Freedom for Immigrants. Together, we established that my historical and academic training would benefit the organization's mission, and for my fellowship project I proposed work that would put my training in public speaking, education, curriculum development, research, writing, oral history, and archiving to use.
What additional skills or experiences do you feel would have helped in either your transition to the job market or to your current field/job?
I would have appreciated having access as a grad student to more skill-building opportunities in the areas of project design and management, community organizing, research and writing collaborations, and translating academic research for public audiences—which are beneficial in both academic and non-profit sectors. After graduation and while still affiliated with UCI, I was fortunate to participate last year in an Advanced Community Resilience Organizing seminar taught by Abby Reyes, the Director of UCI Community Resilience Projects (http://communityresilience.uci.edu/advanced-community-resilience-organizing-seminar/). It was an amazing experience that brought undergraduate and graduate students together to build organizational skills and envision collaborative projects.
Were there experiences outside of UCI that helped prepare you for your current job?
My family has been directly affected by immigration detention and deportation, and this experience, which occurred prior to my entering graduate school, inspired my research interests, advocacy, and passion for public education around this topic. These experiences, as well as engaging in community work and a non-profit research internship while a grad student at UCI, helped shape my dedication to public history by helping me see and understand the limits of academic work, but also how "doing history" (documenting, archiving, and sharing stories, as well as providing systemic analysis and historical context) can be of service to communities facing deportation and challenge prevailing misconceptions about immigration.
Have you maintained a connection to your previous dissertation research or practice in some way? If so, how has that been incorporated into your life?
Absolutely—I am currently working on revising my dissertation for publication, and I find my experiences beyond academia to be helpful in demonstrating the relevance of my research. I am also working on a shorter, more accessible book for undergraduate and general audiences that incorporates my historical research with my more recent work.
What is one question you wished you would have asked someone back in graduate school (fellow student, faculty, admin) that would have been useful to you when you embarked on the job market and/or your career path?
I wish I would have sought out and asked more students and colleagues (at all levels) to collaborate with me. So much of graduate work in most fields is individualized, but an essential skill for building a career beyond this is being able to work on a team.
How did you find your first non-academic job after the Ph.D.?
Before "success," I encountered many failures. I created a list of online job postings and fellowship announcements to check regularly, and a log to track job openings, requirements, and application and fellowship deadlines. I was a finalist for an ACLS Public Fellows position, and had begun planning to apply for that fellowship two years prior to applying (thanks to the help of attending a workshop on the fellowship held by UCI's School of Humanities!). The same was true for the Soros Justice fellowship. Instead of waiting to find an opening for a "dream job," I began mapping out a vision of what exactly that would look like, and worked on building the relationships and seeking funding opportunities to support it.
During graduate school, did you hear about non-academic jobs as a potential career path? If so, how?
I attended alt-ac workshops and panels held by my department and the School of Humanities at UCI, including applying for the ACLS Public Fellowship. I kept my eye on project-specific fellowships and opportunities in the non-profit sector through academic listserves like H-Net and NEH, as well as foundations that support social justice and immigrant rights work.
What advice would you give current graduate students looking to navigate the job market?
Start preparing early and be patient with your career trajectory. As a grad student, rather than waiting for opportunities to come to me, I wish I had utilized the university's resources to initiate more collaborations, especially in digital humanities, with students and colleagues at all levels. You are an expert in your field and topic—what are the main problems in your field that remain to be solved? What is missing? What might you be able to do or create to address the need you are uniquely able to identify, and what form could/should it take to reach broader audiences beyond a monograph or academic journal article? Obtaining a grant to create a study group, an organization, a website, a community project, or a series of op-eds, for example, can help you stand out from other candidates who are equally qualified academically.