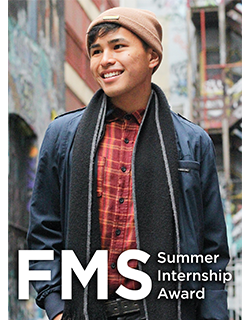 Spotlight Detail
Congratulations to Allan Dizon, the last recipient of our 2020 FMS Summer Internship Award
A generous donation from UCI History alumni, Leon Dudevoir
This scholarship is funded by a generous donation from UCI History alumni, Leon Dudevoir, in support of Film and Media Studies' student internships. Mr. Dudevoir had a career as a film executive for New Line Cinemas, working on films like The Notebook, Rush Hour and Blade. He's now retired and lives in Portland, and wanted to support current FMS students looking to enter the entertainment industry.
Allan Dizon had this to say about his experience as a video producer and editing intern at Kofax:
I learned more than I thought I would in a corporate environment that didn't exactly function to cultivate creativity. As their video producer and editing intern, my content under Kofax is concerned with technology pitches, platform releases, and various marketing endeavors. The vision that directors usually have me on a project to execute was coming from established individuals in technology; it was easy to get detached from my work. Nevertheless, there was something different around every corner, and I found a flow in that. I began picking up a deeper understanding of cross-platform workflows, expectations in this field, and, more importantly, how to communicate it all concisely and efficiently. I went into Kofax as a freelancer and came out of it as a collaborator.