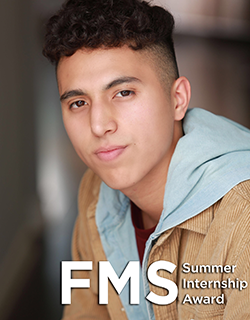 Spotlight Detail
Congratulations to Victor Adame-Ramirez, another recipient of our FMS Summer Internship Award
A generous donation from UCI History alumni, Leon Dudevoir
This scholarship is funded by a generous donation from UCI History alumni, Leon Dudevoir, in support of Film and Media Studies' student internships. Mr. Dudevoir had a career as a film executive for New Line Cinemas, working on films like The Notebook, Rush Hour and Blade. He's now retired and lives in Portland, and wanted to support current FMS students looking to enter the entertainment industry.
Victor Adame-Ramirez interned at the
The Actor's Studio of Orange County in Santa Ana
. Throughout this past summer, he has gained a strong knowledge of the business sphere of the film industry and so much more.
Victor was brought on board as a
Production Assistant Intern
, but due to the pandemic, his duties shifted from solely production work to clerical work as well. He has spent the summer communicating with industry professionals such as talent agents and managers for an Advanced Acting Showcase. Through that, he has learned about customer management and client outreach. Not only did he contact and communicate with industry professionals for the virtual showcase, but he also networked and gained strong connections by participating in workshops and events that the studio required. For instance, ASoOC had an industry workshop where a Los Angeles talent agent worked with their acting students on comedy scenes. As an intern, Victor was brought in as a reader for the scenes. After being allowed to perform a scene of his own, he is pleased to announce that this internship has aligned him with a talent agent of his own.