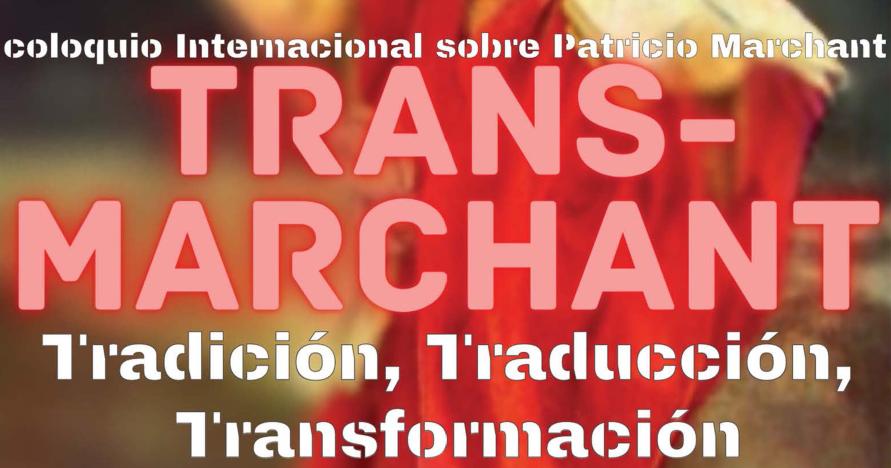 Please Note that all times are Santiago, Chile Time
View the Conference Website HERE
View the Program below and HERE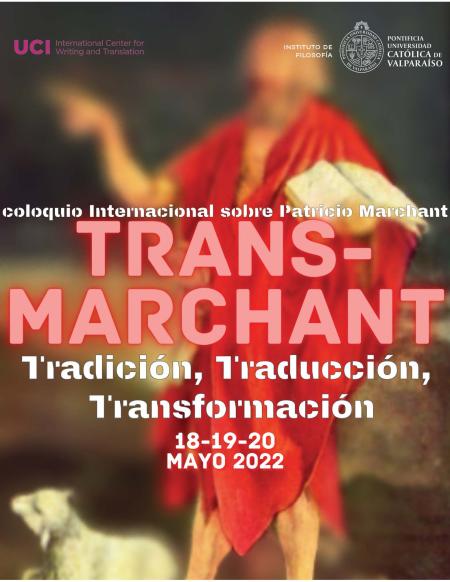 The Instituto de Filosofía at Pontificia Universidad Católica de Valparaíso, in collaboration with the International Center for Writing and Translation and the research group University and State, both at University of California, Irvine invite participation in the international colloquium Trans-Marchant: Tradition, Translation, Transformation. The colloquium seeks to engage the work of Chilean philosopher Patricio Marchant in the context of debates at the heart of historical reflection and contemporary culture: critiques of eurocentrism, the question of idiom and the problem of philosophical nationalism, theories of otherness, and the poetic dimension of languages in translation. Marchant's thinking about Hispanoamerican thought, the poetics of the Spanish language, and long-standing dialogues with Europe is situated amidst these contemporary problematics, and we believe that his work has further insight to offer on these questions than is reflected by scholarship to date. More than 20 years ago, Marchant's writing enriched debates about (post)dictatorship in Chile. He emerged then as the first Chilean thinker of deconstruction, and his influence was disseminated by way of the preoccupations on display in diverse strata of his work (poetry, psychoanalysis, philosophy, art). However, at the same time, his thought was also fenced in by those very critical interests born of an authoritarian past. This positioning has long shaped and constrained Marchant's reception. In this colloquium, we are interested in essays that contemplate these challenges but also the advantages of working on the philosophy of Marchant with different critical horizons in mind. We want to approach Marchant's work in a way that amplifies the depth and range of his impact as a Latin American thinker in permanent differend with respect to Europe and as a writer in Spanish, a language of Hispanic America in tension with the history of empire and hegemony.
Patricio Marchant (1939-1990) was a transborder Chilean philosopher and intellectual: a marginal thinker who was also dedicated to the margen and to various forms of transit across borders - between Hispanoamerica and Europe, between language and idiom, between Chilean and Castillian. He was part of the Department of Humanistic Studies at the Universidad de Chile, a scholar of a certain tradition of contemporary European philosophy and psychoanalysis, with notable expertise in Chilean poetry and Latin American thought. Among his achievements are the translation of "Ousia et Grammé," by Jacques Derrida, under the title Tiempo y presencia (Time and Presence) - curiously published in 1971, one year before its appearance in Marges de la philosophie. He is also the author of a book dedicated to Gabriela Mistral, Sobre árboles y madres, published in 1984. This is perhaps his most well-known work, and probably also the complete. In addition to these, he also wrote numerous essays on visual arts, tensions between European and Latinamerican thought, drafts of the text on Mistral's poetry, and on other diverse topics, which perhaps share the common thread of a critical tone with respect to dominant cultural and intellectual undertakings in Chile. Many of these essays, some of which he never finished, were published in 2000 in the collection Escritura y temblor. Marchant's presence as a theorist, often obscure and misunderstood - both in Chile and in Latin America - has given rise to a somewhat apprehensive interpretive tradition, supervised by vigilant custodians and always in tension with a spirited attempt by enthusiastic philosophers (men in almost every case) to keep his theories alive. The colloquium Trans-Marchant: Tradition, Translation, Transformation seeks to reopen questions of the value and relevance of Marchant's philosophical practice, to test the resources of its transborder character, and to expand its potential for making contributions beyond the Chilean scene.
The colloquium will take place online and in person over the course of two consecutive days. Each day there will be master classes and panel discussions. In the former, distinguished readers of Marchant will offer lectures in a personable and pedagogical tone - in the spirit of a friendly exchange of knowledge. These classes will explain certain theoretical aspects of Marchant's thought in hopes of engaging new audiences for his writing. In the latter, diverse scholars of Marchant's work will make brief, 10-minute presentations centered on both theoretical and practical questions of translation. Two key problems will guide these discussions: 1) language, idiom, and thought, and 2) translation and Hispanoamerican difference. We hope that these activities will begin to expand and complicate the status of Patricio Marchant's thought for the international academic community.  
PROGRAM (See it in Spanish HERE)
Please Note that all times are Santiago, Chile Time
Day 1: Wednesday, May 18, 2022
6pm: Master Class 1:  René Baeza, Patricio Marchant. Added to the work. 
Day 2: Thursday, May 19, 2022
11am:  Workshop:  Zeto Bórquez, The Marchant Archive and the project of a ´second love of photography´ 
15h-18h: Table 1, Language, Language, thought
Cristobal Durán, ´Those spaces that we leave blank´. Translation, friendship. 
Aaron Guerrero,  "De Trace"  by Marchant.
Felipe Alarcón,  Missing, loss, desolation,
Soledad Falabella. "The ethical catastrophe" in Mistral's thought: rereading "On trees and mothers" by Patricio Marchant.   
Ricardo Loebell, Colophon - Poetic notes for a blank writing. 
7pm: Master Class 2:  Iván Trujillo, Marchant and the logic of language. 
Day 3: Friday, May 20, 2022
11am: Master Class 3:  Pablo Oyarzún (title to be confirmed). 
15h-18h: Table 2,  Translation and Latin American difference
Williston Chase, Race and Writing. 
Javier Pavez,  Anasemia, translation. Patricio Marchant and the language of the institution.
Jacques Lezra,  Machine to translate Marchant.
Felipe Larrea,  Rhythm-folk or how music works in Patricio Marchant.
Karen Glavic,  The Misunderstood Mother: A Quote on Juan Dávila.
7:00 p.m.: Master Class 4:  Cecilia Sánchez, Scenographies of the chingada language and philosophy in Latin America.