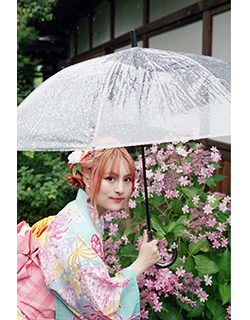 Spotlight Detail
Tongtong Zhao, B.A., French and English, S '20
Tongtong Zhao, B.A., French and English, S '20
Congratulations to Tongtong Zhao, B.A., French and English, '20, on being named a winner for two of her photos in the
First UCI International Photo Competition
through the Office of Global Engagement, the Claire Trevor School of the Arts, and the Study Abroad Center. Tongtong took 3rd place for her photo "A Paris" in the US Study Abroad - Daily Life category and 2nd place for her photo "An Empty Campus" in the International Student – COVID 19 category.
When asked how she became interested in photography, Tongtong says, "I traveled a lot with my family when I was a kid, and we used to take a lot of photos to record memories during our trips. It is delightful to recall my travels when looking at photographs."
Tongtong's mother tongue is Mandarin, and as an international student at UCI she decided to study French and English. "I was deeply attracted by French cultures such as food, art, and architecture. So when I was a freshman at UCI, I enrolled in the French 1 series and started learning this beautiful language because I expected that I could communicate with the locals in French when I went to France someday. As time went on, the more I learned about France, the more I fell in love with it. Learning French cultures from different historical periods and different styles of literature changed my idea of the world and people, so I'm glad to have had a chance to study French at UCI with so many great professors." Her favorite work of French literature?
Le Cid
, written by Pierre Corneille, "because it is the first French play I read, and the story is full of ups and downs."
Next Tongtong intends to study translation at Middlebury Institute for International Studies, where she has been accepted starting in fall. "I decided to study translation because, first of all, I'm interested in learning languages. I believe that being able to speak multiple languages helps me to know different cultures better while traveling around the world--I love traveling. I thought it would be great to apply what I learned at UCI to my future study and career by working at the intersection of language and culture." Tongtong thanks her professors who helped her with my graduate school application and offered her guidance during the process. "Their kindness and support will continuously inspire my study at MIIS."
Once she finishes her program at Middlebury, Tongtong's career goal is to work at tech firms like Google, Microsoft, and Netflix, managing translation and localization projects to keep projects on track for worldwide launches.