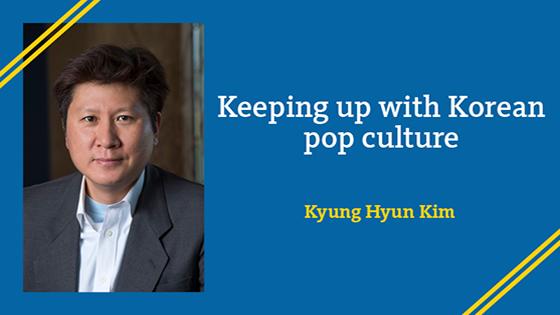 Keeping up with Korean pop culture
A Q&A with UCI professor and founding director of the Center for Critical Korean Studies, Kyung Hyun Kim.
The UCI Center for Critical Korean Studies launched in 2016 and has since become a center of both scholarly and cultural importance in Southern California. In line with their visionary programming and stance on Korean studies, the center will host an all-day Afro-Korean hip-hop festival and conference, which will end with a concert featuring one of Korea's most well-known hip-hop groups, MFBTY, on October 7. Below, Kyung Hyun Kim, founding director of the center and professor of East Asian studies, discusses Korean cinema, how performer Tiger JK influenced the hip-hop scene in Korea, and more.

Q: What do you consider your greatest accomplishments while leading the UCI Center for Critical Korean Studies?

A: Some of my greatest accomplishments include helping to sponsor the Comfort Women photo exhibit with UCI Libraries, organizing major conferences on Korean adoption and ecology with my wonderful colleagues, and providing fellowships to incoming graduate students in Korean studies. But probably the most thrilling part of this job has been taking the short ride to the Hyundai Motor America headquarters up the 405 and then having meetings with the corporate executives there in order to promote Korean Studies at UCI and getting funding secured for the event on Oct. 7th.

Q. Tell us about the all-day conference, "Korean Hip-Hop and New Explorations of Afro-Asian Identity Conference," taking place on October 7. Is this the first conference of its kind? What can attendees expect?

A.This conference will discuss issues of both identities of Koreans and African Americans in Korean hip-hop, addressing race in hip-hop in new ways through tackling formal linguistic analysis of the genre, discussing the impact of Korean locality on hip-hop, and outlining its evolution in the Korean musical context. What we are hoping to do is to explore Korean hip-hop and K-pop in general as a hybrid music of both Koreanness and blackness.

Q: How did you secure the musical talent (MFBTY) coming to campus on October 7?

A: My colleague in Korea had just published a book on Korean hip-hop and she had Tiger JK and his posse, MFBTY, over to speak to her class, so she gave me their contacts. Tiger JK and YoonMirae are big celebs in Korea. Together, they're often referred to as Korea's Jay-Z and Beyoncé. The fall season is where they typically book many shows in Asia, so they were at first reluctant to make their big trip to the U.S., but I didn't give up. I had a friend in LA who used to work as a manager/production designer, who knew YoonMirae very well, so I persuaded YoonMirae to come through that friend. Negotiations dragged on for about six months before they finally said OK!

Q: What was the impetus for bringing Tiger JK, YoonMirae, and Bizzy to campus? Are you personally a fan of them and Korean hip-hop?

A: Yes, I'm a big fan of Tiger JK, YoonMirae, and Bizzy. About 20 years ago, Tiger JK performed as a rap duo called Drunken Tiger and they were the first hip-hop duo that authenticated American rap in Korea. Tiger JK grew up in LA in the 1980s and 1990s and knew the scene pretty well, and when the Rodney King civil unrest took place in 1992, he, as a young high school rapper, tried to help mediate the tension between blacks and Koreans. Moving to Korea, he had to re-learn Korean to legitimatize himself as a Korean rapper and established his presence through his bilingual identity and style. It all fits the bill of what we are trying to explore in our Afro-Korean Hip-Hop Festival and Conference.

Q: What drew you to studying Hallyu (the increase in global popularity of South Korean culture since the 1990s) and especially to studying Korean cinema?

A: I first studied Korean cinema because no one else was doing it in the early 1990s! But it soon caught fire and everyone else started looking into Korean cinema and then Korean dramas and K-pop because many of our students grew up with it. I feel as if my career was wrapped around the big gusty winds of hallyu and it simply hasn't died just yet. About 10 years ago, I first encountered non-Korean heritage students in my class who spoke Korean really well—all because they watched Korean variety shows growing up and studied the language through the Internet. It wasn't just one, but the students who were drawn to Korean cultural contents and Korean language came in bigger and bigger waves. I had to satisfy students' demand for knowledge, and this encourages me to make sure that I know my stuff on Korean culture. Not only do I have to know all of the major dates in the Chosun Dynasty, but also all of the names of BTS members! It's a big challenge!

Q: What makes Korean cinema unique and how does it reflect Korea's political standing?

A: Korean cinema is still very unique because some films adhere to the style of hallyu and some do not. Yes, Korean films star many K-drama and even K-pop celebrities, who are cast in major roles, but they end up playing parts that are a lot more intense, violent, and real than the cute image manufactured by K-pop or K-drama. So, it's the artsy side of popular representations that carve up the contours and shapes of K-cinema. Also, while K-drama and K-pop are notoriously apolitical and do not make many comments on the political situation in Korea, Korean cinema is completely the opposite. There are many films —"JSA," "Welcome to Dongmakgol," and "Ode to My Father" —that provide commentaries on Japanese colonialism, the war, and the current division of Korea.

Q: You co-produced with Martin Scorsese's World Cinema Foundation and Korean Film Archive the restoration of a Korean classic film from 1960 "The Housemaid," which premiered at the 2008 Cannes Film Festival. What was that experience like and why "The Housemaid?"

A: Marty is really into Korean films and he found my book The Remasculinization of Korean Cinemareally interesting. The theme of masculinity and violence in Korean cinema obviously tickled his fancy since his entire filmography is built around those themes. Many of Marty's films have influenced Korean cinema directors such as Park Chan-wook, Bong Joon-ho, and Hong Sang-soo and it was weird now to see Marty influenced by the younger generation of Korean directors who grew up with his films. So, I arranged a meeting between Marty and some of the stars of Korean cinema such as Ha Jeong-woo and so on. Marty and I naturally began talking about spending some of our time and money to restore one of the classic films from Korea. He fell in love with "The Housemaid" when I showed it to him in 2007, but lamented that the original film was in poor shape. We spent funds to do a frame-by-frame analysis and a digital cleanup with the aid of Korean Film Archive and premiered it in Cannes. It was so successful that I helped to also launch a remake film of "The Housemaid" in 2010 and to also release the original film on the Criterion Blu-ray. Marty did the video introduction of the film, and I wrote the liner notes for the Blu-ray release.