Spotlight Details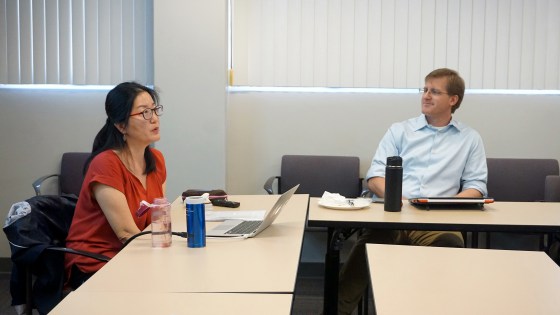 A talk on North Korean defectors
On November 9, Korea Foundation Postdoctoral Fellow Sarah Eunkyung Chee presented the talk "The Intimacy of Surveillance: North Korean Defectors and the Problem of National Domestication" for UCI students and faculty.
Chee's talk centered around the conflicting attitudes towards North Korean defectors among South Koreans, which can be summarized as follows; "on one hand, defectors are welcomed as freedom fighters and heroes, on the other hand they are potential spies or supporters of the regime."
Chee emphasizes the relevance of surveillance in the interaction between the South Korean government and North Korean defectors while drawing attention to the fact that there is a lack of willingness in South Korean society to admit that it carries out intimate surveillance. This denial of surveillance goes hand-in-hand with the attitude that any failure to assimilate is because of the defectors' culture and not because of the treatment they receive in South Korea.
Chee highlights the Protestant church as one of the central agents in regard to surveillance of North Korean defectors. Citing examples from her experience conducting fieldwork in South Korean churches, she explains the complexities in the church's attitude and treatment of defectors. Although they generously give financial aid to the defectors that attend their church, South Korean protestants maintain an agenda of "domesticating" the North Korean defectors, of turning the "adults into children and aliens into family". At the same time, protestants hope that the South Koreans themselves can be "domesticated" by the defectors, absorbing their purity. The church pursues this agenda through a system of surveillance of the defectors; inviting them into their Bible studies and keeping a close eye on their progress of becoming a South Korean Christian.
Chee argues that the prevalence of surveillance is a major reason for the failure of many North Korean defectors to successfully integrate into South Korean society. Many North Korean defectors relocate to a third country after becoming disappointed and uncomfortable with life in South Korea.