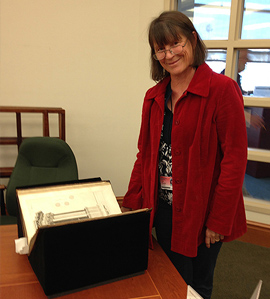 Associate Professor - Lyle Massey
Interview with Lyle Massey, Associate Professor of Art History and Visual Studies
What have you been working on this year?
Over the past three years I've been working on a book project on anatomical illustrations. Most of us know that Renaissance artists such as Leonardo and Michelangelo were interested in human anatomy. They practiced dissection and drew the body in all its permutations. But in the 16th century we also see the rise of what might now be called the professionalization of body illustration. That is, it was the century in which anatomy began to coalesce as an empirically-based science and knowledge gained through dissection was dispersed through large-scale, printed books filled with lavishly engraved plates. I'm particularly interested in the different visual approaches used to depict male and female anatomy in the 16th through the 18th centuries. While anatomists learned much about the body's systems in this early period, the processes of human conception and reproduction remained frustratingly mysterious. Thus, the female figure in anatomical books was often visually associated with the enigmatic, the occult and the seductive, as if to compensate for the anatomist's lack of knowledge. In my book, I deal not only with engravings of the human body, but also with wax and plaster casts and ivories used as working models for anatomical and midwifery instruction. These are often simultaneously beautiful and stomach-turning objects, and as such, provide a completely fascinating insight into the gendered, visual culture of medicine. The project is titled Women Inside Out: Gender, Dissection and Representation in Early Modern Europe.
I understand that this project also intersects with the Medical Humanities at UCI. Could you tell us a bit about what that means?
The Medical Humanities is an exciting new interdisciplinary initiative at UCI that focuses on integrating the study of medicine (in all its forms and applications) with aspects of the humanistic disciplines. The medical school at UCI already has a medical humanities and arts program for medical students. This new initiative, however, is oriented toward developing an undergraduate minor and perhaps a major in medical humanities. The idea is to get students (before they even enter medical school or go on to biomedical research) to begin thinking about how the practice of medicine benefits from the insights of the humanities and arts, and vice versa. I'm developing a course for Medical Humanities on art and medicine from the medieval through the modern periods. Over a single quarter, we'll cover everything from anatomical illustrations in medieval Arabic Islamic treatises and Renaissance books to portraits of physicians in the early modern age; from caricatures of medical barbarism to traveling medical shows; from photos of medical students with cadavers to pictures of hysterics in the 19th century: you name it, we'll probably deal with it. For more information about the initiative's programs and future plans you can go to this link: http://medicalhumanities.uci.edu/.
Moving in a completely different direction, you've also been doing some work about the desert, right?
That's right. Desert/Structure/Modernism is a very exciting collaborative research cluster that Jamie Nisbet (also in Art History) and I founded last year. The project is focused on interpreting and understanding the way in which the American desert landscape interacts with ideas about the built environment. Last year we hosted a fantastic conference down in UCI's beautiful new Steele Burnand Desert Research Center in Borrego Springs. Discussion focused around how the desert has figured as a singular landscape in land art, film, post-apocalyptic discourses, and novels, intersecting with narratives of nuclear devastation, climate-change projections, and issues of modern survival. This year we are hosting a visit on UCI's campus by Kim Stringfellow, an artist based in California who has done projects on the Salton Sea and Death Valley. I'm also very excited that we are funding three special desert-related art projects this coming year by UCI MFA students. While all are focused on desert-related themes, one of them will be an installation down in Borrego Springs, and will deal with bats and their response to light. How cool is that?
What courses are you most excited about teaching this year?
One class that I'm really passionate about this year is Art History 198 Art Under Attack which I'm teaching in fall quarter. With the recent assassination by ISIL of Khaled al-Asaad, the 82-year-old archaeologist who spent his life studying the ancient site of Palmyra, the whole world is becoming more aware of how much history and culture is being lost in war torn countries. In places like Syria, local people and scholars are desperate to protect objects and sites, not just because they represent a priceless heritage, but also because they are often tourist destinations and thus economic engines. My hope is to get our art history students thinking about what we, as art historians, might do to help scholars and communities protect or salvage ancient sites, while also addressing the tragic human costs that war and terrorism extract in these places. As part of the course, we are going to build an active website of the ten most endangered sites in the world with up-to-date links and information on lending assistance.
For more on Professor Massey's research, you can visit her homepage here:
http://www.faculty.uci.edu/profile.cfm?faculty_id=5547